When it comes to getting yourself a pair of good earphones, you need to consider a lot of factors – comfort level, features, sound quality and affordability. If you have a tight budget, you'll probably end up making some sort of compromise. If you have a generous budget and want nothing but the best, then consider the Jabra Elite 65t. Despite being pricey, the Jabra Elite 65t manages to surprise everyone with its well rounded design, superior sound quality and long battery life. Here's more on the great AirPods alternative.
Jabra Elite 65t – The AirPods Alternative
What's to Love
Fashionable design
Comfortable to use
Great battery life
Superior sound quality
Could Do Better With
Water and dust resistance features
Charging (microUSB)
If you want a pair of truly wireless earbuds that isn't the Apple AirPods, then you should definitely consider the Jabra Elite 65t.
Why Buy the Jabra Elite 65t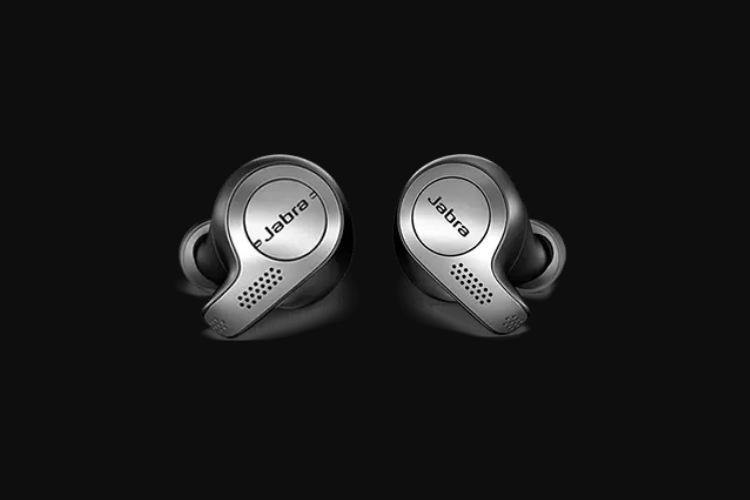 Jabra has managed to create a stylish looking pair of earbuds that sounds great when compared to the competition while delivering an incredibly reliable wireless connectivity, which is so essential when investing in a good pair of earbuds.
Superior Sound Quality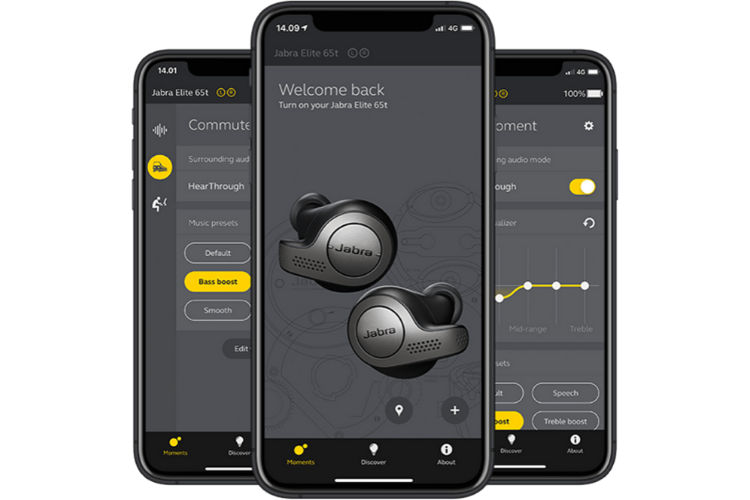 One of the main factors to look for in a good pair of earbuds is sound quality. Here, the Jabra Elite 65t excels. Along with the Jabra Sound+ App, you can enjoy music just the way you like it. Open up the app and head to the advanced equaliser to customize the settings – less bass when commuting or low frequency boost for that extra kick – whatever your choice – it can be done via the app.
Great Call Quality
With its unique 4-microphone technology, call quality is the best it can be. The mics are designed to let in audio only from one direction, letting just your voice in while keeping out nearby voices. The 30-degree curved design of the mic also helps keep the wind noise to a minimum. You can also use the Jabra Sound+ app to modify the call settings so that the sounds are comfortable and natural to hear. If you do a lot of commuting with the earbuds on, you can choose how much of the outside world you want to hear.
Great Wireless Stability
When you take calls or listen to music, the one thing you'll positively hate is audio drop-outs. The printed circuit board (PCB) on the Elite 65t runs a 10.5 Mhz connection ensuring uninterrupted wireless stability.
Voice Assistant Friendly
If you enjoy using voice assistants for your menial tasks, you'll be happy to know that the 65t offers Amazon Alexa, Siri and Google Assistant to do your bidding. Simply pick your choice from the Sound+ app.
Great Battery Life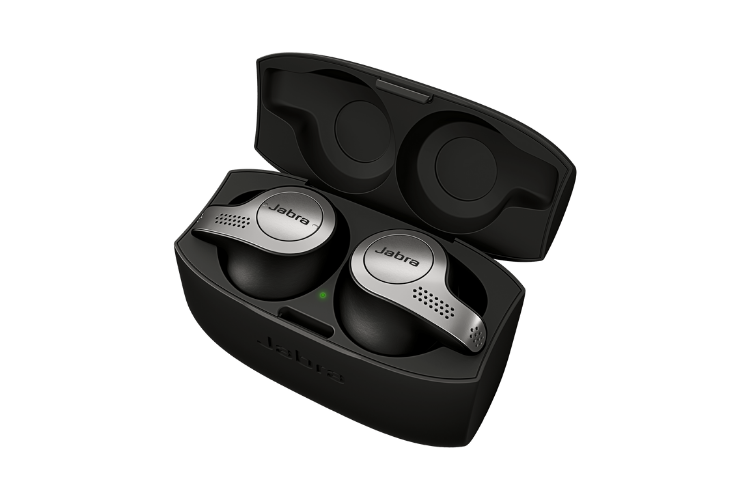 If you're thinking about using the Elite 65t all day long, you can. It delivers up to 5 hours of battery life from a single charge, and up to 15 hours in total in the charging case. The fast charging feature of the case ensures that you squeeze in an extra hour's worth of play with a quick 15-minute recharge. If you prefer, you can use one earbud until it is exhausted, then drop it into the charging case while you use the other one.
Easy Controls
The Jabra Elite 65t also comes with easy to use controls with each earbud having its own set of controls. The left one is for adjusting volume with a long press action letting you skip a track or go forward. The right earbud has a button that lets you play or pause music, answer calls with a long press action activating your voice assistant.
Premium Look and Feel
The Jabra Elite 65t doesn't sport a dramatic new look or design, nor is it made of some expensive material. Yet, its soft plastic touch gives off a premium look and feel. In fact, they are designed for comfortable usage even during long periods of time. 3 sets of eargels come with the buds, which should make for a good fit for anyone's ears.
Usability
One of the cool features with these earbuds is that they automatically turn on when removed from the case. The buds also automatically turn off when placed back inside the charging case. This is great because who wants to be bothered about turning things on or off every now and again.
Where the Jabra Elite 65t Could Do Better
The Elite 65t is great. But it ain't perfect. The microUSB charging option is lame when everyone has moved on to USB-C.
The charging case is another small disappointment, a little slippery to hold on occasions. The lid itself is neither magnetic or spring loaded, so you tend to be fidgeting with it quite a bit.
Another aspect where the Elite 65t could have done better is in water resistance capacity. It only features an IP55-rated design, meaning it can resist a sustained, low-pressure water jet spray. However, it comes with a 2-year warranty against damage from water and dust, which is noteworthy.
Final Thoughts
The Jabra Elite 65t priced at $150 (although you can get it much cheaper on Amazon on most days) is truly one of the best AirPods alternatives you can buy today.
They are way better than AirPods in terms of sound quality, noise isolation and adjustable ambient noise. And they also don't stand out weird in your ears, like the white AirPods do.
If you're into working out with your earphones, the Jabra Elite 65t is one of the best workout earbuds you can consider buying as they are comfortable to use for long periods.
The Jabra Elite 65t is available in Titanium Black, Gold Beige, Copper Red, Copper Blue and Copper Black.