Smartphone batteries don't last as long as we'd like them to. That's why its handy to have a power bank on you wherever you go. That doesn't mean lugging around a big chunk of heavy tech in your pocket. The Anker 622 Magnetic battery MagGo is a compact lightweight solution that should fit it conveniently with your needs. Read on to learn more about the accessory that you just might want to consider buying.
Features of Anker 622 Magnetic Battery MagGo
Slim and Compact
The MagGo has a slim, compact design, which is only 0.5 inch (12.8 mm) thick. Unlike bulky power banks, this one is easy to slip into your pocket and start using whenever you want. You just have to snap it to your phone to start charging it — no cables necessary.
Magnetic Grip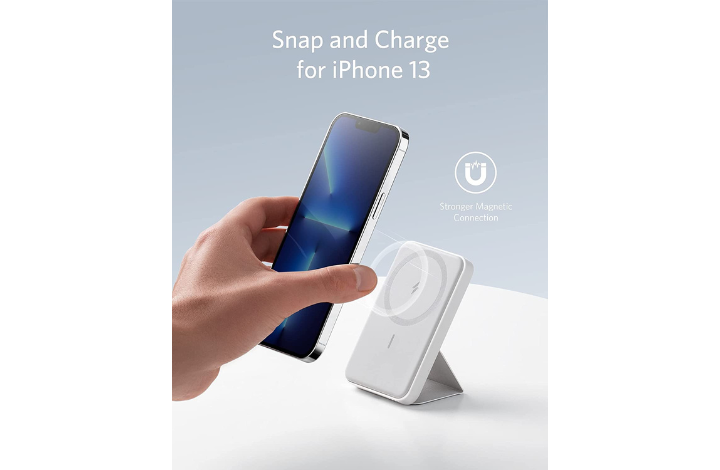 The front of the power bank sports super-strong magnets. These magnets snap to your phone in line with the Qi coil to charge more efficiently. You don't have to worry about setting the phone correctly or connecting with messy wires. As soon as you take your phone near the power bank, it snaps in place to start charging.
Battery & Charging
This power bank sports a 5,000mAh battery with Qi wireless as well as USB-C charging. It offers a two way charge. The USB-C input and output ports allow you to recharge the portable charger or power up any compatible USB-C devices.
As far as charging goes, the MagGo offers a slower output when compared to wired charging. While you may not be able to do a full battery charge with this power bank it is a great solution for topping up your charge until you can get to a power outlet. If you want faster charging you could carry the USB-C cable and get your charge fully done.
Kickstand Advantage
At the back of the MagGo is a neatly tucked in kickstand that lets you to prop your phone in portrait or landscape mode. Should you want to catch up on some news or do a video call, you can use the kickstand to prop your phone and be entertained – all while your phone is still charging.
Compatibility
The Anker 622 Magnetic Battery is designed to work recent iPhone models like the iPhone 13, iPhone 13 Pro, iPhone 13 Pro Max, iPhone 12, iPhone 12 Pro, and iPhone 12 Pro Max with a magnetic phone case.
You may be able to power up an Android device but you'll need to use a compatible case or a magnetic MagSafe adapter on the back of your phone for it to work.
Safety
Anker's exclusive MultiProtect technology provides all the advanced safety features you'll need while charging such as temperature control and overload protection.
Conclusion
The Anker 622 Magnetic Battery MagGo is a great option for the smartphone busybody who is constantly in need of topping up his/her charge. If you are out and about often, and frequently use apps like WhatsApp, Gmail, or Google Maps, or take a lot of photos and videos, and don't want the botheration of wired charging, owning the MagGo would be a great option.
The MagGo is available on Amazon for just under $70. You can pick it up in one of these beautiful shades – Dolomite White, Interstellar Gray, Buds Green, Misty Blue, Lilac and Purple. Check it out and tell us what you think!