The ASUS ROG Strix Scope II 96 Wireless Gaming Keyboard is the latest addition to the ASUS ROG lineup. It offers gamers a premium experience with maximum versatility and unlimited customization options. This full-function gaming keyboard is packed into a compact 96% efficient layout, freeing up desk space without sacrificing functionality. In this article, we check out the features and benefits that make the Strix Scope II 96 Wireless an excellent choice for gamers and typists alike.
Features of ROG Strix Scope II 96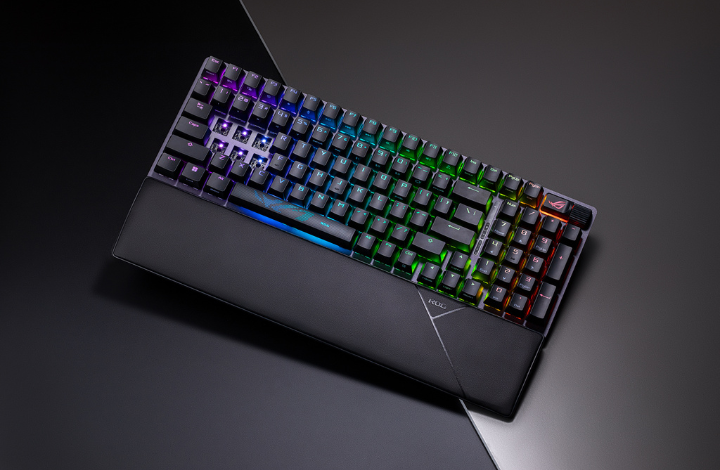 96% Layout: Compact and Efficient Design
One of the most notable features of the ASUS ROG Strix Scope II 96 Wireless Gaming Keyboard is its 96% layout. It still manages to retain all function and number keys from a standard 100% keyboard. This redesigned layout makes it more compact and efficient, ultimately creating more space on your desk. This design is perfect for those who need a full-function keyboard but have limited desk space or prefer a cleaner, more minimalist setup.
Tri-Mode Connectivity: Versatile and Reliable
The Strix Scope II 96 Wireless offers multiple connectivity options. It ensures that you have the flexibility to connect the keyboard to your devices in the most suitable way. The keyboard features a tri-mode connection, which includes:
Bluetooth mode
Connect to up to three devices simultaneously, allowing for seamless switching between devices.
2.4 GHz RF mode
Utilizes ROG SpeedNova wireless technology for ultra-low latency, reliable data transfer, and optimized power efficiency, providing up to 1,500+ hours of stable, uninterrupted gaming (with RGB and OLED off).
Wired USB mode
Charge and play simultaneously, ensuring that your keyboard never runs out of power during critical gaming moments.
The inclusion of the ROG Omni Receiver allows wireless connection to multiple supported devices with a single USB receiver, without compromising performance.
ROG NX Snow Mechanical Switches: Smooth and Consistent Keystrokes
The Strix Scope II 96 Wireless comes equipped with pre-lubed, hot-swappable ROG NX Snow mechanical switches. These switches offer a smooth and consistent keystroke feel, with fast actuation and enhanced key stability. The unique composite POM material used in the stem, along with the PC top housing and POM bottom housing, provides ultra-smooth keystrokes and prevents dust intrusion.
Factory pre-lubing and special tuning give the ROG NX Snow keystroke a solid and clean sound, with "thocky" acoustics. This ensures a refined typing experience during both gaming and typing sessions.
Hot-Swappable Switches: For Easy Customization
One of the standout features of the Strix Scope II 96 Wireless is its hot-swappable switches. This means that users can easily swap out the included ROG NX Snow mechanical switches with their preferred switch type, adding an element of customization to the keyboard. Note: ASUS recommends not to swap the switches when the keyboard is turned on to prevent short circuits.
Advanced Sound Dampening: Quieter Keystrokes
The Strix Scope II 96 Wireless incorporates a unique silicone dampening foam design with integrated switch-dampening pads. This feature absorbs pinging noises and echoes, resulting in improved keystroke acoustics.
The inclusion of pre-lubed keyboard stabilizers also produces less friction for smoother keystrokes and stability for longer keys such as the Spacebar, Shift, and Enter keys.
Keycap Options: Premium Feel and Shine Resistance
Users have the option to choose between ROG UV-coated ABS keycaps or ROG PBT doubleshot keycaps, depending on their preference.
The UV-coated ABS keycaps utilize a layer of UV hard coating to offer improved shine resistance, while the PBT doubleshot keycaps provide a unique and premium feel, as well as long-lasting durability.
The key design has been optimized with mid-height keycaps (similar to Cherry profile keycaps) and a shorter stem to reduce key wobble and provide a more comfortable user experience.
Hotkeys and Intuitive Controls: Enhanced Functionality
The Strix Scope II 96 Wireless comes with several pre-programmed hotkeys for added convenience. The F1-F5 keys function as hotkeys for Xbox Game Bar and recording functions. This allows users to access these features quickly and easily. Additionally, the keyboard incorporates a multifunction button and scroll features for managing media playback, volume, and keyboard lighting.
Aura Sync and Armoury Crate: Customizable RGB Lighting and Software Control
With Aura Sync RGB, the entire color spectrum and a range of dynamic lighting effects are at your command, allowing you to create a keyboard that's uniquely yours. Armoury Crate unifies system and lighting controls, enabling you to easily create, define and customize scenario profiles, map keys, and record macros.
Onboard Memory and Anti-Ghosting
The Strix Scope II 96 Wireless features onboard memory, allowing you to save up to six profiles, including up to five custom schemes, and use them anytime, anywhere. The keyboard also boasts 100% anti-ghosting and N-key rollover. This ensures that every keystroke is registered accurately, no matter how many keys are pressed simultaneously.
Ergonomic Design: Comfort for Long Gaming Sessions
The Strix Scope II 96 Wireless offers three tilt angle adjustments for optimal ergonomics. This means that you can find the most comfortable typing angle for your preferences. A detachable wrist rest is also included, providing additional support and comfort during long gaming sessions.
Final Thoughts
The ASUS ROG Strix Scope II 96 Wireless Gaming Keyboard is a versatile and feature-rich gaming keyboard that offers a premium experience for gamers and typists alike. With its compact 96% layout, tri-mode connectivity, customizable switches, advanced sound dampening, and intuitive controls, this keyboard is an excellent choice for those looking to maximize their gaming and typing performance.
There's no word yet on pricing or availability for the ROG Strix Scope II 96 Wireless. We will update this page once the information becomes available. Stay tuned.
Source: ASUS