The keyboard is everything when it comes to competitive gaming. Faster keystroke processing and better customization options can determine your success or failure in the most intense moments. Logitech has announced a new keyboard for esports professionals to meet their competitive gaming requirements. Its called the Logitech G Pro Mechanical Gaming Keyboard and we take a look at the key features and specs of the keyboard.
Logitech G Pro Mechanical Gaming Keyboard – Features
Romer-G key switches
Compact tenkeyless design
10ms faster Keystroke Signal Processing response
70 Million+ Precision Keystrokes
Detachable Micro-USB connector
26-key rollover
Brilliant RGB lighting
Over 300 built-in profiles
Customizable game mode
Logitech Gaming Software to program custom button macros
Three step angle adjustments
Logitech says that it has collaborated with the biggest e-sport athletes to develop the keyboard. Unlike most mechanical keyboards that come with Cherry MX switches, the Logitech G Pro sports its own Romer-G switches. These switches are designed specifically to deliver a pro-grade performance with faster responsiveness. The switches also deliver high performance in terms of precision and speed. In fact Logitech claims that these switches offer 25% faster actuation than the standard mechanical keyboards of the day.
Also Read: Logitech Slim Folio Pro is a Feature Rich Keyboard Case for 2018 iPad Pro
Another big highlight of the Logitech G Pro is the improved Keystroke Signal Processing (KSP). This feature reduces response time by up to 10ms – a crucial factor that can give users an edge over the competition. Thanks to the powerful combination of the Romer-G switches and the KSP, the keyboard can withstand over 70 million keystrokes. A 26-key rollover also helps to avoid the problem of ghosting.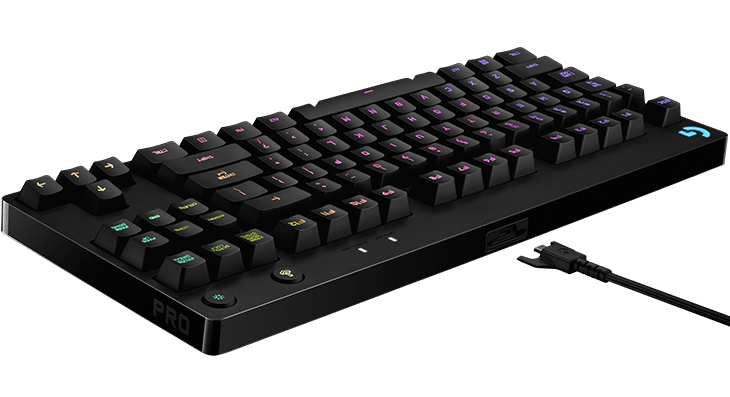 The keyboard also comes with detachable Micro-USB connector, making it easy to carry around. The compact tenkeyless design also makes it easy for gamers to pack for tournament travel but the downside is that users will have to do without the numpad and volume dial. A steel back plate adds stability to the keyboard while rubber feet keeps the keyboard stable during gaming.
Logitech G Pro is an RGB-backlit keyboard capable of letting users choose from 16.8 million colors. Each individual key light can also be customized as well. Onboard memory options allow users to store patterns for later use. The Romer-G switches also give the added advantage of even RGB lighting effect thanks to the integration of feature in the switches.
Logitech G Pro Tech Specs
| | |
| --- | --- |
| ROMER-G KEY SWITCHES | TECH SPECS |
| Durability | 70 million keypresses |
| Actuation distance | 1.5 mm |
| Actuation force | 45g |
| Total travel distance | 3.0 mm |
| | |
| --- | --- |
| KEYBOARD | TECH SPECS |
| Connection Type | USB 2.0 |
| USB Protocol | USB 2.0 |
| Indicator Lights (LED) | Available |
| LCD Display | Not Available |
| USB Ports (Built-in) | Not Available |
| Backlighting | RGB |
| Special Keys | Programmable FN keys |
| | |
| --- | --- |
| DIMENSIONS | TECH SPECS |
| Height | 153 mm |
| Width | 14.19 mm |
| Depth | 34.3 mm |
| Weight (w/o cable) | 980g |
| Cable | 1.8 m |
Logitech G Pro Pricing
The G Pro Mechanical Gaming Keyboard is priced at $129.99 on Amazon.
Note: When you purchase something on our website after clicking links in our articles, we may earn a small commission. Read our affiliate link policy for more details.