Chances are everyone's got an app to set reminders and get things done everyday. Tick Tick is my choice of reminder app and helps me stay organized everyday, but a new app that's recently caught my attention is Doo – Get Things Done. Doo reminder app for iOS turns every reminder you create into a beautiful card interface thereby offering you a more attractive and refreshing way of running through your daily chores. Here's a look at what makes the Doo app a great new alternative reminders app for iPhone and iPad users.
Doo Reminder App for iOS Review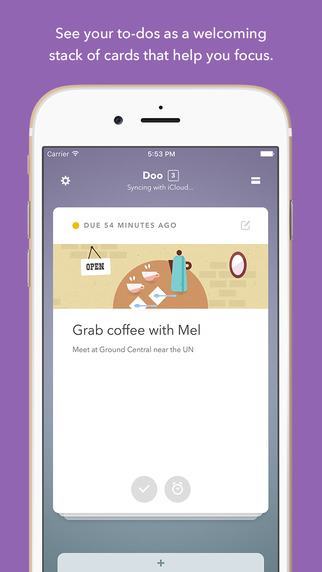 Often, seeing all your reminders lined up one after the other can stress you out and make you less productive.  Doo is all about helping you focus and complete one task at a time and not get overwhelmed by the entire list. And its easy to set up too! – with just one hand. Doo cards let you add tasks to a list, set the reminder time and date and even include an optional alert, should you need one.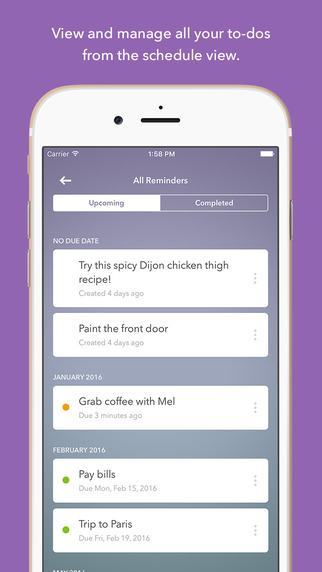 The app is also quite smart in that if it recognizes that your task is a big project that can be broken down into smaller tasks, it will offer that suggestion to you. Smaller tasks are likely to get completed faster, bringing in a sense of accomplishment and purpose and helping to achieve the overall objective more efficiently.
Each card displays cute illustrations that match the reminder you created. So if you set up a birthday party reminder you can see balloons on your card and if it's a coffee date, you have an illustration of a kettle showing up on the card. The illustrations are simply a way of bringing life into boring tasks and it actually works!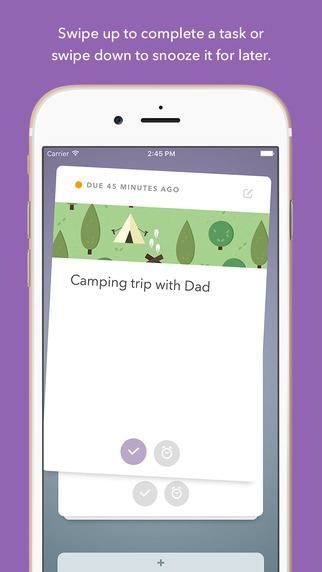 Once you set up your reminders and you open up the app in the morning, Doo displays one card at a time to remind you to get it done. You can choose to snooze the card by tapping the clock icon or by swiping the card down to push it back. If a task is completed, you can check the item off or you can swipe the card up. Items that are snoozed can be accessed later on from the menu that stays hidden on the left side of the screen.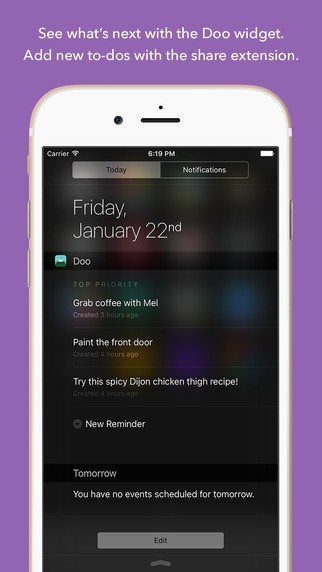 All Doo tasks are synced with iCloud, which means you can set up reminders from any iOS device and have it pushed across to other iOS devices for easier access. Doo is also available as a Notification widget, which means you can see your reminders (top 3 reminders) or add one to the list from the Notification section itself. If you have an iOS device that supports 3D Touch, you can deep press the app to add a new reminder. Doo also supports voice commands so you can get things done even without looking at the screen.
Doo is a newly launched app so don't expect it to have every feature imaginable. Developers of the app hope to add more features such as recurring reminders, priority alerts and such in future updates. For now, Doo is simply offering you a more stylish and attractive way of creating reminders, managing them and getting things done – one task at a time.
Final Thoughts
Doo reminder app makes checking off the tasks something you can actually look forward to, especially at the end of the day when you receive a happy sunshine illustration on completion. Ain't that a nice way to end your work day! Its hardly surprising then that the app has made it to the list of Best New Apps (#1) on the Apple Store.
If you want a beautiful new way to set up reminders, you can pick up Doo from the App Store for $4.99.
Download Doo – Get Things Done for iOS