Converting possible leads to sales is not easy. It is especially hard when you are not doing it face to face. We have a great deal of technology at our disposal for conducting virtual meetings. But it is still tough to capture important details of a potential client's true requirements. One tool that provides a great platform from which to build effective meetings is 6QS.
6QS App Review
6QS is an app built by professionals with an awareness of customer-oriented requirements. The app packages various customer concerns into conversation blocks. This keeps conversations going in a positive direction. It also helps in identifying areas requiring attention. This builds customer confidence that customers' business needs will be met.
Conversation Blocks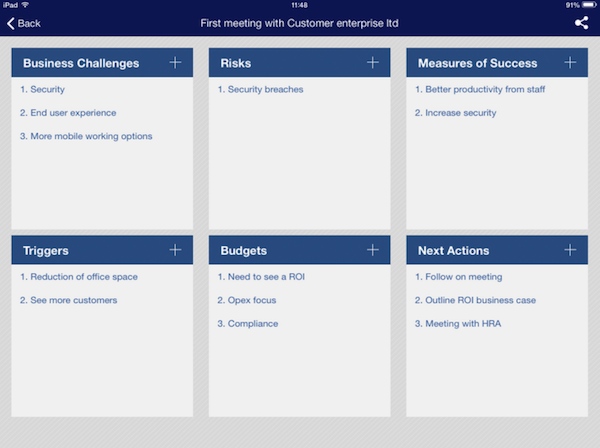 Let's start by looking at these conversation building blocks. The conversation topics include Risks, Budget, Triggers, Business Challenges, and Next Actions. As a user who is preparing for a productive meeting, you can choose the topic that best applies to the customer and meeting agenda.
You can order the topics in whichever way you want. Each block offers a list of questions that you can pose to the customer. Conversations can revolve around issues they have and this opens the door for your company to showcase your solutions.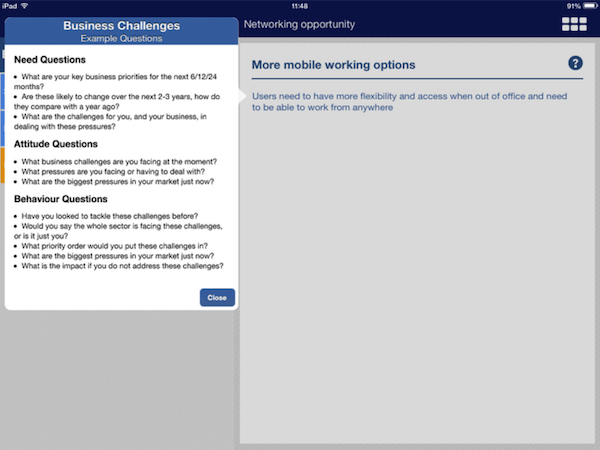 The questions are great for when you run up against a wall and are not sure what direction to take the meeting into. They almost serve as a prompt, so you can keep your meeting on track and focused.

Notes & References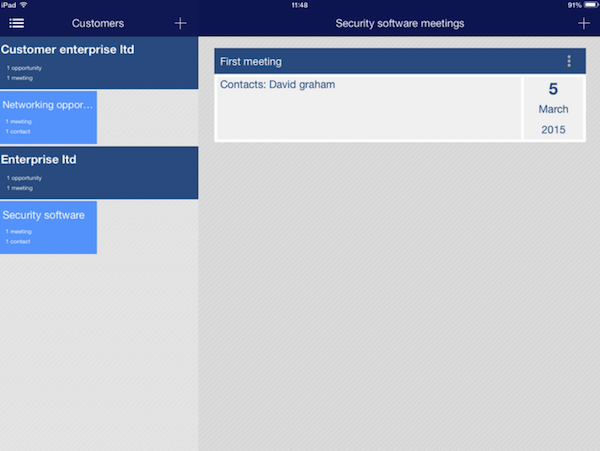 The app is capable of documenting the meeting and allowing you to convert it into something that you can reference later. For instance it can take meeting notes, which you can send to meeting attendees right after the meeting. You can even track them any time in the future when you need to look back on a conversation to see how you started your project.
Keeping a record of these meetings with all its details also provides you with important historical data. Let's say a meeting does not go well and you don't get the business. You can now go back to that conversation and see what may have gone wrong.
Quick Summary of Key Features of 6QS
Creates a visual picture of the conversation with the customer
Meeting details can be emailed as soon as the meeting is over
Helps qualify an opportunity in a structured format
Provides hints or examples of conversational questions
Simple, easy tool to track meetings
Allows ordering and reordering of issues on priority basis
Benefits of Using 6QS
Brings a structured approach to meetings
Highlights sales opportunities
Improves the quality of meetings
Improves understanding of customer deliverables
Increases productivity in sales
Conclusion
If you are in a customer facing role or are in sales, I highly recommend using 6QS. It's a great tool for new hires and for seasoned sales associates alike. Check out the app and tell us what you think. Price: $2.99