Baking might seem like a long laborious process, but if you've baked a cake before,  you'll know that it's really one of the simplest cooking techniques around. Similarly, creating a resume might seem like a long laborious process, but if you've tried ResumeBaking, you might find that you can create a professional resume in minutes without too much of a fuss.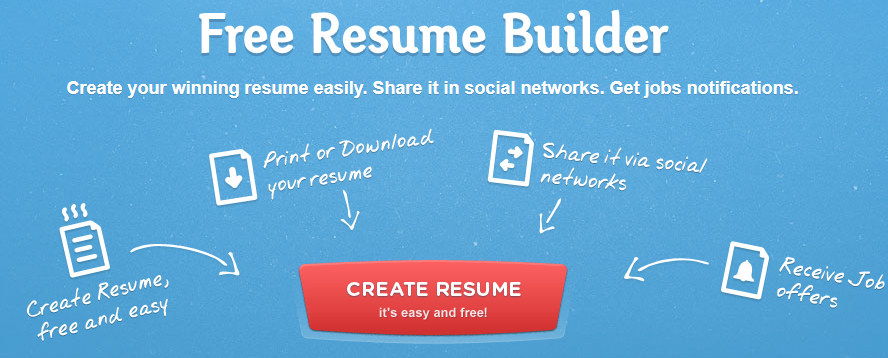 Creating a winning resume is vital to ensuring a good first impression when you're facing a potential employer. And if you've used Microsoft Word 2010 to create resumes, I'll bet you've had to spend too much time fine-tuning the margins, formatting, bullets and more to achieve the right result. ResumeBaking is a free resume builder that takes care of such troublesome issues and  helps you focus your attention on what matters most; the key skills to market yourself effectively to potential employers. So let's take an inside look at how ResumeBaking makes creating a professional resume as easy as baking an apple pie.
How to Create a Professional Resume with ResumeBaking
Sign Up
To start creating your resume, click the Create Resume button on the Home page.You will be directed to the Sign up page where you can create your free account. You can also sign in using your Twitter, Facebook, or LinkedIn Profiles. You will then be taken to the free resume builder section, where you can fill up various sections.
Adding Contact & Other Information
The next step in building your resume is adding your personal details such your name and address, along with your photo. Then enter your objective, work experience details, job related skills, and additional information such as academic awards, scholarships received, research projects you worked at and other relevant information. You can also list your interests or hobbies that reflect your valuable characteristics and positive qualities. The last step involves adding your references by uploading files not exceeding 1MB in DOC, DOCX, TXT, PDF, RTF, OD formats.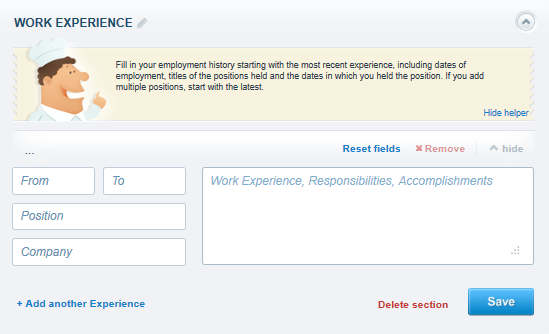 Adding Custom Sections
If your skills or experiences don't fit into the pre-built sections of the resume builder, you can customize the builder by adding your own custom sections. To add a custom section, simply drag and drop theCustom Section block from the right column into the resume builder.You can then add the relevant details. If you decide against adding the section, you can delete it. When you delete a custom section it moves back to the right column, and you can add it back later any time you want.
Adding Templates
Once you create the resume, you can opt to receive job notifications and have your resume uploaded to a unique URL. You can also choose from a number of templates available and preview the changes as you make them. Once you save the changes, you can track the number of times your resume has been viewed, mailed or downloaded from the dashboard. You can even share the URL with your social networking groups or email them to your friends, contacts, and HR contacts.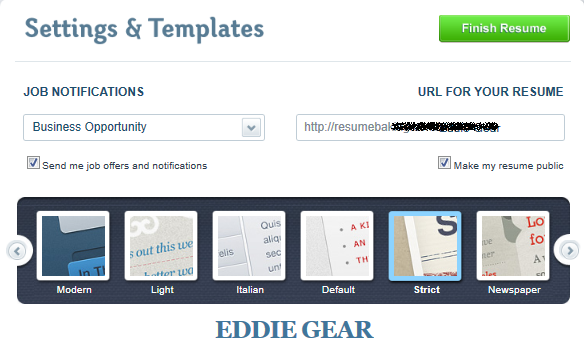 Getting Help from Samples & Examples
The ResumeBaking website also provides tips on a number of categories such as interview, resume building and cover letters among others. There's also a gallery showcasing sample resumes on specific job profiles.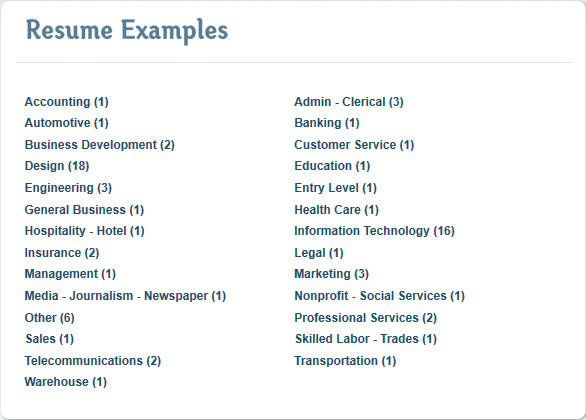 Want to read more about web apps that we have reviewed? Check out our section on Web app Reviews for more interesting web apps you may find useful.
Conclusion
ResumeBaking is a well designed web app that makes building a professional resume easy. The clean interface, clearly defined sections to incorporate key factors and absence of unwanted ads or other jazzy distractions makes it a perfectly good choice for preparing resumes. You don't have to search the internet for free sample resume templates anymore. ResumeBaking has everything you need to impress your potential employers. The two cool features that impressed me include the ability to create multiple resumes (so you can see which works best) and the ability to share your resume with social contacts and receive job notifications.
ResumeBaking may not be the most impressive resume builder you've seen, but it accomplishes it's objective very well indeed, and there's no reason for you to miss out on all it has to offer. After all, the complete package is absolutely free and you can't really ask for more!
Want us to review your web app? Send us your details using the Submit for Review page.