If you spend a lot of time Instagramming, chances are, you use the app's trendy Instagram Stories and Highlights features. Highlights are great, because they get featured at the top of your Instagram profile and stay up longer than the usual 24 hours. You can drive more views to your Highlighted Stories with an eye-popping cover, instead of a random picture that Instagram picks for you. And, there are some pretty decent apps that let you do that. Check out 3 of the best apps to create custom Instagram Highlight covers.
Best Apps to Make Cus­tom Insta­gram High­light Covers
Despite a whole lot of apps listed in the App and Play Stores, most of the ones we checked out were an abject disappointment. Almost every other app was littered with ads marring the entire user experience. There was also very little by way of creative elements (icons, backgrounds, stickers and the like) which simply added to the overall frustration. The apps listed below clearly stood out from the rest of the field and are definitely worth checking out!
Highlight Cover Maker for Instagram – StoryLight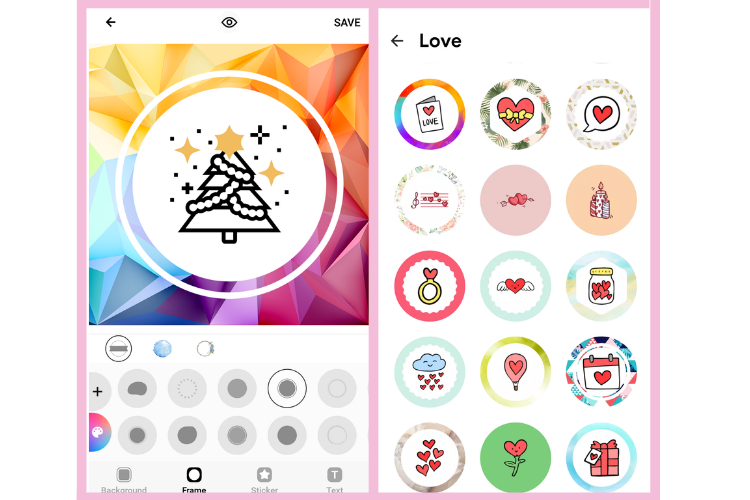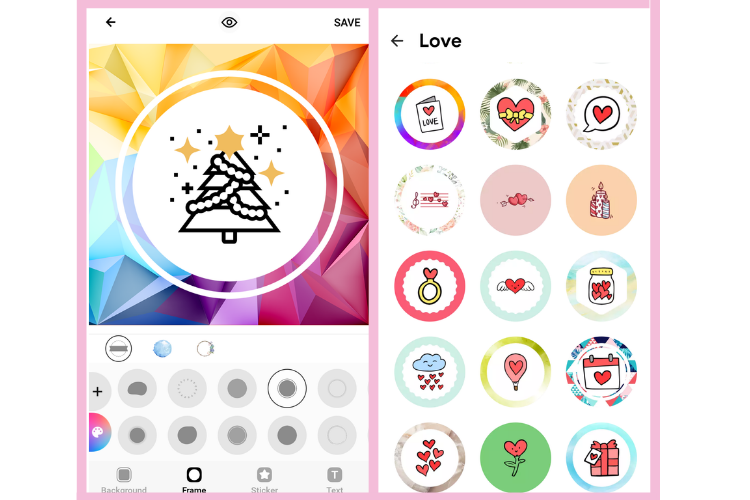 This is a fantastic app that has loads of ready-made templates, emojis, icons, and backgrounds that can help you design a fantastic custom Instagram highlight cover. You can pick a ready-made template, tap to customize it with colors, borders, icons, stickers, and text of your choice. To create one from scratch, click the + button, select your icon, sticker, background, border, frame, add some text and save. You can then apply it to your Insta profile. Overall, the app is fun and easy to use.
Price: Free with IAPs; Download: Link to Play Store; Link to App Store
Highlight Cover Maker for Instagram Story – Ryzenrise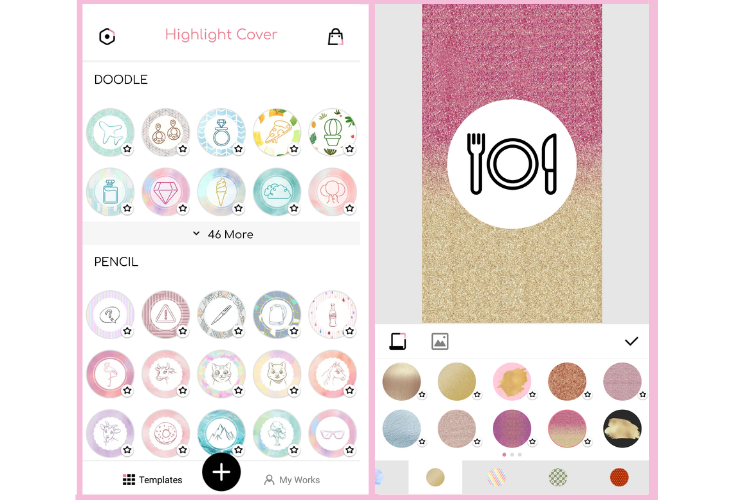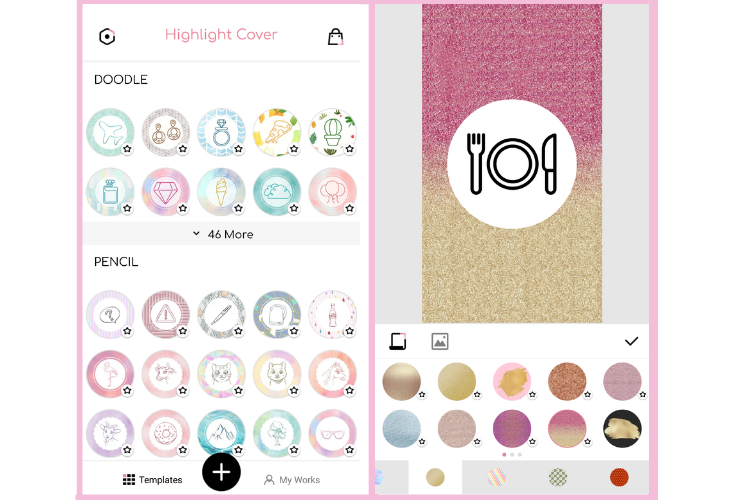 This Highlight Cover Maker from Ryzenrise has some free and several paid icons, logos, symbols, borders, and color palette for creating a great cover for your Instagram Highlights. The app even lets you upload your own pictures to create your custom cover. To create a cover from scratch, simply click the + button, add your favorite elements and customize it to your liking. Hit the eye icon at the top of the screen to see how your profile will look like on Instagram. Save. This highlight cover is also easy to use and fun to play around with.
Price: Free with IAPs; Download: Link to Play Store; Link to App Store
Canva Stories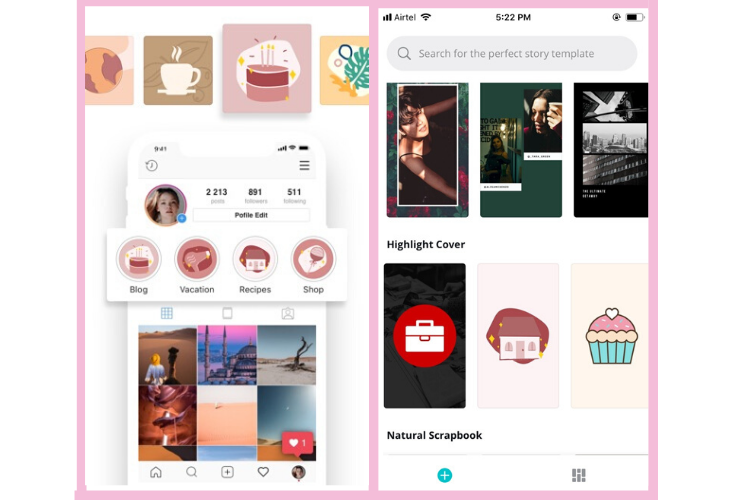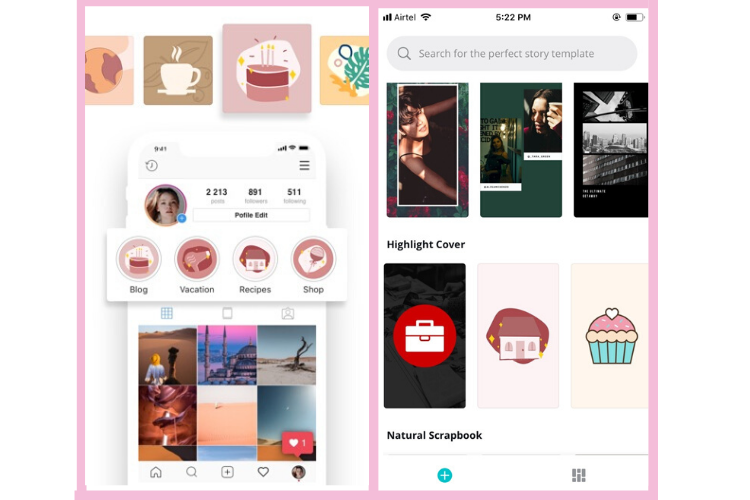 Canva is a hugely popular design platform that makes it easy for anyone with a limited design experience to create social media images, banners, cards and such. If you want to design a custom Instagram Highlight Cover from scratch, there's no better tool that I would recommend.
You can use Canva on your computer but it's a lot more convenient to use it on your phone. Sign up to a free account and open up the app. Then scroll down to the Highlight Cover section and pick a template of your choice. From there, you can tap on an element to choose your cover picture. You can click the + button to pick from a huge collection of images, shapes, illustrations and stickers. You can change the color and background and add text.
Hit the Download link to save it to your camera roll. Next, head over to the Instagram app, post it as a new story and add the image to Highlight. On the Highlighted tab, you simply have to Edit Cover and select your newly designed cover.
Final Thoughts
Designing a custom Instagram Highlight cover from scratch using Canva requires a bit of patience and time compared to using ready-made templates.
But, you have greater freedom in what you want to showcase to your viewers and you can get it done without spending a dime.
I hope you check out the apps listed in this post and find one that works brilliantly for you.
Let us know if we missed out on a really good app that makes it easy and fun to design Instagram Highlight covers.