There are plenty of apps in the App Stores that can help you plan and schedule your work, set reminders, and keep you updated on upcoming tasks and completed ones. But sometimes, all you need is a simple planner that doesn't have convoluted functions that make your task management activities complex and cumbersome to manage. For anyone who loves the simplicity of jotting down stuff in a daily view mode, there's the Diary/Agenda Weekly Planner app from developer Ruslan Dimitriev.
Diary/Agenda Weekly Planner App
Available for the iPhone and iPad devices at just under a dollar, the Diary/Agenda Weekly Planner App looks similar to a paper based diary or agenda with a week view. All entries made in the app are made in ordinary text typing mode. There are no options to sync calendars or other third party apps.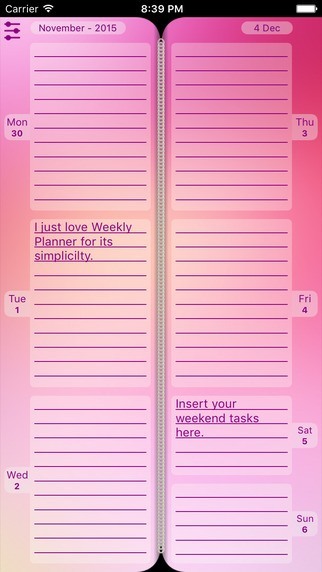 The main view in the app is the Week mode offering options to plan your activities for the week and see them at a glance. You can also click to change to the Day view so its easier to make the daily entries. Editing and deleting entries is also possible and its as simple and straightforward a planner as you can get. In all, the app has some handy features.
With the Diary/Agenda Weekly Planner app you can:
Select from a collection of colors and designs and change it as often as you like;
Select from a collection of fonts that is convenient to use with your device;
Select a language of your choice even if the main language of your device is different;
Easily make and check entries for months and years back and forth;
Easily repeat entries daily, weekly, monthly or yearly.
If you are interested in checking out the app, click below to download it.
Download for iOS and Android ($0.99)