Office programs usually come installed with plenty of predefined fonts. However, if you don't find any of the fonts appetizing enough for your next project work, you may want to find new fonts and add them to your font library. New fonts are available in online marketplaces for free, as shareware and some are even sold commercially.
In this post, we take a look at some of the websites where you can download new fonts and we will also show you how to install them on your Windows operating system for use in your Office programs. (Fonts are installed on your operating system rather than in the Office suite.)
Where to Find New Fonts
If you want to know all the fonts that come preinstalled with Office, you can find of them at a glance here. If you are on the hunt for new fonts, here are some handy places where you can download them.
Creative Fabrica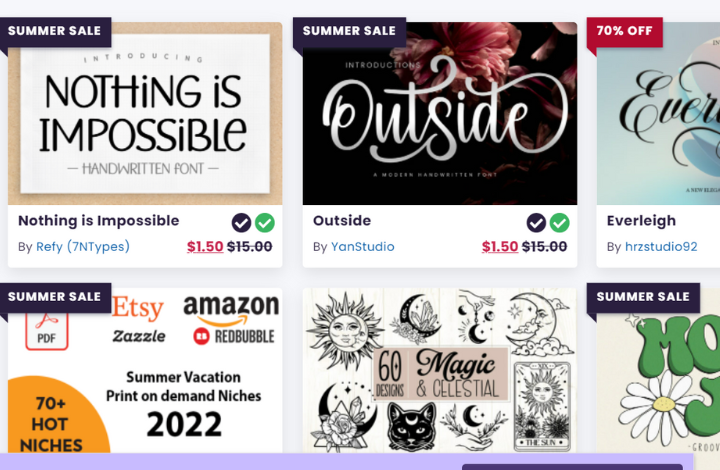 Creative Fabrica let's crafters explore the wide range of crafting by offering over 4 million quality fonts, graphic illustrations, SVGs, machine embroidery files, knitting and sewing patterns, printables, 3D SVG templates and much more. All designs are created by talented designers, and new designs are added daily. They also offer a wide range of quality freebies (free fonts, free SVGs, classes and more) which is perfect if you want to test out their designs!
1001 Free Fonts
This website has more fonts than you'll ever need. The fonts are free to download and use for personal use. You can also buy fonts, about 10K of them for $19.95 for your commercial use. The website allows you to add text of your choice to preview. You can also modify the font size and text color to see the font in action.
UrbanFonts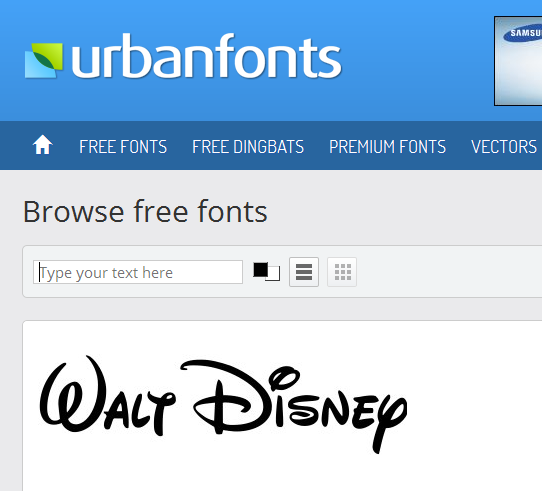 UrbanFonts have a good collection of free and premium fonts that can be previewed with your own text and downloaded. The site features a neat filter that lets you find new fonts, top rated, latest, and popular ones as well as find fonts in alphabetical order. They also feature some exclusive packs that are available on special deals.
Fontstock
Fontstock offers hundreds of fonts from various categories. You can also discover new fonts, top rated fonts, popular, and most commented on fonts as well as by designers.
Fontspace
Over 25000 fonts have been shared by designers at Fontspace. They are free for personal use and are expressly not to be used commercially. You can however email them with a request for permission to use for commercial purposes.
Google Fonts
If you fancy some Google Fonts, there's nothing stopping you from picking up one of those as well. You can download Google Fonts free of charge to your PC via a utility called SkyFonts. More on this later.
How to Download New Fonts and Use Them in Microsoft Word
1. Browse through the fonts on the websites mentioned above and download the ones that you want to install on your PC.
2. Most fonts will be downloaded in a ZIP format. Unzip the files using the default Windows 8 extraction feature or use tools like WinZip.
3. Make sure that your Word document is closed.
4. In Windows, head over to the Control Panel. In the Search box, type Fonts.
5. From the results, click the Font's folder to open it up.
6. Now go to the location where you unzipped and saved your font. Drag and drop it into the Fonts folder.
How to Install Google Fonts On Your Desktop
If you find that Google Fonts works best for your projects, you can use the SkyFonts utility to access the fonts easily. There is a free trial to see how the utility works and is a good option to consider if you run a digital agency.
1. Download SkyFonts from here.
2. Run the EXE file and complete the steps outlined in the wizard.
3. When the installation is complete, you will see the Skyfonts box that displays a list of partner sites.
4. Click the View all Google Fonts link at the bottom of the box.
5. The Google Fonts window will open up on a separate browser page.
6. Scroll through the list of fonts and when you have made you selection, click the Skyfonts button.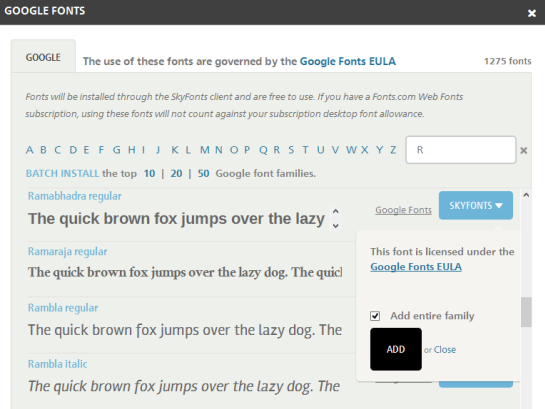 7. From the drop-down list, check the Add entire family check box and click Add.
You can also hit the Batch install link below the search box to simultaneously install the top 10, 20, or 50 Google font families.
The tool will check for the Skyfont application on your PC and when confirmed will download the fonts.
Using new fonts in your various projects creatively is a must if you want to stand out from the pack. I hope this tutorial was helpful to you in your search.