Most PC hard drives today come with a single partition. If you go to File Explorer to the This PC/My Computer section, you'll find that you only have one drive typically displayed as Local Disk (C:). This means your data, apps, OS are all sitting on this one partition and should something happen to the partition's Index file, your computer won't be able to boot the drive and you face the danger of losing access to all your data.
Partitioning a hard drive offers a number of benefits including easier backup of data, avoiding low disk space problems and easy restoration of data in the event of a reformat or reinstall. EaseUS, makers of the incredibly easy to use Data Recovery Wizard also have a handy solution for users who want to partition their hard drives and make better use of their hard drive capacity in the form of EaseUS Partition Master.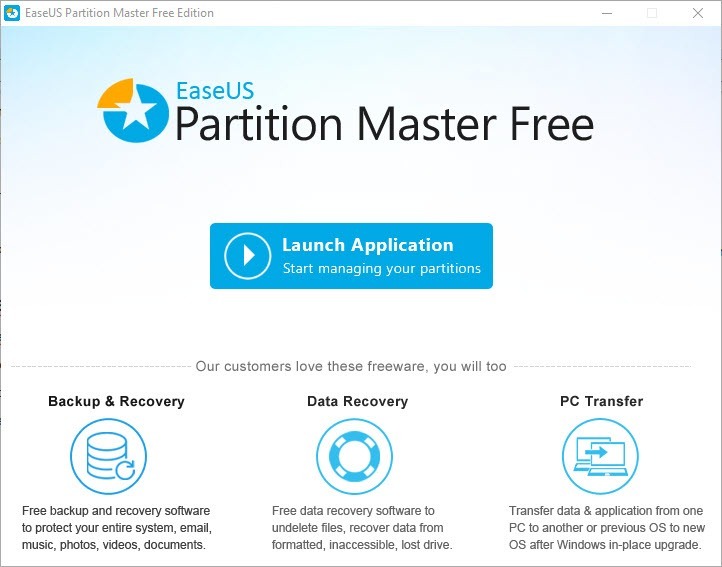 EaseUS Partition Master comes in a number of editions, but if you are a home user looking to resize and merge partitions, the EaseUS Partition Master Free edition should more than meet your requirements for the job.
Key Features of EaseUS Partition Master Free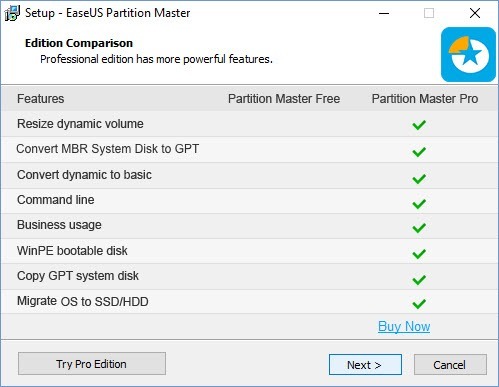 With the free edition of EaseUS Partition Master, you can:
Resize, move or split partitions without data loss
Merge two partitions without data loss
Convert FAT to NTFS file system
Copy entire hard disk to another without reinstalling OS
Recover deleted or lost partitions from unallocated space
Convert primary partition to logical partition and vice versa
Wipe disk or partition to permanently wipe sensitive data on disk
Support up to 8TB GPT disk.
Support MBR & GPT disk, hardware RAID, removable device
Support Windows XP/Vista/7/8/8.1/10
The Pro version of the software (Partition Master Professional) offers additional features like the option to convert MBR system disk to GPT, dynamic disk to basic; resize dynamic volume, move Windows 10 to SSD and more.
Extending your Drive with EaseUS Partition Master Free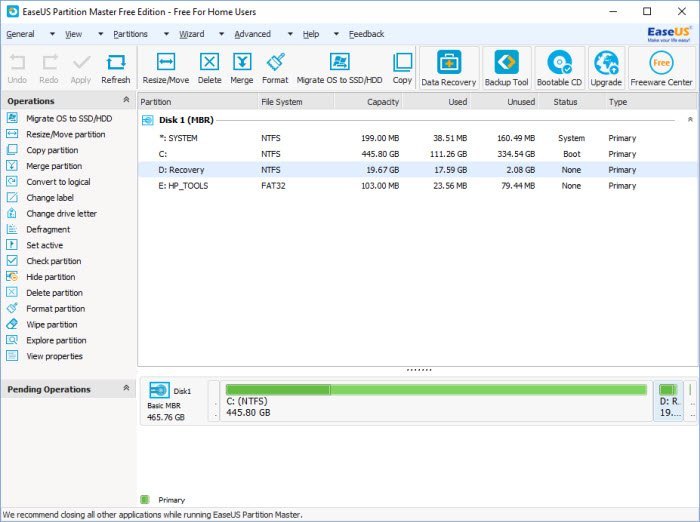 The UI of EaseUS Partition Master Free is pretty well designed. You can see all the operations you can perform on your partitions clearly laid out on the left pane as well as in the toolbar. If you want to perform a Windows 10 resize partition say on the C drive, here's what you need to do:
1. Select the partition to the right of the C: Drive, let's say, you choose the E: drive.
2. From the toolbar, select Resize/Move.
3. In the Resize/Move dialog box that opens up,move the handle bar on the left to create unallocated space. This will then show up right behind the D Drive partition.
4. Click and drag the unallocated space partition to move it right next to the C Drive.
5. Next you select the C drive and hit the Resize/Move button again to display the Resize/Move dialog box.
6. You will now be able to extend the handle bar into the unallocated space, thereby extending the hard drive. So in just a few steps, you shrunk the E drive and used the extra space to extend your C Drive.
In a similar vein, you can perform other functions as well. There are plenty of how-to guides on the official EaseUS website that show you how to resize, move, split and merge partitions and you can also check out their YouTube channel to see how its done.
Here is, for example a quick guide to resizing and moving partitions.
Final Thoughts
EaseUS Partition Master Free is a really handy tool to have on your PC if you want to make optimum use of your hard drive. It offers plenty of great features for Home users for the price of free, with easy upgrade options if users want more advanced features. The UI is clean and user friendly with the commands and graphical elements making it easy even for non-techies to understand partitions.
Have you used EaseUS Partition Master Free? What's been your experience using the software. We'd love to hear your thoughts.