Alarms may be a nuisance, but they are handy gadgets no one can do without. It wakes us up on time, helps us keep a consistent schedule and basically ensures that we never miss time- specific events. Alarm clocks today have become smarter, with big bold displays, and built-in smart assistants that can let you use voice commands to do a ton of stuff like control your smart home devices and read out the morning news. If you're thinking about picking up a smart clock, here are two great options to choose from.
Lenovo Smart Clock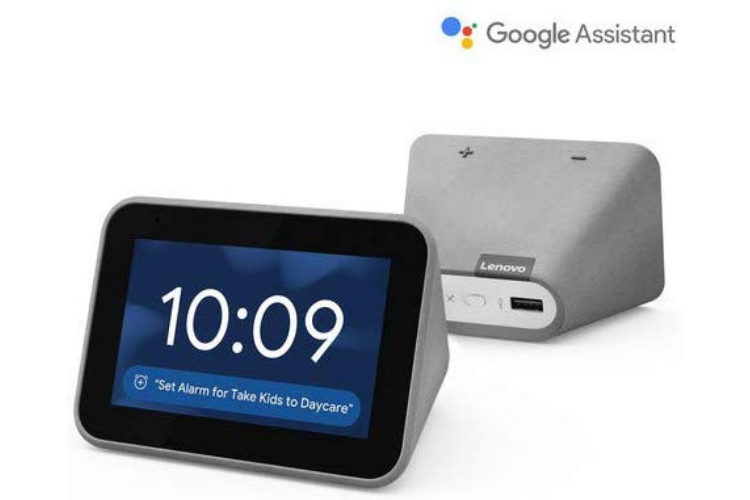 The Lenovo Smart clock is a great 4-inch touch screen device that will great on your bedside table. It has a big bold display with a nice variety of clock faces in various colors and styles. It also shows you a few extra details such as the weather, your agenda, or information from Google Assistant. It also works well with a Nest cam, displaying your video feeds.
At night, you can dim the display and play relaxing ambient noises to help you unwind and sleep better. The sunrise alarm feature gradually brightens the screen as the alarm goes off, letting you wake up in a relaxed manner.
This smart clock has no camera, so you don't have to worry about privacy issues when keeping it in the bedroom.
On the downside, this device has no battery or built in backup power supply. If you don't have power, the alarm won't sound. You can overcome this by plugging it into a small UPS.
The latest software update (Dec 2019) brings a new Impromptu alarm option that lets you customize your ringtone to a specific situation, based on things like the time of day or weather. The latest updates also improves upon automatic brightness, adds a music recommendation card to help you get to your playlists faster, and offers more granular control over how long your alarm lasts (now up to 60 minutes).
Specs
Screen: 5.5 inches
Resolution: 960 x 480 pixels
Speaker: 4-Watt
Camera: 1MP
Dimensions: 5.8 x 3.4 x 2.9 inches
Built-in Camera Shutter
Touchscreen
Colors: 2
Bluetooth
Wi-Fi
Sunrise alarm
The Lenovo Smart Clock is available on Amazon for around $53
Echo Show 5
Amazon's Echo Show 5 comes with a 5.5-inch display and a compact design that would look great in any home. The Echo Show is Alexa enabled so if you're in the Amazon ecosystem, you can do a lot with the Echo Show.
I'm talking about watching movies, videos and TV shows; listening to the radio, getting the lyrics to songs; video chatting or Skyping; managing your calendar, creating to-do lists, getting weather and traffic updates, cooking along with recipes and a whole lot more.
You can also use voice commands to control compatible devices like lights, thermostats, and switches or manage them via the display. And of course, you can create routines and alarms to start your day. The Show 5 has several fun clock face designs to choose from.
The sunrise alarm feature helps you ease into consciousness by gradually brightening the screen as your alarm goes off.
This smart clock or display has multiple layers of privacy. You can turn the microphone and camera off with a press of a button. And a built-in shutter on the Echo Show lets you easily cover the camera.
Specs
Screen: 4 inches
Resolution: 800 x 40 pixels
Speaker: 3-Watt
Camera: None
Dimensions: 4.48 x 2.9 x 3.1 inches
Touchscreen
Colors: 1
Bluetooth
Wi-Fi
Sunrise alarm
The Echo Show 5 is available on Amazon for $60
Which to Buy? – Lenovo Smart Clock vs. Echo Show 5
The Lenovo Smart Clock's main focus is being an alarm clock. The Echo Show 5 does a whole lot more for $15 more.
Both devices let you use voice commands to set alarms. You can set the display to dim as per your requirements so that your sleep is not disturbed.
Both have the sunrise feature that eases you into consciousness by gradually brightening the screen as the alarm goes off.
Camera
The Echo Show 5 has a camera with a shutter that slides over the lens, while the Lenovo Smart Clock has no camera at all. Both devices have a mic with the option to turn it off, if necessary.
Smart Devices
Both devices let you control smart home devices either using the display or by giving vocal commands. For instance, you can turn off the lights, adjust the thermostat, check camera feeds and so on. So your choice of Lenovo or Echo will depend on the smart devices you have at home. You should note though that Alexa works with more smart home devices than Google Assistant.
Videos
The Lenovo Smart Clock is not designed for watching videos. In contrast, the Echo Show 5 lets you catch up on some entertainment before you hit the bed. You can watch the news, listen to music, access Prime Video or watch Netflix and YouTube. That could be a distraction when you want your smart clock to just get you to unwind and wake you up to time. Or maybe you unwind while watching a video. It really is up to how your sleep habits.
Sound
When it comes to sound, sound quality of both devices is good enough, with a slight edge to the Echo with its 4W speaker. Remember, the devices are not designed to be a smart speaker.
Display
The screen on the Echo Show 5 is an inch larger than the Lenovo Smart Clock, which makes the viewing experience on the Echo a touch better than the Lenovo Smart Clock.
Final Thoughts
Both the Echo Show 5 and the Lenovo Smart Clock are top notch smart clocks. They look great in the bedroom and have great displays. The Echo Show 5 is a great pick if you love Alexa and want to control a wide range of smart home devices. The Lenovo Smart Clock is a great choice if you just want a great alarm clock with Google Assistant.
And considering that the two devices are only $15 apart, it might make more sense to go for the Echo Show 5. You definitely get more bang for your buck with the Show! Plus, pick it up during the holiday/Prime Day sale, and you're sure to get it for a great discount!
Check out the Echo Show 5 on Amazon for $89.99
Check out the Lenovo Smart Clock on Amazon for $74.99