Who would have thought that the humble wallet would become smart in this lifetime? But that's precisely what has happened thanks to Ekster. The company has become the world's largest smart wallet brand, designing wallets with impressive form factors and functionality. If you're looking for a wallet that is slim, can hold a number of cards, and one that can be tracked across the world, you'll love what Ekster has to offer.
Ekster Smart Wallet Features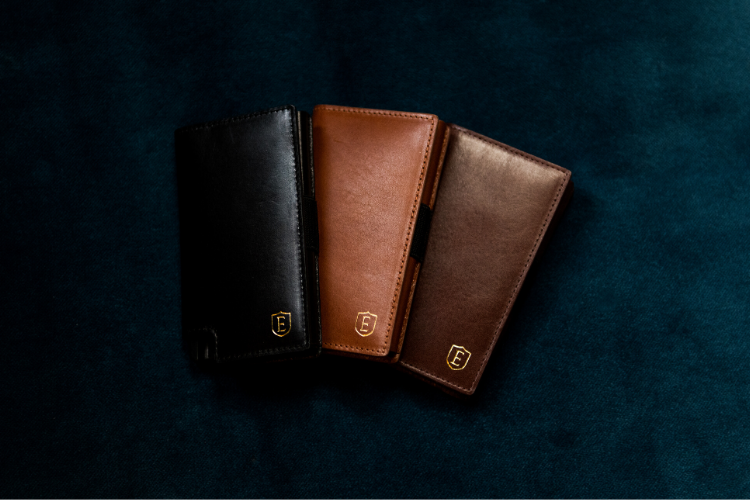 HandCrafted with Premium Leather
Ekster wallets are handcrafted from premium top-grain leather, that is tanned under gold-rated LWG environmental protocols. The gorgeous leather used in making these wallets ages beautifully over time, keeping your cash and cards safe in style.
Slim Yet Stores Over 10+ Cards
The Ekster smart wallet features a card slider system, a scanner card pocket, internal card slots and an elastic multi-purpose strap for bills/cash. The built-in aluminum cardholder can store 4-6 cards depending on the number of embossed cards, while the pocket strap can hold 4 additional cards plus some cash. The wallet itself is just 0.59 inches thin, ensuring you never have to suffer a bulky wallet ever again.
Quick Card Access
Although Ekster wallets can hold at least 12 cards, users can instantly access up to 6 cards with the click of a button. Ekster efficient card access mechanism lets you simply click the trigger to eject the cards. You don't even have to open the smart wallet.
RFID Blocking
Today, credit and debit cards have RFID and NFC technology embedded in them. This makes them vulnerable to hacks – even from a distance. Ekster Wallet with its aluminum cardholder, blocks out all signals keeping users fully protected against any data theft.
Voice Activated Smart Wallet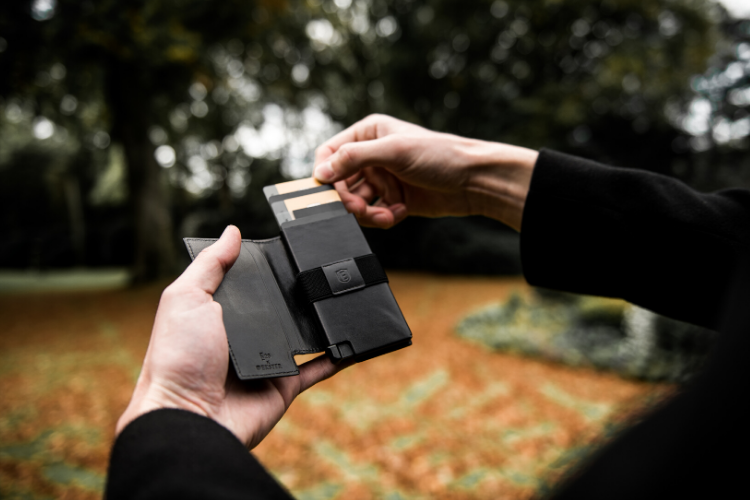 Ekster's products are one of the world's first voice activated smart wallets. They are compatible with Google Assistant and Amazon Alexa. This means if you misplace your wallet, you can use voice commands on your phone or smart speaker to locate it.
Solar-Charged Smart Wallet
When it comes to charging the wallet, you'll be happy to learn that it works on solar, so you don't have to charge or replace your tracker batteries. The wallet doesn't even need direct sunlight to charge and just 3 hours of charging time will let you use it for up to 2 months.
Smart Tracking Enabled
Ekster has partnered with Chipolo, (the company known for creating the world's slimmest and loudest tracking devices) to make the thinnest trackers for their wallets. The trackers have a unique QR code that links it to your smartphone like a fingerprint. If your wallet is lost and someone finds it, by scanning this QR code a message will be sent to you, immediately letting you know where the wallet is. Chipolo's GPS tracker network spans across the globe, which means you can find your wallet even when it's out of Bluetooth range. When any user is within range of your lost item, you'll receive a GPS update of its location.
Ekster Smart Wallets
Ekster Parliament – This wallet model can store at least 9 cards plus cash. It has RFID blocking and comes in some lovely shades of leather.
Senate Cardholder – This is for users who want minimal bulk. It can store up to 7 cards plus cash.
Final Thoughts
A wallet is an important accessory to hold your cards and bills. But in today's hi-tech world, it is important that a wallet serves to protect and safeguard our money and card-related information.
Ekster's smart wallets, with their slim design, RFID blocking feature, tracking and solar charging capabilities offer the right kind of incentives to upgrade our wallets.
If you're looking for a wallet that can hold more cards while keeping down the bulk factor, check out the efficient smart wallets from Ekster. You won't be disappointed!
They'd make great Christmas gifts for the man in your life too!
Check out the Ekster Smart Wallets on Amazon