If you happen to lose or misplace your iPhone or iPad, and it falls into the wrong hands, the finder may try accessing the phone by guessing your passcode. While guessing the wrong passcode will lock them out, there's a good chance that they will eventually get it right, especially if you have something as simple as 123456. You can prevent someone from getting to your data by setting up your iOS device to erase the data after multiple failed passcode attempts. Here's how to do it.
You can keep yourself protected from such scenarios by enabling one additional option : wiping out your iPhone or iPad after 10 failed attempts. If you are prepared to take this drastic step, you must ensure that you have your iOS data properly backed up. If you aren't sure how to do this, please refer to this post.
Now, to enable the erase option:
How to Erase Your iPhone Data After 10 Failed Passcode Attempts
1. Go to Settings and tap Touch ID & Passcode.
2. In the Touch ID & Passcode settings screen, enter your passcode to continue.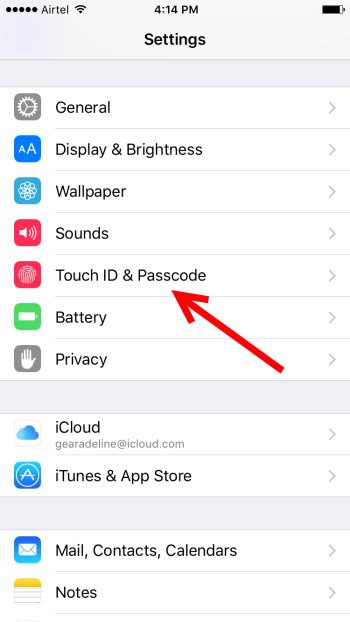 3. Scroll to the bottom of the screen to the Erase Data section. Below this you will see the instruction, "Erase all data on this iPhone after 10 failed passcode attempts."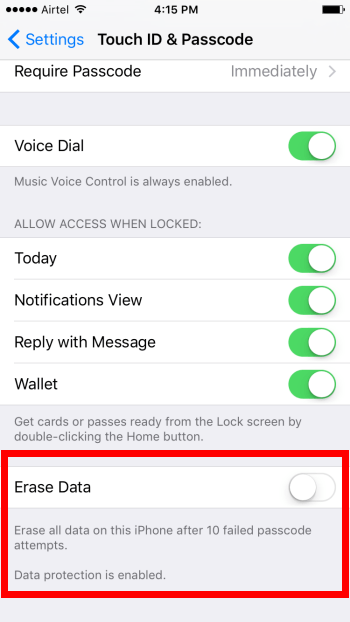 4. Toggle the Erase Data button to enable the function. When you are asked to confirm, tap Enable.
That's it!
Just remember that if the iPhone gets into the wrong hands, especially your kids, or a completely drunk person, chances are you'll end up losing your data, so once again, enable with great caution. Also if you enable this feature, make sure that you take frequent local backups of your data. Otherwise, if your phone gets erased, your data will be lost for good.