The age of the smartphone is upon us and strange as it may seem, it has also modified the way we learn and use information. So much so, that even medical professionals have resorted to a bit of light "cheating" here and there thanks to extremely well designed medical apps that offer all the medical information you require at the tip of your fingers. And why not?
The truth is that instead of leafing through unending books of information, it is so much easier to simply search for the piece of information that you need to know and get on with your work, check drug interactions or dosages or run differential diagnoses in well under three minutes. Doctors, interns and certified nurse assistants can greatly benefit from the wonderful tools that technology has provided. Obviously, when giving a diagnostic, it is vital to find the symptoms and treatments to the illness as fast as possible. So here are seven wonderful medical apps that everyone should be using.
Useful Medical Apps for Doctors and Nurses
1. Epocrates
The number one app according to a survey conducted by the University of Pennsylvania is Epocrates, the app that distinguishes itself by organizing all medical references in a patient-centered manner. The database is continuously updated so as to keep drug information fresh and correct as well as an extremely user friendly interface. What most users find exquisite is the drug interaction checker that cross-references up to 30 different drugs simultaneously and organizes the interactions in order of importance. It also contains extensive lists of drug references, prescription drugs and their administration instruction as well as a pill identifier and calculator.
2. Medscape
With more than 2 million registered users, Medscape is the top medical resource for medical students, physicians, nurses and all healthcare professionals. With a database containing more than 8000 brands of prescription and generic drugs, OTC drugs, supplements and herbals, interaction checkers, prescribing information, medical news, diseases, conditions and medical procedures that are organized clearly from overview and approach considerations, to clinical diagnosis, management and treatment, this app is exquisite in every way. There are over 600 videos with step-by-step instructions for different procedures, as well as tables and protocols, differential diagnostics, medical calculators and the best part is that it's all free.
3. Dynamed
Described by its producers as a unique tool and clinical information resource, this app synthesizes medical information that is evidence based and offers it in a friendly, easy-to-comprehend format. The app is designed to provide unbiased medical information so as to asist physician in decision-making processes.
4. MedCalc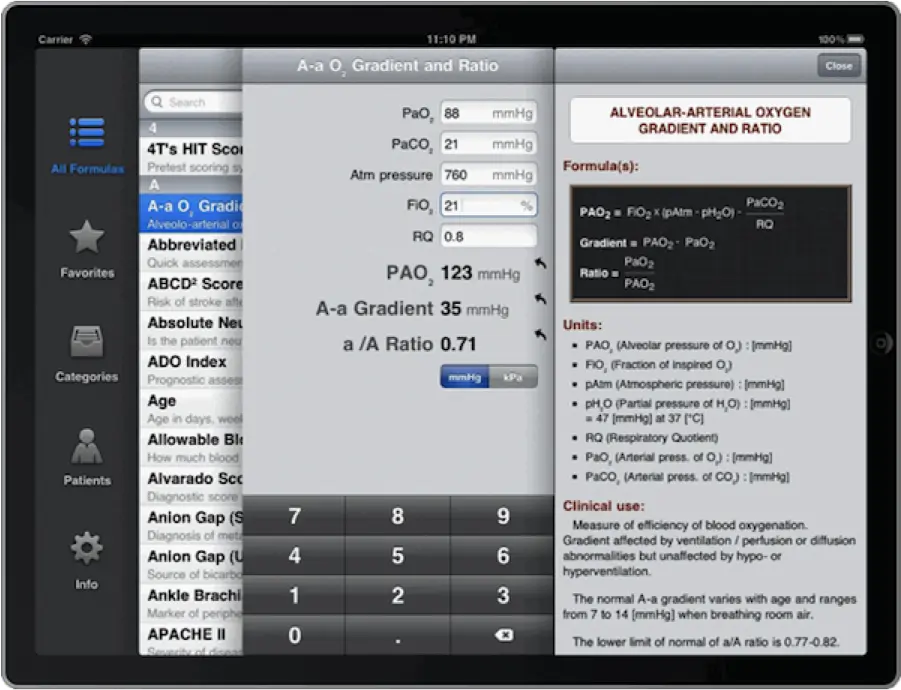 For those who find it difficult to use formulas and calculators for medical purposes, there is an app that only requires patient data for you and does all the work. MedCalc is extremely easy to use and in spite of the $0.99 acquisition price, it is an extremely useful app to have.
5. VisualDX
Meant to support young physicians in their therapeutical decisions, VisualDX is an app that has a database of more than 25000 medical images that aid in identifying dermatologica, infectious, generic, metabolic and many other types of conditions or injuries. The unique aspect is that VisualDX is the only smartphone app that offers multiple images for each disease.
6. Micromedex
Enciclopedias are a wonderful thing and if there were one that were small and would fit in your pocket, you'd surely own one- oh wait, there is one. This awesome little app is the encyclopedia of pharmaceuticals that are currently being prescribed in the US and Canada, together with description, pharmacology, instructions and side effects.
7. ACC Pocket Guidelines
Another free app created by the American College of Cardiology foundation, ACC Pocket Guidelines is actually a cardiology textbook in your pocket that includes TTE (trans thorax echocardiography) and TEE (trans esophageal echocardiography) with an included database- all you need to get you started.
There are countless other medical apps that medical professionals can try, from radiology tools and calculators, to dermatology reviewers, with comprehensive databases that can help you in the most peculiar situations possible, the idea is to search and find the answer to your question. There are even medical applications that can save you in case of emergencies! All you need to do is browse around the app stores and discover them.