Whether you use iTunes, Windows Media Player, or Winamp to listen to your favorite music, if you feel the need to sing along while listening to your favorite numbers, you sure cannot expect your player to serve it to you. And it certainly is no fun to have to Google the lyrics of every song you listen to. MiniLyrics is a free plugin that helps you find lyrics to your favorite songs and delivers it to you simultaneously when the song is playing.
Once you download and install the EXE file, you can select the media players you want it to support.
Find Lyrics to your Favorite Songs with the MiniLyrics Plugin
MiniLyrics works pretty decently most times. When you play a song, MiniLyrics automatically picks up the lyrics from its database and displays it in synchronization with the song that's being played. When the song is not available in its database, but is available in other online locations, you can use the Menu options to select the lyrics to the song. (Click Search lyrics, select an option, and click Open to display the lyrics.)
However, there are quite a few issues when you search lyrics. One, the syncing fails, and two, the lyrics sometimes fail to scroll down automatically as the song plays.
MiniLyrics also performs a few other functions. Users can rate lyrics, upload lyrics, save lyrics downloaded and edit lyrics using the built-in editor.
Users can also customize the manner in which the lyrics are displayed. For instance, users can change the pace of the scrolling action while the song being played (Ctrl+F7), change the font size, background color, highlights, move lyrics backward or forward and more. You can also choose from over 10 different skins and use the right-click context menu to access common commands.
Currently MiniLyrics supports Winamp, Windows Media Player, iTunes, MediaMonkey, Spotify, Zune, Album Player, Helium Music Manager, JetAudio, Foobar2000, RealPlayer, Songbird, AIMP2, The KMPlayer, Yahoo! Music Engine, J. River Media Center, J. River Media Jukebox, Quintessential Player, BSPlayer, Silverjuke, XMPlay, VLC Media Player, Media Player Classic Home Cinema, MusicBee.
While MiniLyrics works without any intervention in Windows Media Player, if you want to access MiniLyrics on your VLC player, you'll need to first follow these few brief steps.
1. Open VLC. From the Tools menu, choose Preferences.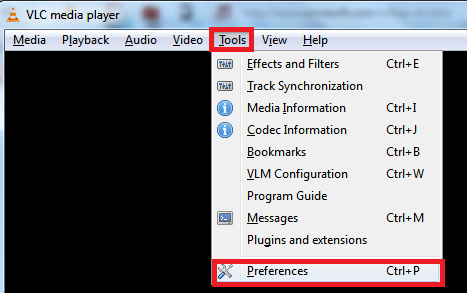 2. At the bottom of the window, select All.

3. Click the Interface drop-down arrow, select Control Interfaces and then check the MiniLyrics – Auto display lyrics for current playing song option.
You can now enjoy all your favorite tracks and sing along with some lyrical help from MiniLyrics. Have you downloaded and installed MiniLyrics on your media player? Do you know a better alternative to MiniLyrics ? Let us know about it in the comments section.
If you love reading our posts, be sure to join us on Facebook and share your favorite posts with your friends.