If you're on the hunt for a fitness smartwatch, you have a ton of options to choose from. If you've narrowed down your choice to the Fitbit Versa 2 or Fossil Sport, then it is worth doing a quick comparison check to see what both of them offer both in terms of fitness tracking as well as smartwatch features so that you can make a better purchase decision. In this post, we showcase the Fossil Sport vs Fitbit Versa 2 to help you in your choice.
Fossil Sport vs Fitbit Versa 2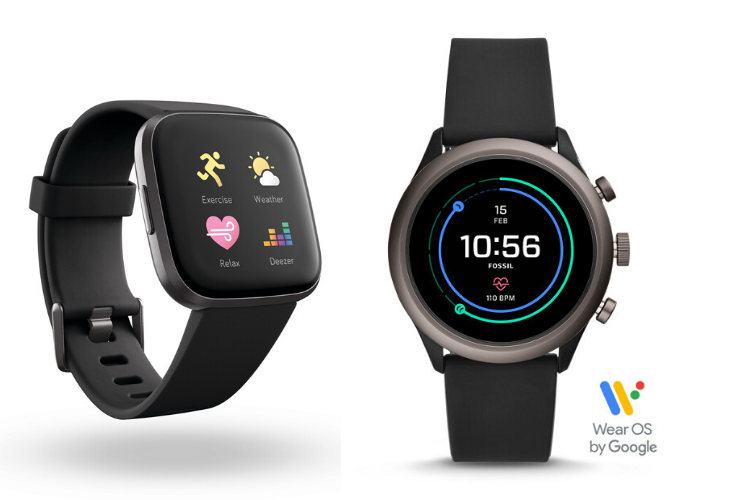 Fitness Tracking
The Versa 2 has an extensive health and fitness tracking suite.  It has 24×7 heart rate tracking to help you measure calorie burns and optimize your workouts. You can also see the steps, distance, calories, floors climbed and minutes you have been active. It also measures sleep in terms of light, deep and REM sleep. Women can also log periods, record symptoms, gauge ovulation and discover patterns in their cycle via the Fitbit app.
The watch also lets you better deal with stress by offering 2- or 5-minute guided breathing sessions right from your wrist. This is certainly helpful in catching a few moments of calm throughout your busy work day.
Fitbit also has a special workout program called Fitbit Coach that guides you with each of your workouts. If you like the program, you can take up a subscription plan to organize your workouts more effectively. The watch offers over 15 exercise modes to record workouts like run, bike, swim and yoga and get real-time stats during your workouts. The SmartTrack feature automatically recognizes and records activities like runs, sports & aerobic workouts.
For many of us with desk jobs, the watch offers timely personalized reminders throughout the day to move if you've been sitting too long. You'll also get a personalized Cardio Fitness Score and tips to improve your fitness over time.
Fossil Sport is integrated with Google Fit, which may not be a fantastic platform, but it still gets the job done. Google Fit features the main app, a workout app, and one for guided meditation. It helps you track your heart rate, steps, distance, and calories burned. It also measures heart rate automatically during a workout. You can even create custom goals such as drinking water or exercising and helps you track them.
Wallet
If you're in the habit of using digital wallets for making payments, you'll find that both watches have their own wallets to help you do that. Fossil Sport comes with Google Pay while Fitbit lets you make secure payments via Fitbit Pay.
GPS
Onboard GPS may be important to you as a fitness enthusiast. If that is a deciding factor for you, then you'll want to go for the Fossil Sport, which has built-in GPS. If you're going for the Versa 2, you'll need to connect to your phone's GPS to see real-time pace and distance on your watch, and get a map of your route in the app.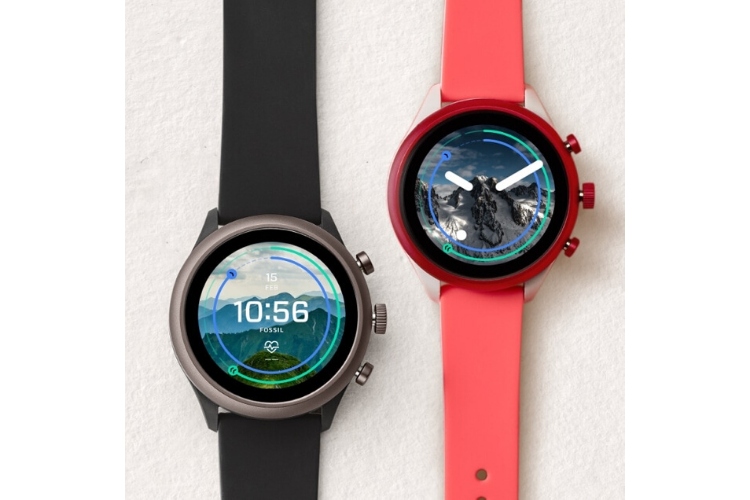 Water Resistance
The Versa 2 is water resistant up to 50M. That means you can wear your tracker in the shower, pool and beyond. Plus, it automatically tracks how long you're swimming. The Fossil Sport doesn't lag in this aspect either. You can hit the pool without worrying about your watch getting damaged.
Wireless Syncing
Both the smartwatches automatically sync to your phone so you can keep tabs on your activity and notifications. You can get call, text and calendar alerts via Bluetooth technology. If you have an Android, you can even send quick replies on the Versa 2.
Voice Assistant Support
The Versa 2 has Amazon Alexa built-in, allowing you to do a host of things like checking the weather, setting timers and controlling your smart home devices from your watch using voice commands. Since the Sport runs on WearOS, you'll have access to Google Assistant.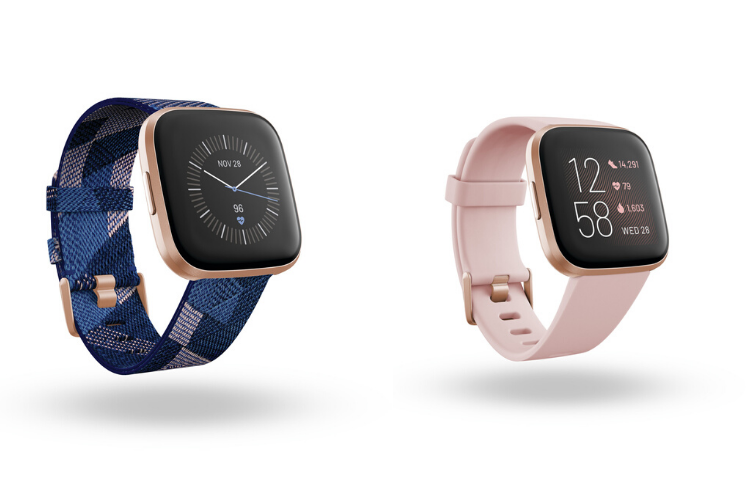 Battery Life
You get more than six days of battery life on the Versa 2, which is significantly more than the Fossil Sport, which only gives you 24+ hours of usage. You could push that to two days if you decide to switch to the low-power mode.
With the Fitbit Versa 2, you'll be able to reach a full charge in under two hours. The Fossil Sport can reach an 80% charge in one hour with rapid charging.
Design
The Versa 2 comes in a brushed anodized aluminum case with a rounded square design that is easy on the eyes. The small border gives you the luxury of enjoying more screen space on the Corning Gorilla Glass 3 touchscreen. The always-on display mode is a nice addition as it lets you see what's on the screen just at a glance.
The Fossil Sport comes with a mix of plastic and brushed aluminum. The 41mm model comes in bright colors such as red, blush, black, gray, light blue, and neon. The 43mm model comes in black, navy blue, dark red, smoky blue, and spruce green. Both sizes come with a silicone band. A smooth crown lets you scroll and click through options comfortably.
Price
The Fossil Sport has a decent price tag of $99 when compared to the more expensive $150 Versa 2 (deal price).
Why Buy the Fitbit Versa 2?
6+ days of battery life
Fitbit Pay support
Amazon Alexa support
Comprehensive fitness and exercise setup
Heart-rate and sleep monitoring
Why Buy the Fossil Sport?
Decent price
Built-in GPS
Google Pay support
Compatible with Google Assistant
Works with Google Fit
Heart-rate monitoring
Final Thoughts
Both the Fossil Sport and Fitbit Versa 2 are awesome in their own ways. Your choice of watch in the end will come down to your needs and budget. If GPS is super important to you, you have a small budget, and you need a watch that does all the basic stuff, you'll prefer to go for the Fossil Sport.
If you want good battery life with powerful fitness tracking features and you don't mind paying more, the Versa 2 should be the superior choice.
Check out the Fitbit Versa 2 on Amazon
Check out the Fossil Sport on Amazon