If you are a blogger or a small business owner, chances are, you may not want to invest too much in an invoicing app. If you are one such individual, you'll be happy to know that there are some simple tools out there that can be used for free. The Microsoft Office Store has a decent collection of invoice templates that can be customized to your needs.
However, Office templates work best on Office products like Word or Excel. If you don't use the Office suite, you'll likely be doing a ton of reformatting work, which could be a potential time waster. In such situations, you can make use of this free invoice generator, Invoice to Me.
Free Invoice Generator – Invoice to Me Review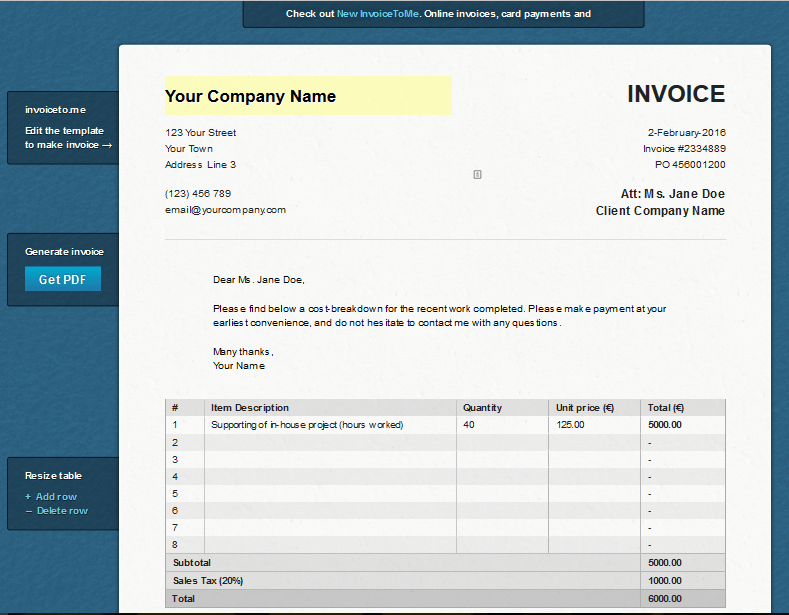 Invoice to Me is an free online invoice generator template that lets you populate all the necessary details pertaining to your invoice, generate a PDF, and send it to your customers. You have fields to populate your company name, address, phone number and email to the left of the template. The invoice number, date, PO number and the client's company name are displayed at the top right of the form.
In the main body of the invoice is a short note to the customer, which is followed by a table where you can add your item description, quantity, unit price and total. Outside the template are buttons that let you add or delete rows from the table. Once you have input all your data, the template automatically does the totals for you. Finally, you input your tax percentage and Invoice to Me will use its built in calculator to automatically do the math and output the total tax in the respective column.
Once you have updated the template with all the particulars, you can click the Generate Invoice button to generate your invoice in a PDF format. You can then print it and send it to your customers, or simply attach it to an email and forward it to your clients.
RELATED READING: Create and Manage Invoices Online Using Invoicera
Invoice to Me – Pros
– You can quickly create professional looking invoices
– No formatting is required
– All parts of the invoice are editable and customizable
– You can automatically generate a PDF copy of the invoice
– The tool is absolutely credits-free and is free to use
– No watermarks are imprinted on the template
Invoice to Me – Downsides
– You cannot add a company logo
– You cannot save your invoices online for future references
Invoice to Me is a simple no-nonsense free invoice generator that does a simple, straightforward job of creating an invoice in a matter of minutes. If you are not looking for a comprehensive invoice app, Invoice to Me should be a very handy tool you can take advantage of.
Visit Invoice to Me website to create free invoices instantly.
Alternately, you can also check out the easy invoicing software Zintego that lets you invoice customers from your phone or laptop.
And check out our Template Gallery for more free templates.