With the launch of Google Drive, Microsoft has promptly made changes to its cloud storage offering, Windows Live SkyDrive. Dropbox has definitely been the market leader in cloud services and giants like Google and Microsoft have been left with little choice but to follow Dropbox's way; that is offering a desktop client that makes sharing, accessing, uploading, deleting, copying, or moving data, just a click away. Read on to find out how Microsoft is sprucing up its cloud services with some really cool improvements and one slight disappointment. In a line, get the SkyDrive for Windows and Mac apps and learn how you can still claim your free 25 GB before its too late.
All New Cloud Storage Options
SkyDrive for Windows and Mac Apps
Now you get to manage your SkyDrive files directly from Windows Explorer by  installing the SkyDrive app for Windows desktop.The app is available worldwide in 106 languages.
This means that you can drag and drop files to the folder on your desktop to upload them to SkyDrive, access SkyDrive files offline, and manage your files and folders from within Windows Explorer, just like you would with Dropbox.
Fetching Files Remotely
When you setup the SkyDrive app on your desktop you have the option to make the files currently on your PC available on other devices as well. If you have other devices, you can set up the SkyDrive app on other devices as well. Now that you have multiple devices connected to SkyDrive account, you can log into your Office PC and fetch files located in another PC such as your Home PC from the SkyDrive web interface. For this to work you need to provide a second level of authentication via a code which will be sent to your mobile phone or alternate email address.
Free Storage Down to 7 GB
Microsoft has analyzed its cloud usage data and has revealed that 99.94% of SkyDrive customers use 7GB or less. Therefore for a limited period registered SkyDrive users who have uploaded files as of April 22, 2012, can opt to keep the 25GB free storage. Users already using more than 4 GB storage have been automatically opted in to the 25 GB plan, but others will have to manually opt in.
Users who need more than 7GB storage can opt for the paid storage plans. 20GB comes at $10/year, 50GB at $25/year, and 100GB at $50/year. Payment can be made via PayPal, where permitted, or via a credit card or Windows Live ID associated with that credit card.
How to Claim Your 25GB Free Storage
1. Login to your Skydrive.com account right away.
2. Click the SkyDrive's free storage is changing – claim your free 25 GB link at the top of the screen.
3. In the Manage Storage page, click Free upgrade!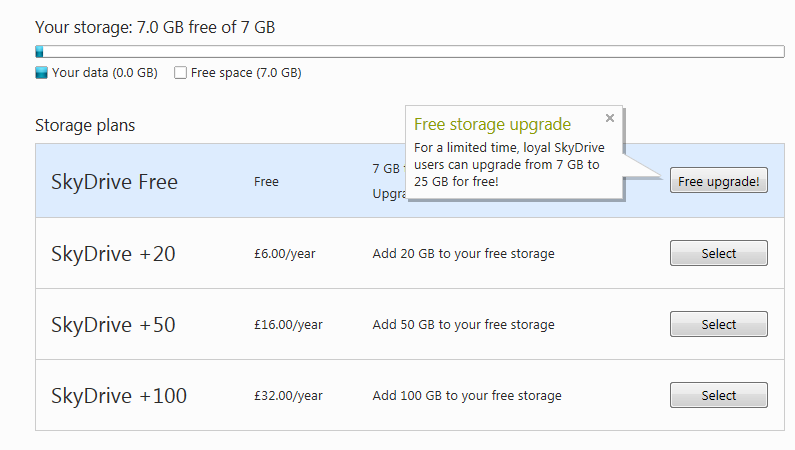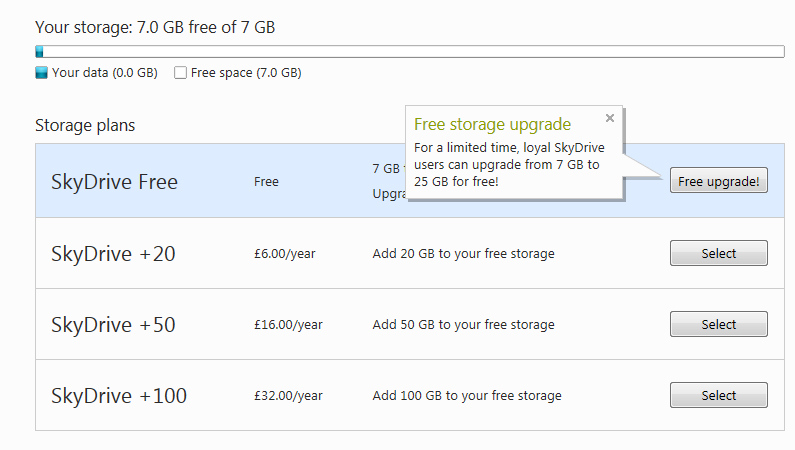 Close the message box confirming that your account has been upgraded to the free 25GB option and enjoy your free cloud service.
How to Install and Set Up SkyDrive for Windows App
1. Download the SkyDrive for Windows App.
2. Run the EXE file.
3. On the Set Up wizard, click Get Started.
4. In the next screen, sign in with your Windows Live ID credentials.
5. In the Introducing your SkyDrive folder page, click Next if you are okay with the folder location. If not, click Change and set a new folder location.
6. In the Fetch your files from anywhere screen, verify that the Make files on this PC available to me on my other devices option is checked and click Done.
That's it.  You will find your newly setup SkyDrive folder in the Favorites section of Windows Explorer with files and folders in your SkyDrive cloud account synced to this folder.
A SkyDrive icon is also added to the notification area and a tiny blue line below the icon indicates that a file is being updated in the background. You can also right-click the icon to access SkyDrive.com and manage your settings.
Overall, SkyDrive is a cool cloud storage service from Microsoft and the current changes has enhanced its utility so much that you cannot afford to ignore it as a viable competitor to Dropbox.
Download the SkyDrive for Windows and Mac Apps
Follow us on Twitter or join our Facebook fan page to get tutorials, updates and how-to articles on Microsoft, Google and Apple products.