It has been a very long time since we've seen a major update of Gmail. If you've been waiting to see some new, modern features on Gmail, the wait is finally over. Google is rolling out the new design and you can get it right away if you're not already seeing it. So what does the redesign bring for you? A lot of good stuff.
Gmail is now a lot more smarter and secure. The new Gmail features include a confidential mode, 2-factor authentication, ability to see attachments without opening the mail, smart replies, push notifications for high priority items and more. Feeling overwhelmed? Don't worry. We will break it down for you feature-by-feature so you can make the most of all these new and improved features right away.
How to Enable the New Gmail UI
If the new Gmail redesign isn't showing up on your Gmail interface, here's how to get it right away.
1. Login to Gmail on the web.
2. At the top-right corner of the inbox, click the cog/gear icon.
3. At the top of the pop-up window, you'll see an option Try the new Gmail. Click it.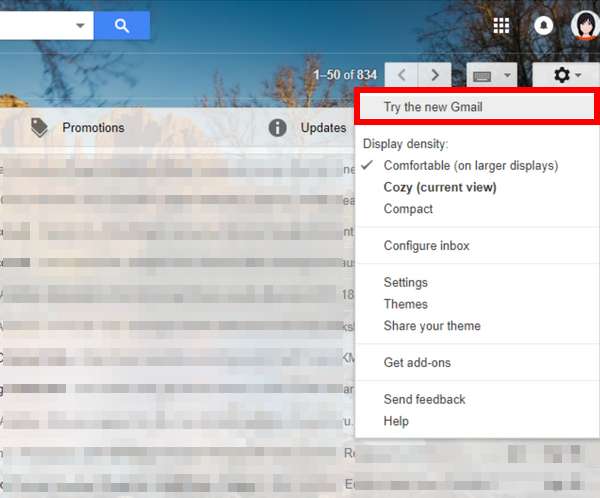 4. A pop up will open up giving you a few options on what view you'd like to see. You can choose between Default, Comfortable, and Compact. I recommend you keep the Default option because that shows all the information related to an email. You can always change this option later on from the Settings section.
5. Once you've selected an option, click OK to see the new interface.
All the New Gmail Features You Should Know and Use Now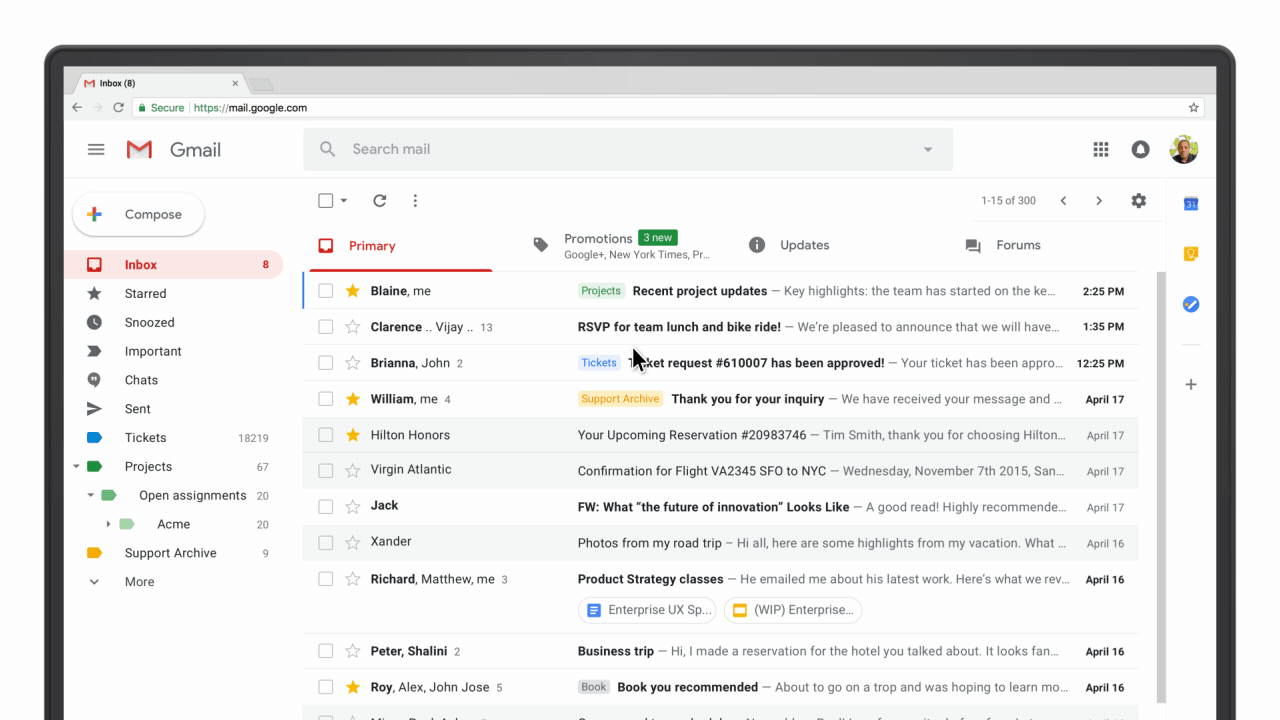 Hover Icons
You can now hover over an email in the Inbox view to see additional action items. The action icons are Archive, Delete, Mark as unread and Snooze. Now you can take action on an individual email much more easily.
Snooze
With so much email processed everyday, its easy to forget to take action on certain email. The new Gmail redesign now makes it possible for you to schedule mail to reappear at a more convenient time for you to take action on it. Snoozed email will be pinned to the top of the Inbox. To snooze an email, you first have to hover over an email to see the new Snooze icon. Tap on the icon and you'll see a number of options to pick the date and time when you want it to reappear again in your Inbox.
Smart Reply
Smart Reply, which was already available on the mobile version is now making its way to the web version. Based on the email you receive, Gmail will suggest 3 responses or smart replies. It could be something like, "Let's Go!" or "This works for me!". Once you select a smart reply, you can send it right away or edit it further and send. A definite time saver.
Offline Support
Now you no longer have to relay on Google Chrome extensions to view Gmail in offline mode. The redesigned Gmail feature lets you read, respond, and archive up to 90 days of emails without an Internet connection.
Side Panel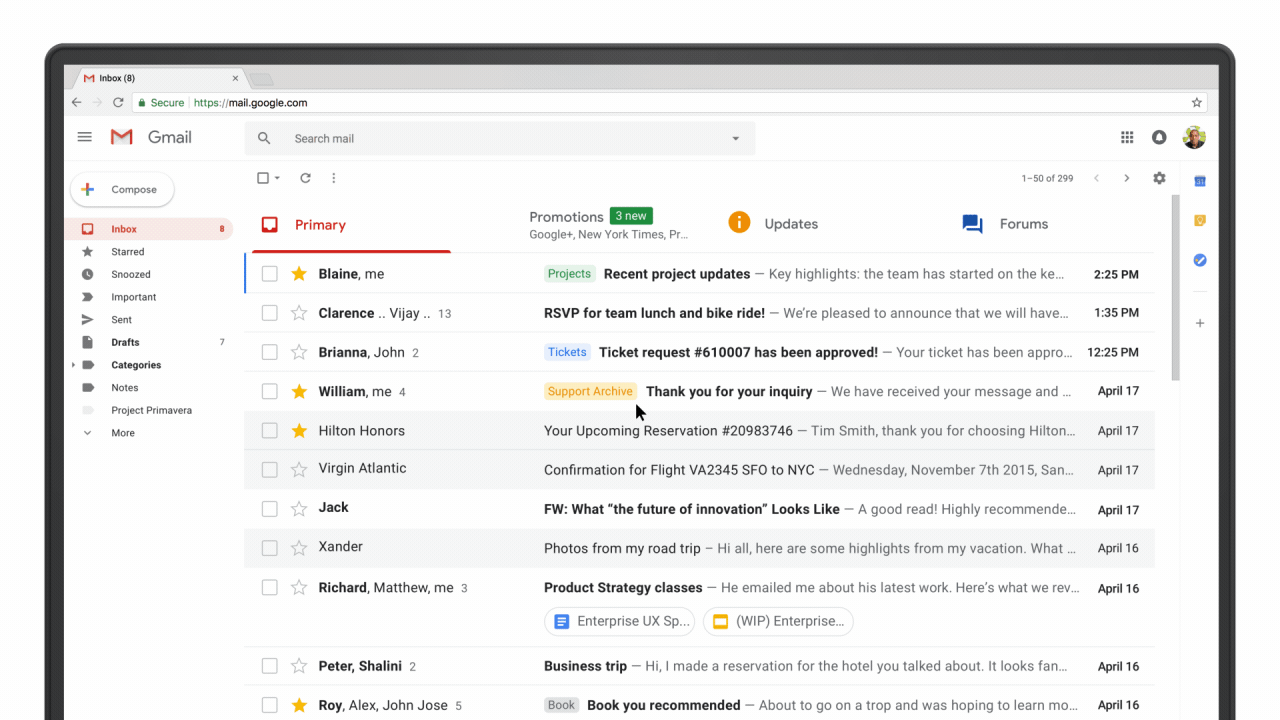 There is a new side panel in Gmail that offers quick access to various apps. This may be particularly useful for business users who have G Suite but even everyday users can benefit from it too. The most common apps include Google Calendar, Google Keep, and the newly launched Google Tasks. You can also hit the + button to get more add-ons.
Assistive Unsubscribe
If you have an Inbox, its next to impossible to keep it uncluttered. Mostly because we cannot resist subscribing to various newsletters. Gmail's new Assistive Unsubscribe feature automatically tracks the various newsletters you receive and makes suggestions to unsubscribe to the ones you never read. This feature is definitely going to be useful to many of us who are helplessly stuck with email we never read and can never get rid of.
Nudge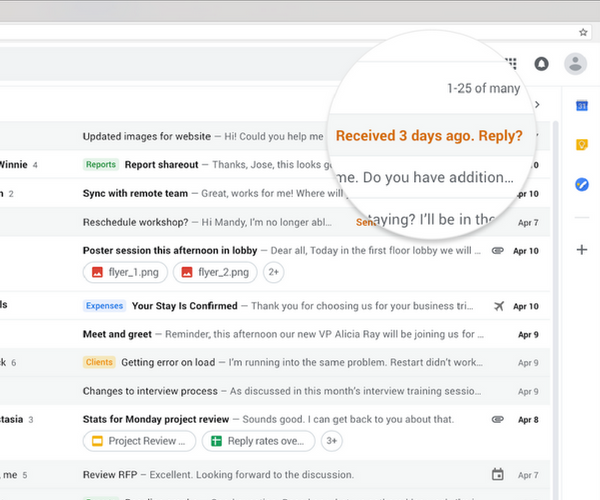 The Gmail Nudge feature is designed to help you take note of important email you haven't attended to recently. This feature brings up email that is older than two days right to the top of the Inbox. Google will make use of machine learning to identify only the important mail that needs attention.
Access Attachments Without Opening Mail
If you receive email with attachments, they won't show up with a File icon.  Instead you'll see the attachment icon and name just below the email description. This way, you know what attachment you are receiving even without opening the email.
High-priority push notifications (Mobile)
High Priority notifications is another new feature that is being introduced on the Gmail mobile app to reduce the number of notifications you get. With this, notifications will only be sent for mail that is important or urgent. Google's aim is to eliminate almost 97% per cent of unnecessary push notifications.
Phishing warnings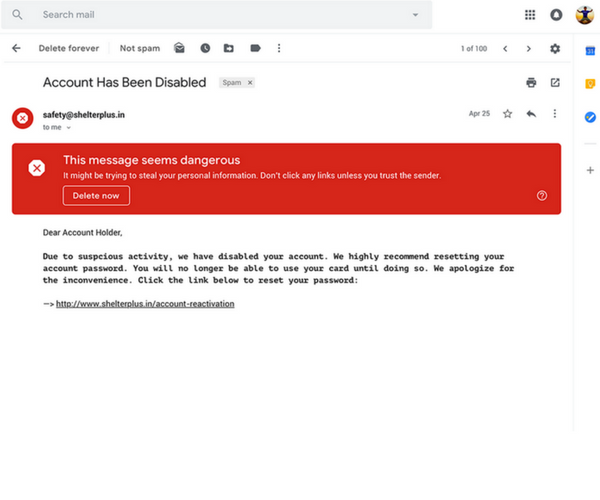 If you get a lot of fishy email, then you'll love the new Phishing warnings from Gmail. Depending on the risk factor associated with the email, Google will flag it with red, yellow or grey banners.
Confidential Mode for Business Users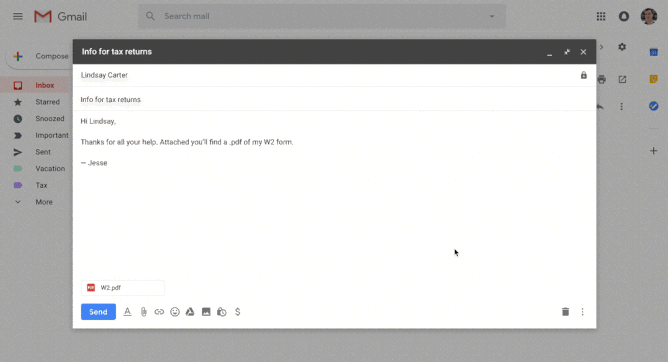 Gmail's new Confidential Mode is designed to bring more control over the email you send to recipients. You can now set an expiry date to an email you send to your contacts. When the set time arrives, the email contents will no longer be displayed in the recipient's Inbox.  Email sent in the Confidential Mode will also prevent recipients from accidentally forwarding, copying, downloading or printing particular messages in that email.
In this mode, email senders can also enable two factor authentication protection. The email recipient will have to enter an SMS passcode to read the email.
So that's a roundup of the best new Gmail features that are available in Gmail's latest iteration.
What do you think of the latest revamp. Love it? Or do you feel that Gmail has become more cluttered now? Let us know in the comments.
Cheers,
Adeline