Its now easy as apple pie to send attchments via the Mail app on your iOS device. If you still haven't figured out how to add file attachments to Mail app in your iOS device, just follow the steps outlined in this tip.
Add File Attachments to Mail
You can attach files to any email you send from your Mail app. The one condition for this is that your files should be in your iCloud drive. Once you have your attachments saved on iCloud Drive, here's what you do.
1. Open the mail app and hit the Compose button to create a new email. You can also open up the email you want to reply to with an attachment.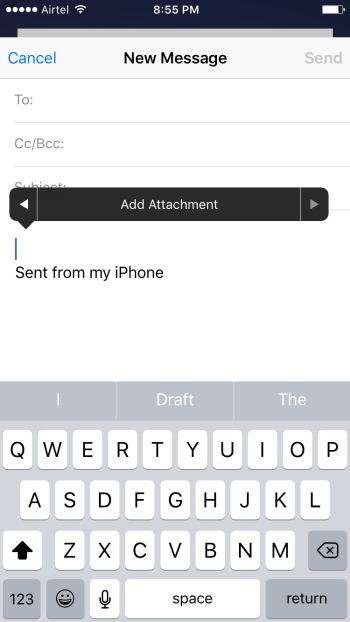 2. Long press anyway in the message body area to pull up the Contextual menu. You will see the Select options on the menu and an option to scroll further. Tap the Arrow to the right to navigate to the next set of options. You will see Quote Level and Insert Photo or Video options here. Continue to tap the Arrow button to go to the add Attachment option.
3. Tap add attachment.
4. You will be taken to the iCloud Drive where you can select the file to be attached.
Once you select the file it will be attached to your Draft email and you can then type your reply and send it.
For more iOS tips and tricks, check out this post.