You may want to completely erase data from your Mac when you are planning to sell the device or give it away to someone. One of the factors you need to keep in mind when erasing your Mac data is to ensure safety of your personal information. In this guide, I'll show you different options available to erase data from Mac and one tool that can help you do in a secure manner.
Method-1: Erase Mac Data Using Hard Disk Drive Options
This, slightly more long winding process is done via the options in the hard disk drive.
1. Ensure your computer is turned off
2. Now, click the power button.
3. Immediately Hold down the Command and R keys.
4. From the operating system utilities list, choose Disk Utility and press Continue.
5. Choose the disk you want to erase by pressing the sidebar.
6. Now, press the Erase button and press the security option key.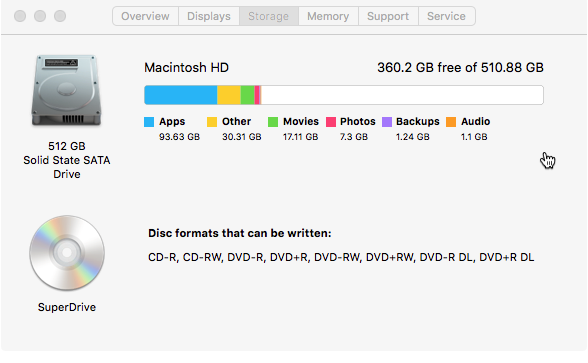 The security options list includes a slider that allows you to decide how meticulously you want to wipe your hard drive. There are 4 notches to choose from. Select a required option and press the OK key. You should know that the more secure the method you select, the longer it will take for the process to be complete.
Method -2: Completely Erase Mac with SafeWiper for Disk
Simply erasing files from your Mac computer is not an entirely secure option. Your private details are still available and recoverable. Third party data cleaning programs sometimes offer more robust security features. Such type of software can easily remove all your personal data forever. For the purpose of this guide, we are using SafeWiper for Disk.
SafeWiper for Disk Key Features:
– Removes entire selected files and folder on Mac.
– Removes Internet browsing information, recent file history, and system traces completely.
– Permits to schedule wiping process and time.
– Erases Mac hard drive permanently without restore.
– Provide free space and cleans recent file histories.
– Compatible with Mac operating system X 10.6, 10.7, 10.4, and 10.5
To Erase Data Using SafeWiper
To erase the Mac using Safewiper, here's what you need to do.
Step-1: Download SafeWiper program and install it on your Mac. Then launch the app.
The tool will display 3 cleaning options including Erase folder/file, wipe unused space, and wipe the drive. Choose an option according to your requirements.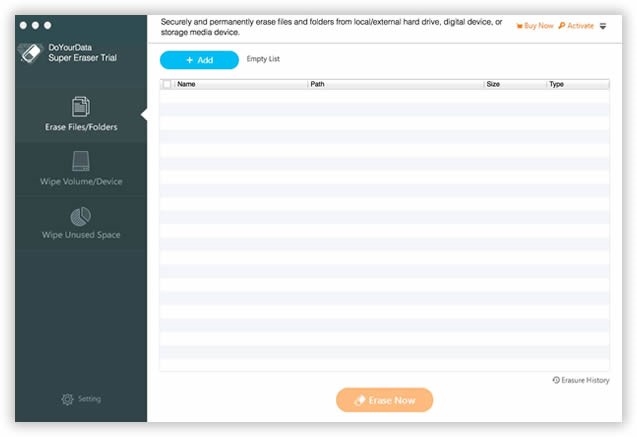 Step-2: Select the drive that you need to wipe completely and press Next.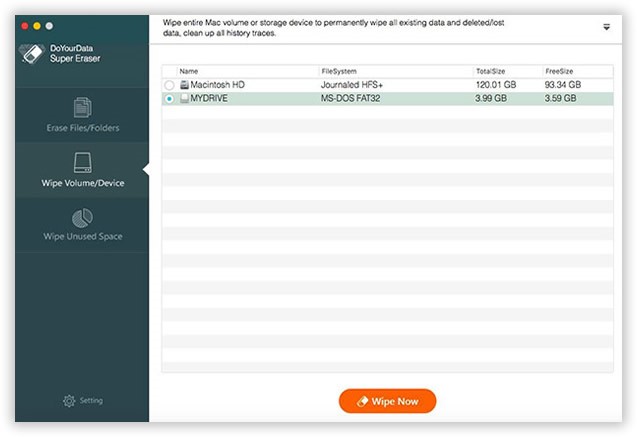 Step-3: Once you selected the file type the wiping tool will start removing all the data in your Mac permanently. All that you need to do is press the Start Wiping key to clean the selected data. Your Mac will be completely cleaned up in 3 minutes.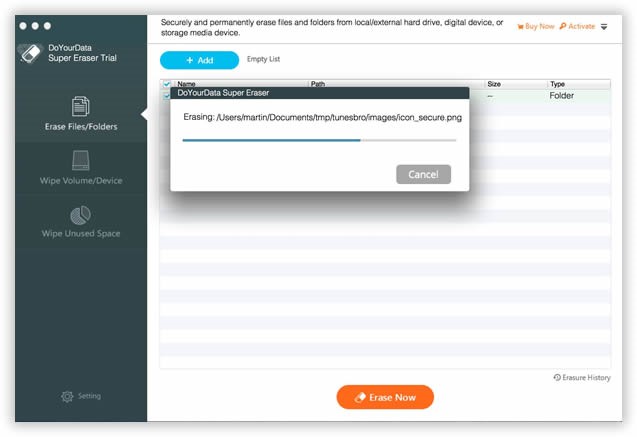 Method-3: Delete Mac Data from Recycle Bin
Many users believe that emptying trash can permanently delete files, which is absolutely wrong. If you erase files from the Recycle bin or use shortcuts like Command (+) Shift (+) Del to remove unwanted files, the files are not removed permanently. They continue to remain on the disk until overwritten by new data. In the hands of the wrong person, this data can easily be recovered.
So, if you intend to delete your Mac data by erasing it from the Recycle bin, you need to remember that is not a secure solution.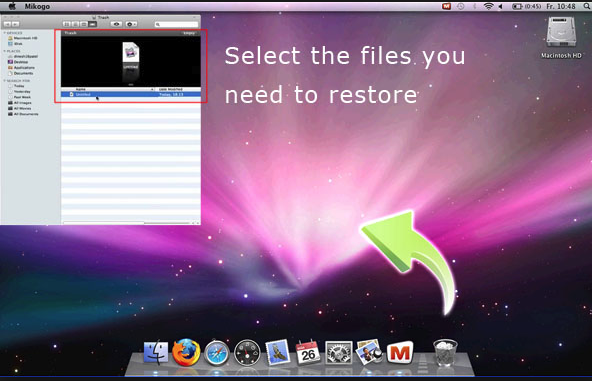 Conclusion:
If you want to resell your Mac or pass it on to a friend or family member, it is best to remove all your personal details completely to avoid any type of risk. The best wiping software tools like SafeWiper for Disk can help erase all your sensitive data completely without any restore option.
You can learn all about safewiper at: https://www.safewiper.com/