Microsoft Outlook app for iOS is getting better with every new update. Its seamless Inbox management features, convenient access to calendar and ability to work while on the go makes it one of the most popular and handy email app for the iPhone. With version 2.2 there's one more feature that you will appreciate. The ability to protect your email from prying eyes. Here's what you need to do to protect Outlook email in iOS.
How to Protect Outlook Email in iOS
You can now use Touch ID to protect Outlook email and keep it private and secure using Touch ID or device passcode protection. To enable Touch ID:
1. Launch Outlook.
2. From the bottom menu, select the Settings tab.
3. Scroll down to the Preferences section and turn on the Toggle button for Require Touch ID.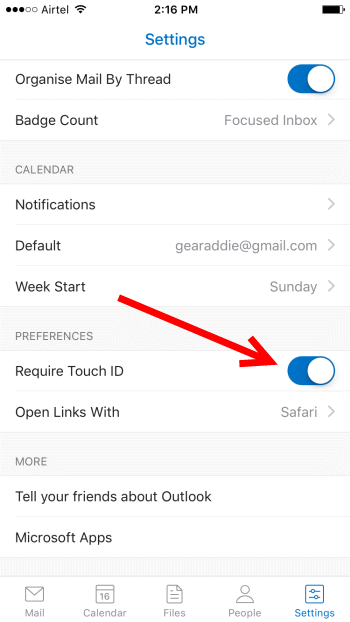 The next time you launch Outlook, it will ask you to authenticate with your fingerprint before allowing you access to your Outlook emails.
With encryption and data privacy gathering a lot of noise lately, it's good to see Microsoft adding an extra level of security to its email app. One hopes that more app developers will start using the concept of Touch ID to protect our data.
If you still haven't given Microsoft Outlook app a try, click the link below to get it.
Download Microsoft Outlook for iOS