Social media posting is a time consuming affair. That's why tools like Buffer and Hootsuite, which allow users to schedule a ton of posts in advance, are popular among users. However, these social media management tools only cater to the likes of Facebook, Twitter, and Google+ with Instagram either missing or in early beta stages. If you prefer to schedule Instagram posts on iPhone and Android devices and save yourself a ton of time, there is an app that can help you do that. It was called Takeoff earlier but has been rebranded now to Publish. Let's check it out!
How to Schedule Instagram Posts on iPhone & Android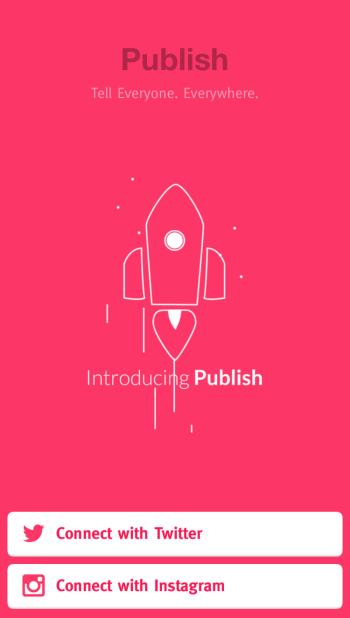 Publish is an app from Codigami, makers of the popular Crowdfire app. You start off by signing in with your Instagram credentials. Once you've signed in, you can hit the + button at the top of the screen (on the iPhone) to select the Instagram account where you want to share your Instagram photos.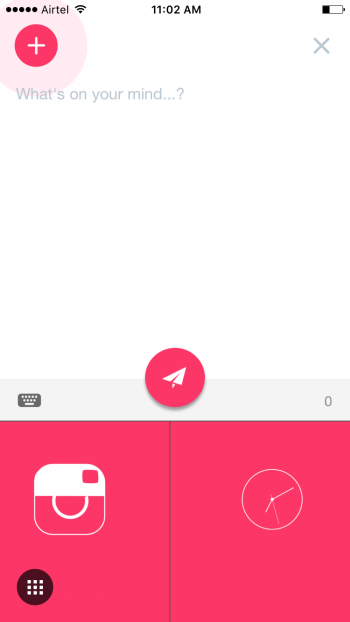 Next, simply enter your caption and select an image to add to your stream. The images can be picked up from the scrolling thumbnail section at the bottom of the screen, (hit the Instagram toggle icon if you can't see it) or you can pick up one from Moments, Camera roll, My Photo Stream or other folders where you have your images stored (hit the square dots icon to select images from your phone).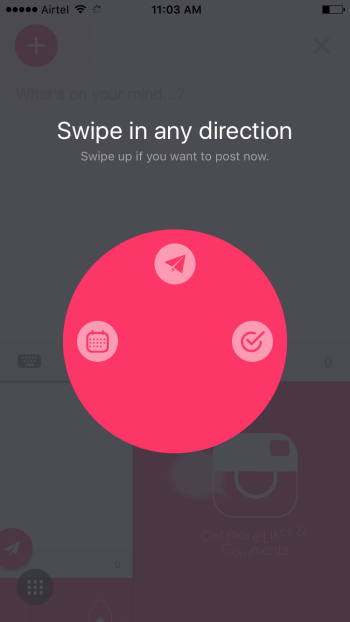 Once you're image is ready, long press the big pink Publish button to choose your scheduling options. When you swipe to the left, you can select a custom time and date for publish and hit Done. Swiping up will publish the post instantly to your connected social media accounts while swiping to the right will allow the app to automatically schedule the post at the best times.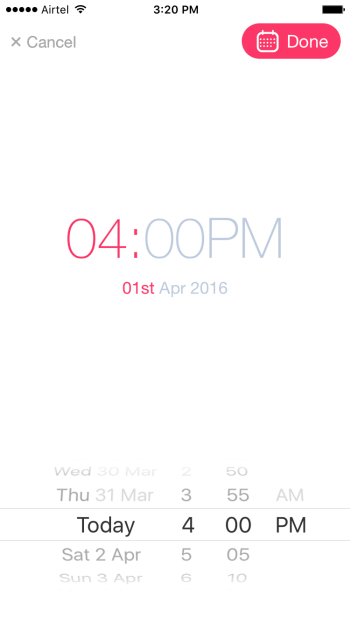 The Publish screen displays a timeline of all your past and upcoming posts that you have scheduled to go live. You can click on a photo to preview it and click on the empty space next to it to edit or delete it.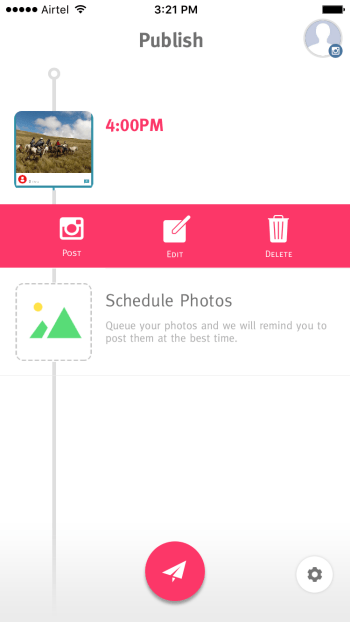 That's it. You will receive a notification when your post is scheduled to go live.
Publish supports multiple accounts and lets you repost or reschedule older posts as well. I'm not a big fan of the design but it gets the job done. Publish can also be used to schedule posts to Twitter.
Publish is free to download and use. Give it a try and tell us what you think.