Google Chromecast is a media streaming device that you can plug into the HDMI port of your TV and stream video, photos or music to your TV via your computer or mobile device so you can view everything that you see on your computer or mobile device on the big TV screen.
With Chromecast, your phone turns into your personalized remote control device. You can use it to search and browse, play, pause, rewind, control the volume and even make playlists. The best part is that while you use Google Chromecast to mirror your screen on to the TV, you can still continue to use your phone for other activities.
Chromecast works with any device running Android 4.4.2 and above with some devices (you can find that complete list here) performing better than others. Chromecast works with a number of apps to stream content directly from your computer and mobile device right on to your TV. Chromecast may not be as versatile as the Apple TV or Roku, but its is easy to set up and is extremely affordable as well. If you have picked up a Chromecast and are wondering how to set it up and get going, here is a quick guide to help you get started.
How to Setup and Use Google Chromecast
Things You Need for Chromecast Setup:
To setup Chromecast, you need a TV with HDMI port, a Wi-Fi connection and a computer, a mobile device, and Google Chrome browser installed on the devices.
To start using Chromecast:
1. Connect the Chromecast device to the TV's HDMI port. The power cable will go into the USB port.
2. Turn on your TV and switch on your computer. You must have your computer and Chromecast connected to the same Wi-Fi network for this to work so make sure both devices are connected accordingly.
3. Your TV will display instructions to go to the Chromecast setup screen on your PC (chromecast.com/setup).
4. Follow the on-screen instructions and download the Chromecast app onto your computer. Once the download is complete, it should open up automatically. If it doesn't, double-click the shortcut on the desktop to do so.
5. The TV and the computer will now display a random code. Make sure that both the codes match. Then click That's my Code.
6. On your computer, enter the Wi-Fi credentials. This is where you can also name your Chromecast device.
7. Next, follow the link to download the Google Cast extension. If you don't want to install the extension, follow this simple hack to add it to your Chrome functionality. Go to to chrome://flags/#media-router from your Chrome address bar. Enable the Media Router Mac, Windows, Linux, Chrome OS option and relaunch Chrome. Now when you right-click on the screen you want to cast, you will see Cast option, which you can click.
That's it! Your Chromecast device is setup and is ready for use.
How to Find Chromecast Apps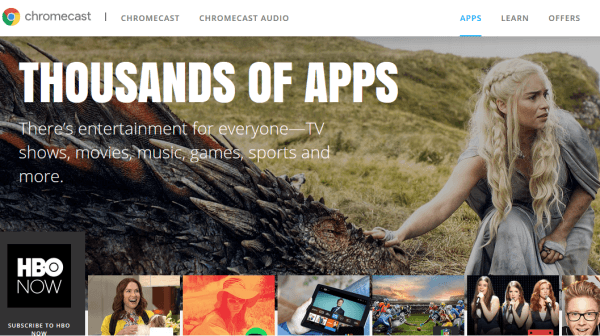 Chromecast lets you mirror anything on your screen to the TV, but in reality there are certain apps that are perfectly optimized to do the job. Finding them though is another matter altogether. You can head over to this website to catch the complete list of Google Chromecast apps.
You can select apps from various genres such as TV & Movies, Music & Audio, Games, Sports, and Photos & Video among others. You can also find other third party apps here or by doing a search on the App Store and Google Play Store. Once you have selected your app, you can download it and hit the Broadcast button to start streaming content directly to your TV.
How to Broadcast From a Computer or Android/iOS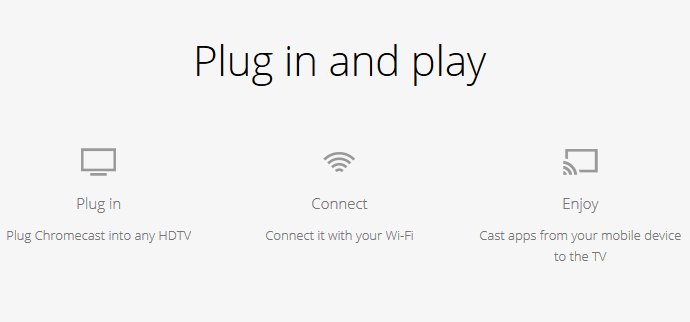 Whether you're using Windows or Mac broadcasting your content to Chromecast is simple. You need to go to the website that has the content you want to see, click on the Play button to start playing the content. On the computer screen, you will also see a Broadcast button which may be in the upper or lower right corner of the screen.
Click the button and select the Chromecast option. Your content will now start playing on your TV. Again, just remember that you should use the same Wi-Fi connection on both the computer and your TV. You can now play, pause and adjust volume from your computer.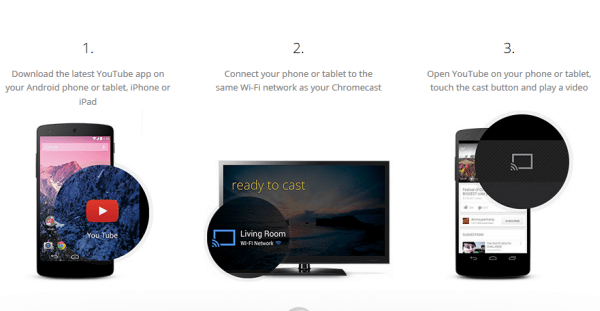 To broadcast from your Android or iOS device, the process is fairly the same. Make sure that your Chromecast device is connected to your TV and both have the same Wi-Fi connection. From the respective App Store, install the Chromecast app on your mobile device. Download and install the app from which you want to stream. For example, download the YouTube or Netflix app (if you have a Netflix subscription) and open the app to connect it to your TV.
Tap the Broadcast button and connect it to your Chromecast device. Click Play on your mobile device to start watching it on your TV. Again, you can play, pause and control the volume right from your mobile device.
How to Broadcast Google Hangouts Using Chromecast
Casting your Google Hangouts call to your desktop via Chromecast is also possible as its pretty easy as well. To do this:
1. Open Hangouts and create a hangout.
2. Click the Google Broadcast button and cast the hangout to your Chromecast device.
3. If you want to share the entire screen or just the hangout screen, you have a couple of options. Click the Share screen icon in the left column and select Entire screen or Google Hangouts as you prefer.
That's it! Your TV will now mirror your Google Hangouts call.
How To Cast A Presentation Using Chromecast
You can use the Google Slides app to deliver your presentations via Chromecast as the native app supports the device. Just open up the presentation from Google Slides, tap on the Broadcast button and select your Chromecast device to begin displaying it on your TV. The only drawback with casting a presentation on Chromecast is that there is no support for PPT file extension. You must first convert the PPT file into the Google Slides format for this to work. To do this open up the PPT file in Google Slides and select the Edit as Google Slides option. This will automatically convert the file and you can save a copy for casting via your mobile device.
How to Factory Reset a Chromecast
If your Chromecast gives you some problem that you just can't seem to fix, you can restore it to factory settings. To do a factory reset, go to the Settings menu on the Chromecast app, either on your PC or mobile device, and click Restore Factory Settings. Alternately, you can hold down the Chromecast's physical button for 25 seconds to do the reset.