Do you have more than one Google account but are finding it difficult to sync contacts between the two accounts? Unfortunately Google doesn't offer a one-click solution to automatically sync contacts between multiple accounts. However, you can use the export and import feature to do just that. Here are the step by step instructions to transfer contacts between Google accounts.
How to Transfer Contacts Between Google Accounts
Step1: Export Contacts from Your Primary Account
1. The first step to transfer your contacts is to export them from your primary Google account. Go to the Google Contacts page and sign in to your account, if you haven't already done so.
2. Select the contacts you want to transfer. If you want to add all your contacts to your secondary account, click the (–) dropdown and select All.
3. Once you've selected the desired names, click the More link and from the drop-down menu select Export.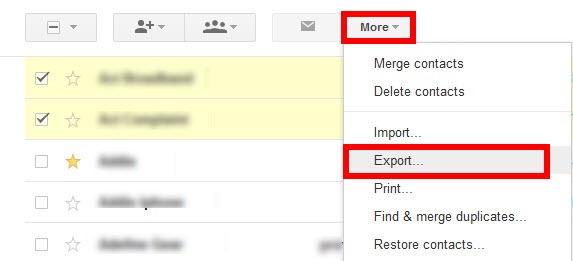 4. In the Export contacts window, confirm that the right contacts are selected. You can choose between the contacts you had selected earlier, a specific group of contacts, or all contacts in the account. Next, select the export format. In this case, it is the Google CSV format (for importing into a Google account) option. Click Export.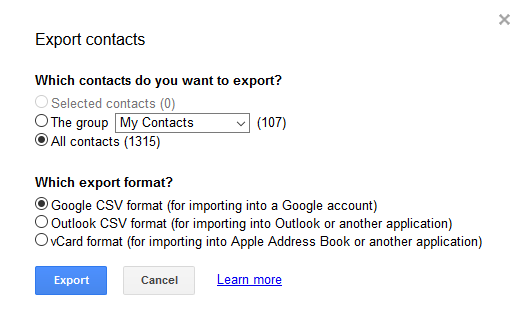 5. The CSV file will be download to your default download location with the file name Google.
Now that you have exported your contacts, its time to import them into your secondary Google account.
Step 2: Import Contacts to Your Secondary Google Account
1. Sign in to your secondary Google account and head back to the Google Contacts page.
2. Click the More button and choose Import.
3. In the Import Contacts window, click Browse, then navigate to the location where you saved the exported copy of your contacts and select it.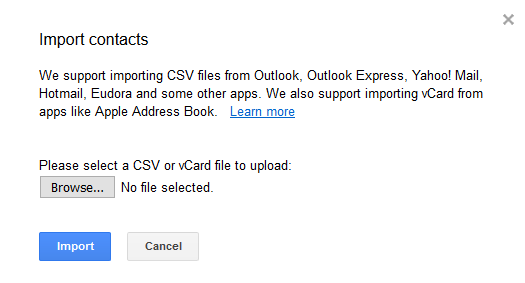 4. Click Import.
The imported contacts will show up in your My Contacts list. You can also view the imported contacts in a unique group that's created based on the date you imported the data.
That's it! A really simple process to transfer contacts between two Google accounts.
And that's all you have to do. Hopefully, given the apparent desire in their support forums, Google will at some point add the ability to automatically keep contacts from multiple accounts in sync. In the meantime, it's pretty quick to just do an occasional export/import.