One of the most interesting features that landed on the iPhone in the latest update to the operating system (iOS 9.3) is the Night Shift mode, which lets users browse their device with a warm color, which will enable them to sleep better. The odd thing about Night Shift is that the feature does not work in Low Power mode. However, should you need to use the Night Shift mode in low power mode, you can still do it with a little help from Siri.
Low Power Mode is automatically turned on when your battery reaches the 20% and below levels or at a custom level set by you. When the Low Power mode gets activated on your iPhone, Night Shift gets automatically turned off. The toggles and switches are automatically greyed out preventing you from turning it back on.
However, here's how you can turn Night Shift back on.
How To Turn On Night Shift In The Low Power Mode
Hold down the Home button and wait for Siri to activate. Then tell Siri to "Turn on Night Shift."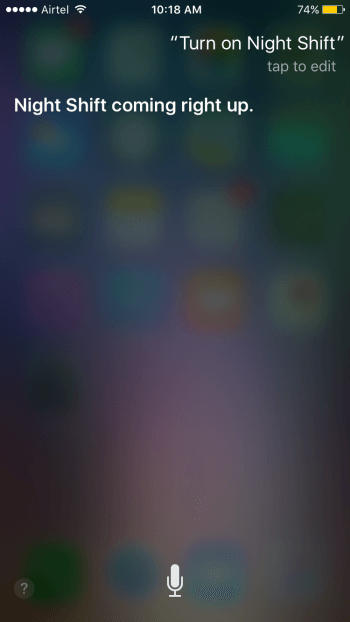 The Night Shift mode should start working now despite the Night Shift toggles remaining greyed out. If you want to turn Night Shift Off, you once again have to tell Siri "Turn Night Shift Off" and it will be switched Off.