When Apple introduced the big screen iPhone 6 and 6 Plus, they also introduced a feature called Reachability. Reachability lets you reach the top of the screen when you use your iPhone on one hand. In case you are not aware of the feature or thought that it was some bug, or you know about the feature but don't like it, this guide will help you understand how to use Reachability or disable it if its not your thing.
How to Use Reachability Feature in iOS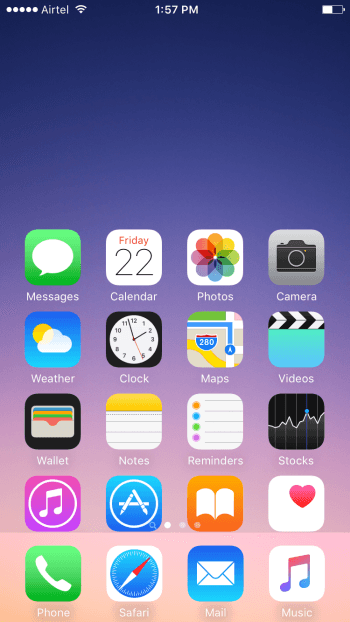 If you have a large iPhone, chances are you've had trouble accessing the options at the top of the screen when using your phone on one hand. That's why Apple introduced the Reachability feature, which slides whichever screen you're looking at half way down bringing it closer to the reach of your thumb.
To use Reachability, all you need to do is double tap your Home button. You should not press the Home button, just lightly touch it twice. When the screen slides half way down you can also easily access Notification Center or Today view.
Reachability will work on any screen whether it's an app, the settings screen, or just your Home screen. When you perform an action on the Reachability screen, the screen will return back to its original position.
How to Disable Reachability
Oftentimes, I end up double-touching the Home button and find myself accidentally accessing the Reachability feature, which I don't want to use. If you, like me, don't want to use Reachability and find that it gets in your way, you can disable it by following these steps.
1. Go to Settings and tap General.
2. On the General settings page, tap Accessibility.
3. On the Accessibility Options page, scroll down and turn off the Reachability toggle.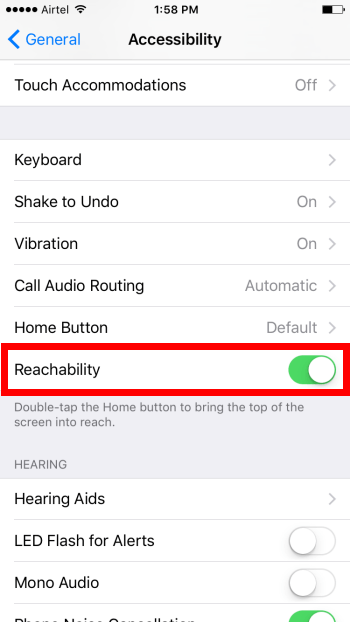 That's the long and short of using the Reachability feature in iOS. It does a bit of getting used to, but once you do, you'll find it handy to access your iOS contents.