If you own an iPhone or an iPad Pro, you'll love this new Kickstarter gadget called iKlips C. This tiny device is an Apple MFi certified USB-C & Lightning Flash Drive that lets you effortlessly back up, share and transfer files securely across devices. If you find yourself frequently running out of storage space or need a secure way to back up your iPhone data, iKlips C is a gadget you simply must own.
What Can You Do with iKlips C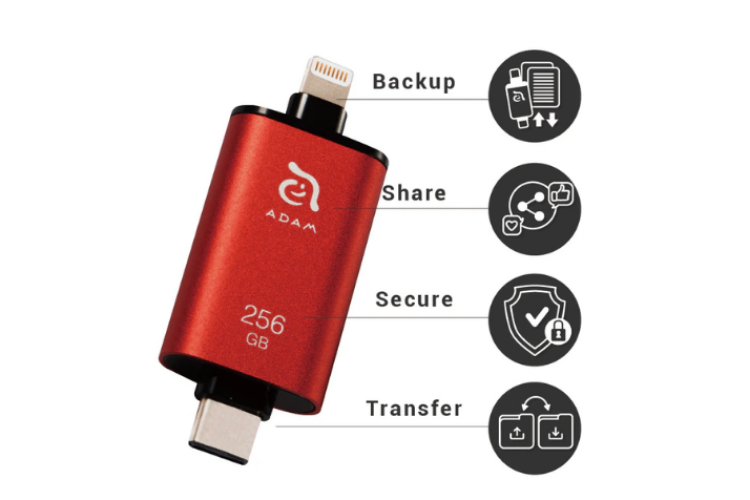 Free up Space on your iPhone or iPad Pro
If you need to free up space on your iPhone or iPad Pro, connect the iKlips C to your device and then open the iKlips app. Click the backup button on the app and all your photos, videos, contacts, calendars, social media images, Evernote data and more will be safely backed up, freeing up precious space on your device. You can do a backup even with the iPhone charging on a wireless charger.
Share Data Between Devices
If you have a ton of data you want to share with a group of friends or work mates, you can do it easily with iKlips C. It doesn't matter if the recipient owns an Android Phone, or a laptop or there's no WiFi connection or even AirDrop. You can plug the iKlips C and transfer files quickly.
Watch Movies on your iPhone or iPad Pro
If you want to watch a movie you have stored on your iPhone or iPad, simply connect the iKlips C and use the iKlips app to watch your favorite movies. You do not have to download any movie on your phone and lose precious storage space.
Features
This Flash Drive is the world's first Apple MFi certified USB-C and Lightning flash drive. It works with all iPhones running iOS 8 up, iPad Pro, iPad Air, Macbook, Macbook Pro, iMac, Android phones, PC Laptop and tablets.
It has a USB-C connector at one end and a Lightning connector on the other. It is available in two sizes: 128 GB and 256 GB.
It will retail for $129 when it starts shipping in February 2020 but you can grab it for $59 if you are one of the first 500 backers on Kickstarter.
Check out iKlips C and find out more about this cool accessory on their Kickstarter campaign page!