These days, a good night's sleep is hard to come by, isn't it? Stress, trauma, health problems, food habits, the environment and even genetics can play a role in disrupting our sleep. Getting a better understanding of our sleep patterns can help us identify and resolve most of such issues. That's where sleep trackers can help.  There are plenty of such trackers in the market, in the form of watches, rings, headbands or lamps. Withings offers a nice non-intrusive solution for tracking sleep and it comes in the form of a mat that records your overnight stats unobtrusively. If that sounds like something you'd want to try, read on.
Withings Sleep Tracking Mat – Features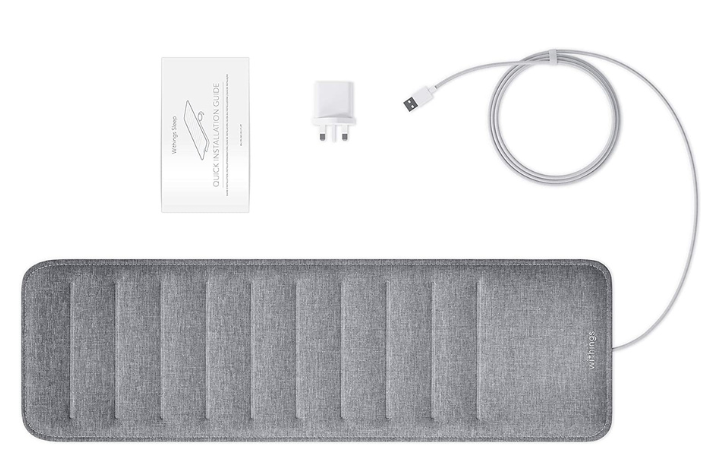 Design
With dimensions of 637mm x 190mm and 5mm thickness, the Withings Sleep tracking mat can be conveniently tucked underneath your mattress to record your overnight sleep. The mat is equipped with built-in pneumatic and sound sensors to monitor your sleep pattern. You simply need to do an easy one-time setup and then place it under the mattress to let it do its work.
Sleep Monitoring
The mat monitors your sleep cycles, heart rate, movements, snoring, and breathing disturbances. The pneumatic sensor on the mat measures the heart and respiratory rate as well as body movement. The sound sensor records snoring and irregular breathing.
Data Analysis
All the data gathered by the mat is then analyzed to provide a comprehensive sleep score and other useful insights. You can find all of this information on the Health Mate app, which you need to download and install on your smartphone.
When you wake up in the morning, you'll find a sleep score along with detailed information about your sleep cycle and duration, interruptions, the time it takes to fall asleep and wake up, heart rate, and the option to activate sleep coaching.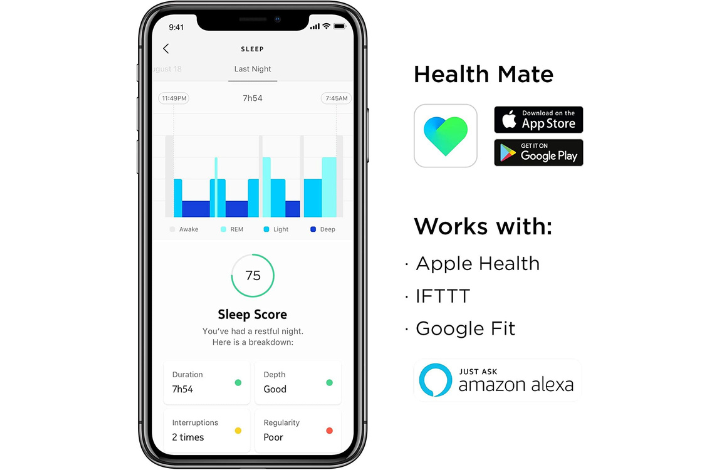 The app also generates a Sleep diary that puts together all the data and trends for you to review over time. You can export and share this diary for a specific time frame – monthly, quarterly, or custom date range. Additionally, the app also offers health and diet tracking, step counting, and lifestyle coaching. You can export all of your data in a PDF format to share privately with your doctor.
Works with IFTTT
If you are into productivity tools such as IFTTT, you can get more out of the Withings Sleep mat. Just use the Withings Health Mate app to connect to the platform and you can access over 500 automation services available.
For instance, you can use the app to dim your smart lights when you lay down or automatically adjust the bedroom's thermostat. You can even set it to export your sleep data into a Google spreadsheet for easier analysis.
Setting up the Withings Sleep Tracker Mat
To get started with the tracking mat, you first need to download the mat's companion app to activate and install the device's sensors.
Tap Sleep Sensors and install the mat. Then, just lift your mattress and place the mat wherever you typically sleep. You also have to make sure you have an electric outlet close by because you'll need to plug the mat to the outlet.
The mat comes with a 5V 1A power supply and a USB power adapter with lots of cord to spare. So, in most cases, you shouldn't have a problem.
You then have to link the sensor to your Wi-Fi router and allow the mat to calibrate. This process should take anywhere from 15-30 minutes, so it is make sure you do the setup well before bedtime.
Quick Look: Features
Works only for one individual
Not a wearable – non-intrusive
Easy set-and-forget setup
Comprehensive sleep analysis
Companion app support
Compatible with IFTTT
Final Thoughts
The Withings Sleep Tracking mat is a handy device for anyone who hates to take a wearable to bed. Once installed, you won't even know that your sleep is being tracked and monitored. With the Health Mate app, you can instantly get all the data you need to understand your sleep and related problems.
Since the mat plugs into a wall outlet, you don't have to worry about charging your device every now and again.
The downside to this is that if you are a frequent traveler, it doesn't make sense to carry the mat with you and set it up everywhere you go. In such instances, a wearable tracker will be more suitable.
While of all this is great, how accurate are the mat's readings? Well, many reputed reviewers have stated that the readings of the app are fairly accurate and a quick Google search should give you a more convincing picture.
Finally, this mat from Withings is quite affordable at around the $130 mark. You can buy the Sleep tracking mat from the official website or third-party retailers like Amazon. Check it out and tell us what you think!