Whoever says that creating flowcharts or network diagrams is a pain staking job has never worked with LucidChart. With its simplicity, speedy, interactive, powerful, and feature-rich tools, LucidChart simply blows away the competition from the likes of biggies like Google or Microsoft in its capabilities. So what makes LucidChart such an impressive web app and how does LucidChart simplify the way you create flowcharts online ? Well, lets find out.
LucidChart is a web app designed to help UX/UI designers, web and app developers, project managers, business executives, academicians and individuals create and manage complex information with minimum effort.
With a vast array of features including drag and drop functionality, real-time collaboration, publishing, sharing, anytime access to documents, offline and mobile support, HTML and non-flash capabilities, Microsoft Visio import capabilities, Google Apps integration and more, LucidChart is no doubt one of the best web applications that's available on the web.
Signing up to LucidChart
To get started with LucidChart, you'll first need to create an account. Whether you are an individual, a business, workgroup, or an independent professional, LucidChart has a plan suitable for your requirements. Ranging from a free plan that gives you 25 MB of storage, 2 collaborators and 60 objects per document to more comprehensive packages with premium features including unlimited collaborators, objects, and storage space, you have plenty of options to choose from.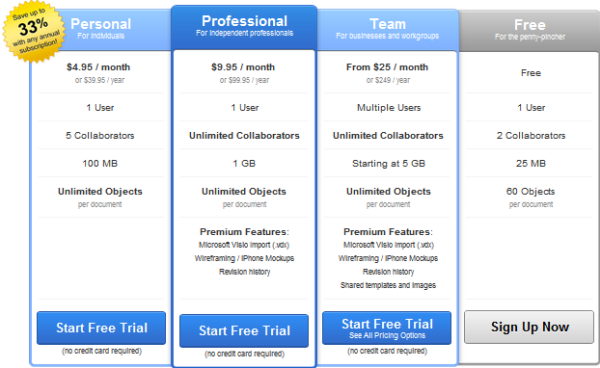 There are various demo options available for you to check out, before you buy. You can even sign up for a free trial of the plan before committing.
LucidChart Simplifies the Way You Create FlowCharts Online
Creating your First Document in LucidChart
Once you setup your account, just click on the New Document button to start creating your first diagram. This will open up a Templates gallery, which holds several templates on categories ranging from flowcharts, diagrams, org charts, network diagrams and more.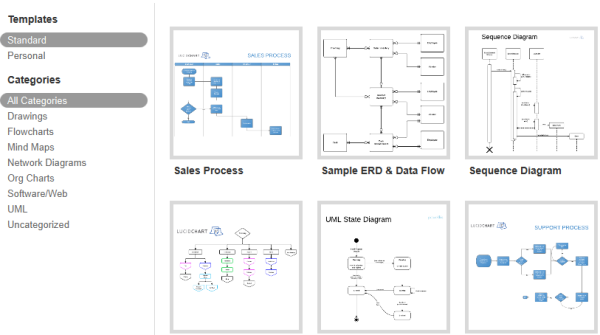 If you don't find a template that suits your requirements in the gallery, you can check out the Community area, which houses templates created by LucidChart community members.
The LucidChart Interface
You may find the LucidChart interface a bit intimidating at first, but on closer examination you'll notice familiar tools. The toolbar on the top is dynamic, displaying formatting, line, theme, and page options depending on the item that you've selected to edit; the toolbox at the left displaying a library of diagrams, containers, shapes, and more. The work area, referred to as the canvas, is where you input your diagrams, and charts. There's also a Google search box above the toolbar that lets you search for icons and images on the web to add to your canvas. The right side contains various buttons for navigation, history, color palette, and additional functions. The collaboration bar can be accessed at the top-right corner of the screen and contains options to share, save, and collaborate, among other functions. Practically everything you need has been fit neatly around the work area.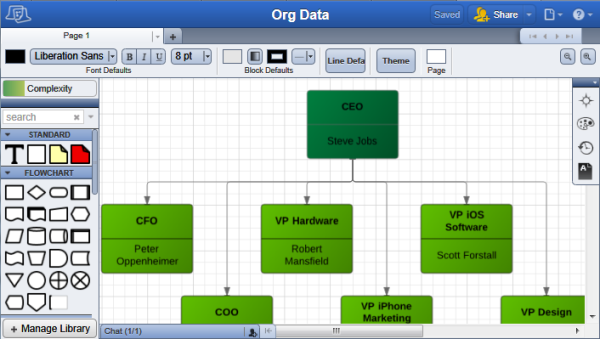 Working with Objects
You can create diagrams from scratch by dragging objects from the toolbox. Adding connecting arrows are as simple as selecting a line and dragging it. When you're working on an org chart, you're even automatically prompted to select the next block. You don't even have create various blocks and link them together. All of which makes LucidChart intuitive and easy to use. You can also add more information to the document by adding new pages from within the main document. The ability to create new documents or edit existing ones is so smooth that it can simply make a novice look like a pro.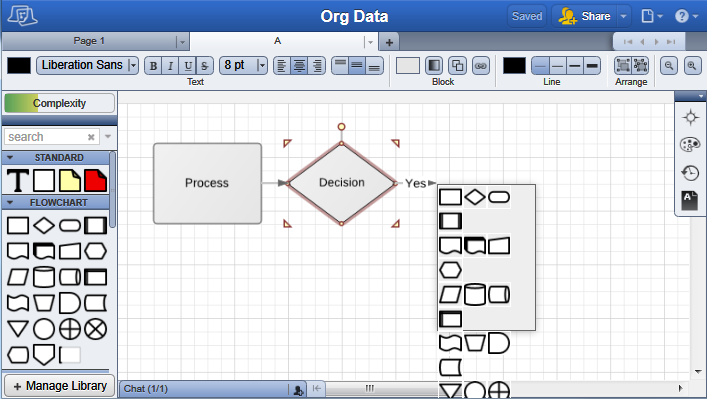 Collaborating in LucidChart
One of LucidChart's powerful tools is its collaborative features. You can invite users, assign user-level permissions, publish your document online, or share it on Twitter and Facebook in a few simple mouse clicks. The Share and Publish dialog box lets you send invites by email or by generating a link. You can also set permissions to view, edit, or be the owner of the document. When your document is ready, you can publish it as a PDF or a web page and share it with the LucidChart community.

Professional and team accounts have the ability to participate in real-time collaboration. Changes in real-time can be simultaneously monitored and changes can be discussed using the chat box that sits at the bottom of the screen. You can add sticky notes in the collaborative environment for other users to check later, review changes made according to timelines (in the Revisions pane on the right side of the screen) if you find yourself wanting to undo changes made to the document and more.
LucidChart Lets you Import Visio Files
Yet another awesome LucidChart feature is the ability to import Microsoft Visio files. Users who have had to create their documents with Microsoft Visio and want to work with LucidChart now can do so without too much effort. You'll just need to ensure that your Visio files are saved in VDX format as compared to VSD format before you import them. Editing Visio files in LucidChart is restricted to Professional and Team accounts.
LucidChart in Offline Mode
Web apps usually don't offer offline support. Not LucidChart, which has recently added offline support in beta, for users to work seamlessly between offline and online modes. Most of LucidChart 's features work in the offline mode and when you get back online, LucidChart  ensures that your document changes are automatically synced. However, you need to login to your LucidChart account at: offline.lucidchart.com to work in the offline mode.
LucidChart on the Go!
LucidChart's app for the iPad looks just as impressive. Tapping, dragging and dropping, and using your fingers to draw elements, and collaborating while on the go are the key features of the iPad app. To see it in action, check out the intro video below:
LucidChart is also available in the Chrome Web Store, so you can now install it into Chrome and integrate it with your Google account in one click there. Yes, you can even install LucidChart on your Google Apps domain.
There's also a fantastic resources page that provides users with all the help they need to get started.
LucidChart Giveaway: One Years Free Subscription Worth $99.95/yr
The LucidChart team has offered a free 1 year Professional LucidChart subscription for one of our readers. Whether you are engaged in UI/UX designing, web developing, or managing projects, you'll definitely find great use for LucidCharts. If you want to win this giveaway, simply follow these few simple steps.
1. Follow @lucidchart and @theapptimes on Twitter.
2. Tweet this post.
3. Leave a comment with your tweet.
The contest runs until Sunday, 30th September, 2011 (extended date) and the winner will be announced on Monday, 1st August, 2011.
LucidChart is such a comprehensive, easy to use, powerful web app that you can be forgiven if you think it's a native desktop application. And there's probably a whole lot of adjectives that I can think of to describe LucidChart's awesomeness, but I doubt it would do justice. You can get access to almost all of these awesome jaw-dropping features simply by signing up for a basic free account.
So, don't hesitate to give LucidChart a try. And share your views in our comments section too!
Update: 1/08/2011 [Contest Closed]