No matter how careful you are surfing the Internet, you are bound to experience instances when a malware has creepy crawled into your system unknowingly. I recently visited a top travel blog and was shocked when my antivirus detected trojans and thankfully eliminated the danger.
If you have downloaded trusted software from the Internet, you are most likely to get infected with malware. Despite having top notch antivirus solutions installed, it seems malware can creep in undetected. The only solution then is to also install a good malware removal tool on your PC. In this post, we share some of the popular malware removal tools for Windows that will help protect your PC and keep it secure.
Malware Removal Tools for Your PC
Malwarebytes Anti-Malware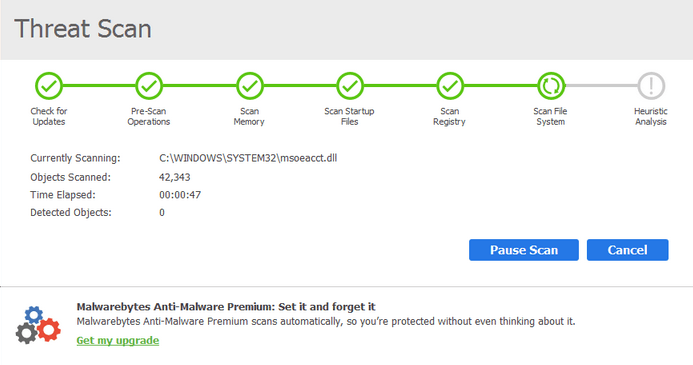 In my opinion, when it comes to malware removal, there's no better tool to use that Malwarebytes Anti-Malware. It is one of the most popular software around and for good reason. Malwarebytes works alongside any antivirus program and the basic free version itself does a thorough job of cleaning up any hidden malware that an antivirus usually cannot detect.
The free version helps detect and eliminate malware, remove rootkits and repair the files they damage. The paid version ($24.95) is more robust offering malicious website blocking, blocking hacking and phishing attempts, scheduling automatic scanning, detecting malware automatically in real-time, and scanning faster by only looking for active threats.
Visit the Malwarebytes website to learn more
SUPERAntiSpyware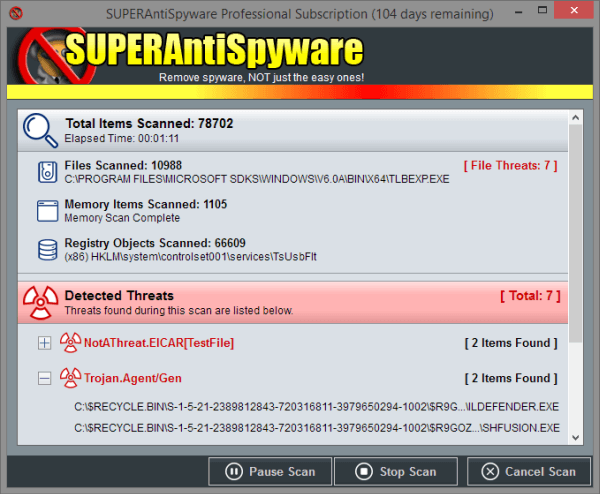 SUPERAntiSpyware is another useful malware removal tool that can detect and remove Spyware, Adware, Malware, Trojans, Dialers, Worms, KeyLoggers, Hijackers and various other types of threats. It also has a unique repair system that can repair broken Internet connections. The free version also lets you see which applications and browser plugins are installed on your PC.  The premium version ($29.95) offers a lot more  including startup scanning, scheduled scanning, real-time blocking and so on. Again, just like Malwarebytes, SUPERAntiSpyware can work alongside other antivirus software like Symantec and McAfee.
Visit the SUPERAntiSpyware  website to learn more
Spybot Search & Destroy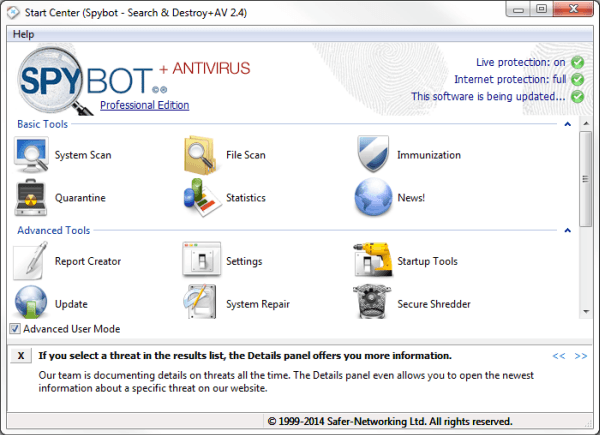 Spybot – Search & Destroy is a free malware removal tool that can detect and remove malware, rootkits, spyware and adware from your PC. The software can also repair the registry, ActiveX objects, browser hijacks, PUPs, keyloggers, trojans, spybots and other type of malware. It can also find and delete tracking cookies. The Immunize function of the tool can block installation of the spyware even before it occurs. Although you can get this tool as a stand alone product for free, SpyBot is also offering a product that includes antivirus removal along with malware removal which is available for around $14.
Visit the Spybot website to learn more
IObit Malware Fighter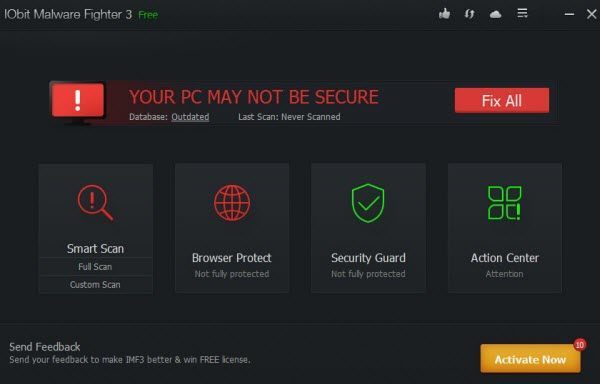 IObit Malware Fighter 3 claims that its unique Dual-Core anti-malware engine can completely detect over 1 million malware, including spyware, adware, trojans, keyloggers, bots, worms, and hijackers quickly and efficiently. The anti-hijacking feature is designed to protect your browser from being hijacked when you install certain software and is capable of detecting and removing malicious plug-ins and toolbars. IObit Malware Fighter 3 is fully compatible with all mainstream antivirus products. The Pro version of the software ($19.95) offers real time protection, protection from USB infections and more.
Visit IObit Malware Fighter website to learn more.
YAC Anti Malware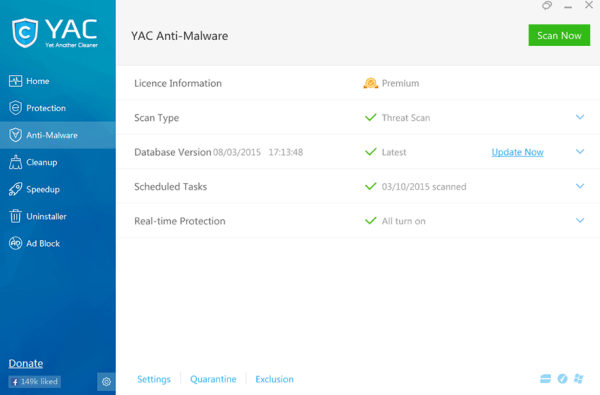 Yet Another Cleaner (YAC) claims to be the world's fastest and lightest PC cleaner. The free version of the tool can detect malware and potential adware and remove them in one click while the Premium version ($29.99) offers real time protection, malicious website protection, automatic updates, hyper scans and scan scheduling.
Visit the YAC website to learn more
RogueKiller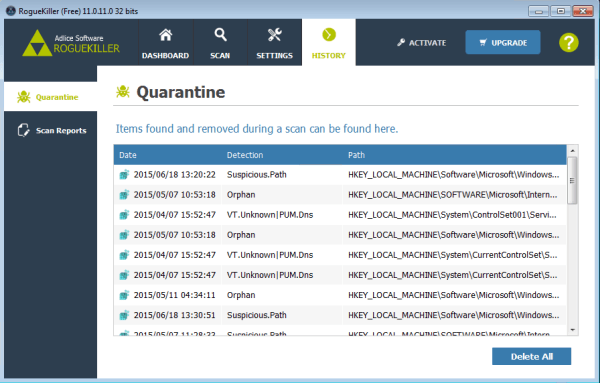 RogueKiller is a malware removal tool that can detect and remove generic malware as well as advanced threats like rootkits, rogues, worms, PUPs and possible bad system modifications/corruptions (PUMs). The free version of the tool has limited features while the $15 Personal version is rich offering customizations, quarantine manager, automatic updates, privileged support and use on up to 5 machines.  The screenshot is of its upcoming V12 version.
Visit the RogueKiller website to learn more
Final Thoughts
Anyone who has been affected by malware will tell you that one particular software worked great for them while others will say just the opposite. I firmly believe that there is no one "perfect tool" that can solve all malware problems a hundred percent. That's because the situation is dynamic and ever changing and what worked a couple of months ago may not work anymore.
I've been using Malwarebytes for over 5 years now in conjunction with AVG Antivirus and I've never had malware issues that couldn't be taken care of with a quick scan. However there are others who swear that Malwarebytes is a waste of time.
Various tests, user reviews and top lists may suggest the best tools for removing malware, but there will still be people who swear that the tools are useless. I can only suggest that you try the tools that are most popular and find one that works well for you.
If you have a story to share about your malware removal experience, do share them with us.