Microsoft has launched the Stormcloud Vapor Special Edition wireless Xbox controller, and this is an interesting addition to the world of gaming hardware. The Stormcloud Vapor controller is a unique and visually appealing controller with a comfortable grip. It is compatible with a wide range of devices, and offers a dynamic background for the Xbox Series X|S console. Let's check it out!
Stormcloud Vapor Special Edition Controller: Mesmerizing Design
The Stormcloud Vapor Special Edition controller features a dynamic dark navy swirl design inspired by the ethereal beauty of clouds and storming skies.
Each controller boasts a unique design, making it a visually captivating piece of gaming hardware. The mesmerizing blue swirls on the controller perfectly complement the console's dynamic background, creating a cohesive and immersive gaming experience.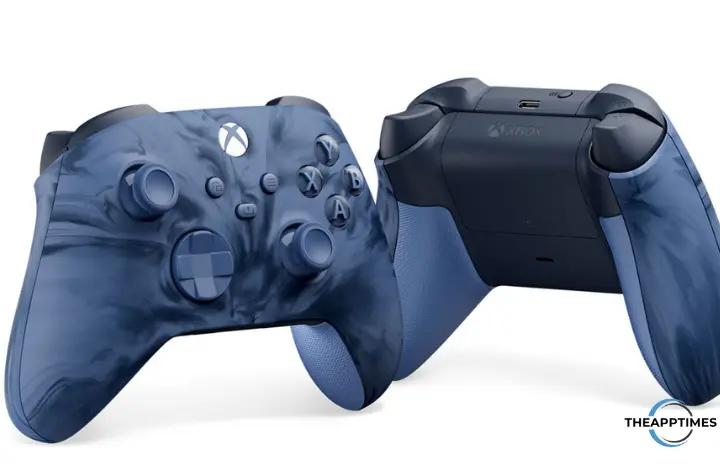 Seamless Compatibility
One of the standout features of the Stormcloud Vapor controller is its impressive compatibility. It seamlessly connects to Xbox Series X|S and Xbox One consoles, PC, mobile phones, and tablets via Bluetooth and Xbox Wireless.
Whether you're gaming on your console or on the go, this controller has you covered. The dedicated Share button allows you to effortlessly capture and share your gaming highlights, screenshots, and recordings.
Enhanced Grip and Comfort
Comfort is key during intense gaming sessions, and the Stormcloud Vapor controller delivers with its rubberized blue diamond-pattern grips.
These grips provide a secure and comfortable hold, allowing you to maintain control and precision during gameplay. Say goodbye to sweaty palms and hello to enhanced grip and comfort.
Extended Battery Life
The Stormcloud Vapor controller boasts an impressive battery life of up to 40 hours. This ensures that you can game for extended periods without interruption. This controller has the power to keep up with you, whether you're embarking on a marathon gaming session or gaming on the go. Say goodbye to constantly swapping out batteries and hello to uninterrupted gaming.
Customizable Gaming Experience
Personalize your gaming experience with the Xbox Accessories app, which allows you to remap buttons and create custom profiles for your favorite games.
This feature gives you the freedom to tailor the controller to your specific preferences and playstyle. Take control of your gaming experience and optimize it to suit your needs.
Availability
The Stormcloud Vapor Special Edition wireless Xbox controller is in selected Xbox markets worldwide. With an ERP of $69.99 USD, it offers an accessible entry point for gamers around the globe. Don't miss out on the opportunity to elevate your gaming experience with this stunning controller.
Additional Features and Information
The Stormcloud Vapor Special Edition controller features a 3.5mm audio jack for voice communication, allowing you to stay connected with your gaming buddies.
The controller's compatibility extends to Windows 10/11 PCs, Android, and iOS devices, making it a versatile option for gamers across different platforms.
The Xbox Wireless technology ensures a seamless and lag-free gaming experience, allowing you to focus on the game without any disruptions.
Conclusion
The Stormcloud Vapor Special Edition wireless Xbox controller is more than just a gaming tool. It is a statement piece that combines stunning aesthetics with advanced functionality. With its mesmerizing design, enhanced grip, seamless compatibility, and customizable features, this controller takes your gaming experience to the next level. Don't miss out on the opportunity to add this unique controller to your gaming collection.
Note: Prices and availability are subject to change. Make sure to check the official Xbox website or authorized retailers for the most up-to-date information.
Disclaimer: This article contains affiliate links. If you purchase a product through one of these links, we may receive a small commission. However, this does not affect the accuracy or quality of the content.