Microsoft's Windows 11 has been making headlines with its innovative features and improved user experience. As the latest operating system from Microsoft, Windows 11 is designed to transform how we interact with our PCs and with each other. Read on to check out the latest Windows 11 features and enhancements that cater to business needs, security, and IT management.
Windows 11 Remains High on Customer Satisfaction
Windows 11 has seen record engagement levels and customer satisfaction, surpassing all previous versions of the operating system. In fact, over 90% of Fortune 500 companies are either trialing or have already deployed Windows 11. This displays the confidence businesses have in the capabilities and benefits offered by this innovative OS.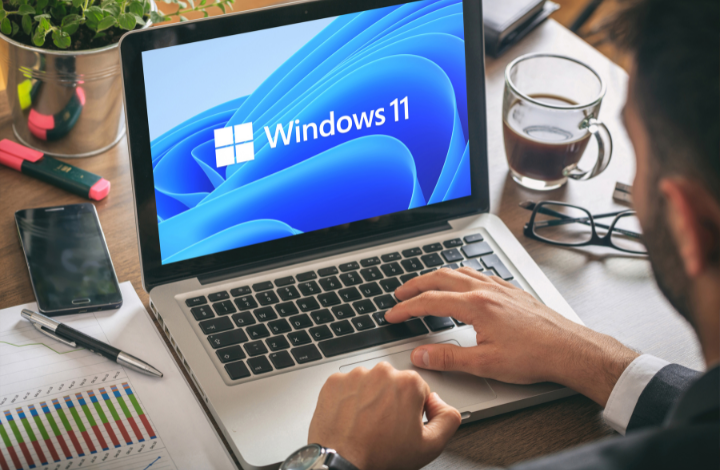 Windows 11 New Features for Businesses
Many of the new features Microsoft has introduced are already available while others will be rolling out as Previews in the coming months. Let's dive into the new features.
New Privacy, Security, and Accessibility Features
Microsoft is committed to ensuring that Windows 11 users have access to the latest privacy, security, and accessibility features. In the following sections, we will explore some of the key enhancements in these areas.
App Privacy Settings
With privacy being a top concern for customers, Windows 11 now offers new app privacy settings that provide greater transparency and control over the use of personal information. Users can easily enable or disable presence sensing features, such as wake on approach/lock on leave, and allow or block access to presence sensor information.
Glanceable VPN on Taskbar
To help users stay focused and secure, Windows 11 is introducing glanceable VPN on the taskbar. This feature displays a small shield icon over the active network connection. This indicates that the device is securely connected to a VPN. Users can quickly turn the VPN on or off via Quick Settings.
Microsoft Pluton Security Processor
Microsoft continues to work closely with partners to deliver built-in security from chip to cloud. The Microsoft Pluton security processor is a key innovation in this area, providing increased resilience to malware, stronger protection against hardware attacks, and enhanced credential protection for Windows 11 PCs equipped with Pluton.
Account Badging
Starting in June, Windows 11 will introduce account badging, alerting users on their Start menu when their account needs attention. This feature makes it even easier for users to ensure their information and PC are protected.
Expanded Language Support for Live Captions
Live captions, introduced last year aims to provide an accessible option for users to consume audio content on Windows 11. These captions appear when audio is played, including during real-time video calls. Microsoft is now expanding this feature to support 10 additional languages across 21 regions.
Bluetooth® Low Energy Audio
In partnership with Samsung and Intel, Windows 11 is introducing Bluetooth® Low Energy Audio, a first for the PC ecosystem. This feature allows for high-quality audio at low power, improving the experience for calls, videos, and music on compatible devices.
Widgets to Stay On Top of the News and Information
Widgets are another resource that Windows 11 users can utilize to stay informed about the latest news and information. Microsoft is continuously improving the layout and functionality of the widget board, offering a larger default pane view with dedicated space for user-pinned apps and a personalized feed for discovery.
Preview of New Security Innovations
Windows 11 is also introducing new security innovations in public preview, aimed at further strengthening hardware and software protection.
Sign-In Session Token Protection Policy
The preview of token protection for sign-ins allows applications and services to cryptographically bind security tokens to the device, limiting attackers' ability to impersonate users on a different device after stealing tokens.
Windows 365 Boot
Windows 365 Boot enables users to log directly into their Windows 365 Cloud PC and designate it as the primary Windows experience on their device. This feature streamlines the login process for shared devices and provides a secure, personalized Cloud PC experience for each user.
Isolation for Win32 Apps
Starting in public preview, Windows 11 will offer the ability to isolate Win32 applications for both consumer and commercial audiences. This feature helps minimize the risk of security breaches by using new isolation technologies that prevent unauthorized access to critical internal Windows subsystems.
Simplifying IT for Windows Enterprise Customers
Windows 11 Enterprise aims to lower the cost of managing and securing corporate Windows devices. This allows IT teams to focus on priority projects while providing employees with the latest productivity-enhancing features.
Universal Print Secure Release with QR Code
Universal Print secure release with QR code provides a step-by-step process for authenticating printed documents, ensuring that confidential information remains secure.
Organizational Messages
As part of the Windows 11 Enterprise subscription, users can send organizational messages from Microsoft Intune to users on various Windows surfaces, such as the notification panel and the Get Started app.
Windows Autopatch Upgrade
Windows Autopatch, which automates much of the Windows and Microsoft 365 update management process, now includes the highly anticipated upgrade from Windows 10 to Windows 11 Enterprise.
Additional Recently Announced Features
Microsoft has also announced several other noteworthy features for Windows 11, including:
Windows Local Administrator Password Solution (LAPS) with Microsoft Entra (Azure AD) provides enhanced security by making it more difficult for attackers to access the local administrator account.
Microsoft Intune Suite Endpoint Privilege Management (EPM) allows IT teams to limit their attack surface by running everyone as standard users and elevating privileges only when needed.
Microsoft Edge Workspaces is now expanded to include personal Microsoft Accounts, streamlining collaboration on personal projects such as trip planning and event coordination.
Conclusion
Microsoft is dedicated to delivering continuous innovation for Windows 11. Many of the new privacy, security, and accessibility features will become available in the coming weeks and months. If you have an eligible device running Windows 11, you can experience the latest enhancements. Just open Windows Update settings and select "Get the latest updates as soon as they are available."
This is an exciting time for both developers and users to explore and benefit from the latest Windows 11 feature enhancements. You can learn more about Windows 11 by visiting the Microsoft Windows website or the Windows Business Devices page.