Premium accessories maker Moshi had a big day at CES 2019 where they announced some cool new products including an expanded headphone lineup and a range of SnapTo Magnetic Car Mounts. We take a look at one of their upcoming launches, the Moshi SnapTo Car Mount with Wireless Charging.
Accessories for mobile gadgets should make life easy and convenient. Wireless charging is only just beginning to make its mark in the tech world, but thankfully we are starting to see more and more devices gaining the ability to go cord free.
Moshi SnapTo Car Mount with Wireless Charging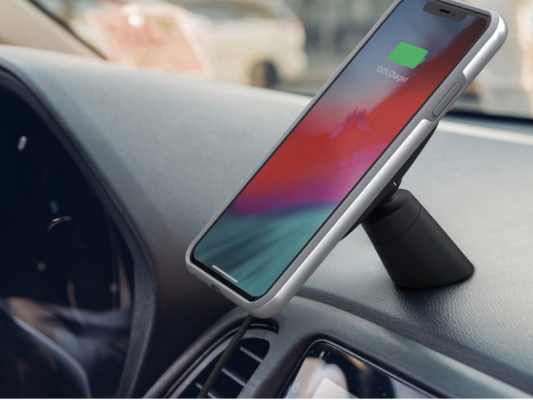 Moshi's CES lineup features a couple of car mounts for conveniently charging the iPhone, but its luxury mount, priced at $60 is what catches the eye.
The SnapTo Car Mount works only with Moshi's select cases, like the Altra, iGlaze and Vesta series. That's because these cases feature a cut out for inserting the SnapTo metal tabs that go inside the case. They are positioned in such a way that it never interferes with wireless charging.
Strong magnets are in place to hold the phone securely and prevent it from slipping and sliding around. With the SnapTo mount, all you need to do is place the phone on the pad. It will charge the battery without you having to worry about fiddling with cumbersome wires – ever again.
Having that convenience in your car would really make life super convenient wouldn't it?
The SnapTo Magnetic Car Mount with Wireless Charging for iPhone will be available mid-April. You can pick up the wireless option for $60 while the wired option is also available for half the price at $30.
Would you be willing to buy the Moshi SnapTo wireless car mount even if it means you can only use it on a Moshi case?
Let us know in the comments!