Still looking for a good tool to manage your tasks, to-dos and notes? Popular productivity app Notion has landed on Google Play giving you the chance to organize your notes and to-do lists, and keep track of all your personal and work activities like a pro. Notion is  ideal for the power user but if you're not one, you can still take it for a spin and discover if all of its features and capabilities are for you. Here's a closer look at Notion App.
Notion App Review – Productivity Tool for Power Users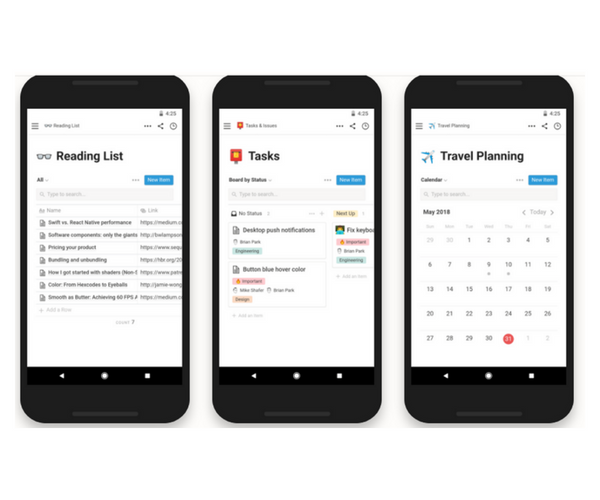 Getting Started
Notion for Android is free to download. Before you begin using the app, you need to create an account or sign in with your Google account to save and sync all your stuff. A quick set up process follows where you will be required to create a workspace with a unique URL.
Once you're done with all of that, a quick tutorial will guide you through some of the basics of the app. However, that doesn't even begin to scratch the surface of Notion's powerful capabilities. To get familiar with the app, I suggest you start with the side menu. Here you can create a page to start managing your stuff. You can start from scratch, but I recommend you get very familiar with the app before you do that.
Also Read: Productivity Hacks to Get Things Done Efficiently
Creating Tasks, Notes Et Al
To keep things simple, you can make use of one of many templates Notion offers. You have templates for Personal, Tasks & Issues, Meeting Notes and Fundraising Database. The templates are comprehensive, detailed and fully customizable. To add tasks, notes or elements, you simply click the + button on the toolbar (above the keyboard).
You'll find a ton of options from adding simple text to headings, lists, links, images, database elements, codes, embeds and a whole lot more. If you added an element but then decide you'd rather have something else in its place, you can use the Turn Into button on the toolbar to change it.
Making Notion Your Own
Notion's features and capabilities are brilliant. You can add emoji and icons to distinguish between tasks. You can link documents within the app and you can create a calendar for a task and add it to multiple notes. If you change your priorities, you can drag and drop items to reorder them as well.
That's not all. If you manage a business, you can set your goals on one set of pages, manage issues to be handled on another page and maintain a list of posts you need to publish on the blog. You can keep your pages clean or you can dress it up with images, icons and more.
Your Tasks Offline, Everywhere
Notion is available for the Mac, Windows desktop and iOS so no matter where you are and what device you own, you'll be able to access your stuff easily. Its collaborative capabilities means you can share pages, simultaneously edit documents, mention people by tags and more. If you are on the go and worry about access to your network, Notion has you covered there too! All your pages are automatically downloaded for offline use.
Also Read: Productivity Hacks to Get Things Done Efficiently
Final Takeaway
Notion, with its extensive features and powerful capabilities leaves no doubt in the mind as to its purpose. If you love to be super organized, want folder-less organization and need a tool to seamlessly collaborate with a team, Notion makes for a great choice. For anyone who just wants a simple tool to take notes and manage to-dos, Notion may just be a little too overwhelming.
The app is free for everyone to download so I encourage you to download it and take a look. If it meets your needs, you can take your pick from one of their various plans starting at $4 per month. Visit Google Play to check it out yourself and tell us what you think.
Price: Free | IAPs | Download: Google Play | Website: Official