The highly anticipated release of the iPhone 15 Pro has finally arrived, and Apple has once again exceeded expectations with its groundbreaking features and innovative design. The iPhone 15 Pro is a true testament to Apple's commitment to pushing the boundaries of technology and providing users with the ultimate smartphone experience. Here's a closer look at what you can expect from this amazing smartphone.
Top Features of iPhone 15 Pro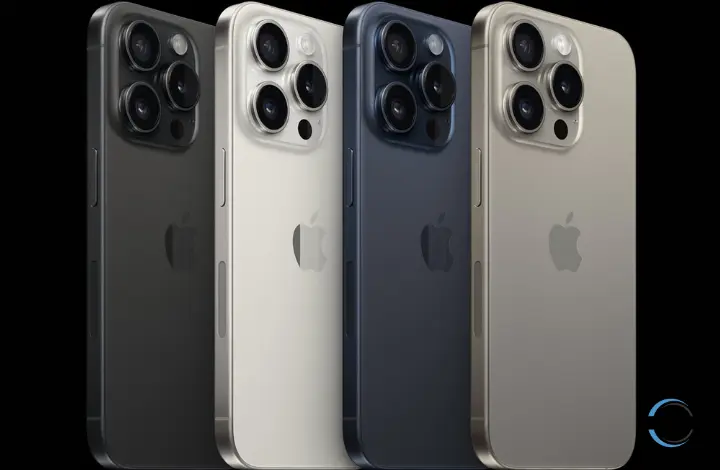 Design and Durability
One of the most notable features of the iPhone 15 Pro is its aerospace-grade titanium design. Apple has utilized the same alloy used in spacecraft missions to Mars, making the it incredibly strong and lightweight. This titanium design not only enhances the durability of the device but also contributes to its overall sleek and premium look.
The iPhone 15 Pro boasts a refined brushed texture and contoured edges, providing users with a comfortable and ergonomic grip. The titanium bands are bonded with a new internal aluminum frame through solid-state diffusion. This is a groundbreaking thermomechanical process that ensures incredible strength. Additionally, the internal frame is made from 100% recycled aluminum, aligning with Apple's commitment to sustainability and reducing environmental impact.
Super Retina XDR Display with ProMotion
The iPhone 15 Pro features an advanced Super Retina XDR display with ProMotion technology, delivering an unparalleled visual experience. With ProMotion, the display can ramp up refresh rates to 120Hz when exceptional graphics performance is required, providing users with smooth and fluid visuals.
The display also introduces Dynamic Island, a feature that bubbles up alerts and Live Activities, ensuring users never miss important notifications while engaged in other tasks.
The Always-On display keeps the lock screen glanceable, allowing users to stay informed without the need to tap the screen. Furthermore, smart algorithms enable the display to detect when the device is in a pocket or face down, automatically conserving battery life by going dark.
A17 Pro Chip
At the heart of the iPhone 15 Pro lies the A17 Pro chip, Apple's most powerful and advanced chip to date. The A17 Pro chip boasts significant improvements in performance and energy efficiency. With a 10% faster CPU and 2x faster Neural Engine, users can expect lightning-fast speeds and seamless multitasking capabilities.
The A17 Pro chip also introduces a new Pro-class GPU with 6 cores, delivering unprecedented graphics performance. Mobile gaming enthusiasts will love the immersive experiences that hardware-accelerated ray tracing allows. On the iPhone 15 Pro, it is up to 4 times faster than software-based ray tracing. The A17 Pro chip's MetalFX Upscaling combines the power of the GPU and Neural Engine to produce high-resolution graphics while optimizing power consumption.
Pro Camera System
The phone's pro camera system is a game-changer for photography enthusiasts and professionals alike. Equipped with the equivalent of seven pro lenses, the iPhone 15 Pro offers unparalleled versatility and image quality. The advanced quad-pixel sensor makes the most of its 48 megapixels, adapting to different shooting scenarios to capture low-light photos with exceptional detail.
The Photonic Engine, powered by the A17 Pro chip, combines the best pixels from a super-high-resolution image with another optimized for light capture, resulting in 24MP photos with incredible detail. Users can also choose from various pro options, including 48MP HEIF for higher resolution and 48MP ProRAW for precise control over color, detail, and dynamic range.
The iPhone 15 Pro introduces the ability to switch between three popular focal lengths (24 mm, 28 mm, and 35 mm) without the need for additional gear. This computational photography feature allows users to capture stunning photos from different perspectives, providing endless creative possibilities.
Next-Generation Portraits and Enhanced Night Mode
With the Photonic Engine's advanced capabilities, iPhone 15 Pro takes portrait photography to the next level. The Photonic Engine enhances portraits with beautiful detail, true-to-life colors, zero shutter lag, and improved low-light performance. Now, users can even capture Live Photos in Portrait mode, enabling them to add life and movement to their portrait shots.
In addition to its portrait enhancements, the Photonic Engine improves Night mode, allowing users to capture clearer photos in low-light conditions. In a dimly lit scene or a challenging lighting situation, Night mode intelligently optimizes images for both the subject and the background. This results in stunning photos with accurate color reproduction and enhanced dynamic range.
Cinematic Mode
The iPhone 15 Pro introduces Cinematic mode, a groundbreaking feature that lets you create professional-quality videos with ease. Cinematic mode automatically shifts focus to the most important subject in a scene. This helps you create a depth-of-field effect similar to what you find in Hollywood films. This feature allows users to effortlessly capture stunning videos with a cinematic look and feel.
Action mode is another exciting addition to the iPhone 15 Pro's video capabilities. This mode stabilizes shaky handheld shots, ensuring smooth and steady footage. With Pro video capabilities, including the ability to record ProRes video directly to external storage, users can take their videography to new heights.
Wireless Performance and Connectivity
The 15 Pro offers enhanced wireless performance and connectivity options so that you stay connected and productive wherever you go. The device supports Wi-Fi 6E, providing up to 2x faster wireless speeds for seamless browsing, streaming, and downloading. Additionally, the iPhone 15 Pro is the first smartphone to support Thread radio. This lets you directly control your Thread-enabled smart home devices.
The USB-C connector on the 15 Pro unlocks new possibilities for data transfer and connectivity. With USB 3 speeds, you can enjoy up to 10Gb/s transfer speeds, making file transfers faster and more efficient. The USB-C connector also allows you to charge your Mac or iPad using the iPhone 15 Pro cable. This will definitely reduce cable clutter and enhance overall convenience.
Safety and Emergency Assistance
Apple prioritizes user safety and has introduced several features to provide peace of mind in emergency situations. The iPhone 15 Pro lineup includes Emergency SOS via satellite. This feature allows you to text emergency services even when cellular or Wi-Fi coverage is unavailable. This feature can be a lifesaver in critical situations where immediate assistance is needed.
Additionally, the iPhone 15 Pro introduces Roadside Assistance via satellite. This is helpful in the event of a car trouble in areas without cellular or Wi-Fi coverage. By connecting to AAA, the largest roadside assistance provider in the United States, you can receive help for issues such as flat tires or dead batteries, even when you are off the grid.
Environmental Sustainability
Apple is committed to reducing its environmental impact. It has taken significant steps to make the iPhone 15 Pro lineup more sustainable. The internal structural frame of the device is made from 100% recycled aluminum. This is in line with Apple's goal of using recycled materials and minimizing environmental impact. The packaging for the iPhone 15 Pro is also eco-friendly. 99% of the packaging material is fiber-based and free of plastic wrap.
Furthermore, Apple has eliminated the use of leather in its products, including iPhone accessories. Instead, Apple has introduced the FineWoven Case and FineWoven Wallet. These are made from a durable microtwill material that incorporates 68% post-consumer recycled content. These accessories offer a sustainable and stylish alternative to traditional leather options.
Price and Availability
The iPhone 15 Pro is now available for pre-order in the US. It starts at $999 or $41.62 per month and comes in four storage options: 128GB, 256GB, 512GB, and 1TB. You can trade in an iPhone 7 or newer phone and get $40 – $650 off the iPhone 15 Pro. The release date for the iPhone 15 Pro is September 22, 2023. Financing options may vary depending on the carrier or Apple's financing program.
Final Thoughts
The iPhone 15 Pro is more than just a smartphone. It is a powerful tool that empowers you to unleash your creativity and enhance your everyday experiences. With its aerospace-grade titanium design, A17 Pro chip, pro camera system, and enhanced wireless connectivity, the iPhone 15 Pro sets a new standard for pro performance and innovation.
With its commitment to sustainability and user safety, Apple has shown its dedication to making a positive impact on the planet and our lives. Upgrade to the iPhone 15 Pro and enjoy the benefits of Apple's innovation.