Are you an indoor gardening enthusiast who has always struggled with keeping your precious plants alive? Or perhaps you're a seasoned green thumb looking to enhance your plant care routine. In either case, the Planta app is here to revolutionize the way you care for your beloved houseplants. With over 6 million satisfied users, Planta has become one of the most popular houseplant care apps for iOS users. We take a look at the features, benefits, and pricing of the Planta app, and see how it can elevate your indoor gardening experience.
What is Planta?
Planta is a powerful iOS app designed to assist both novice and experienced plant enthusiasts with houseplant care. From identifying unknown plants to offering detailed care schedules tailored to your specific plants, Planta provides a one-stop solution for all your houseplant care needs. With an easy-to-use interface, Planta is the perfect companion for anyone looking to improve their green thumb.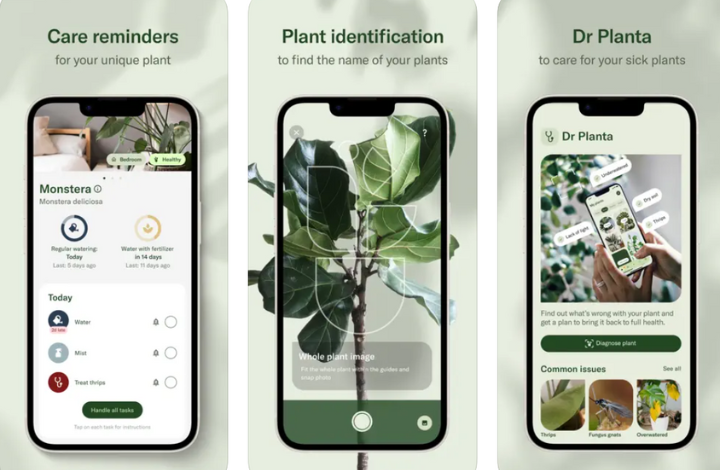 Identifying Your Houseplants
Have you ever been gifted a potted plant and wondered what type of plant it was? With Planta's built-in identifier, you no longer need to worry about figuring out your new plant's name.
Simply type in the plant's name or take a quick snap of it with your phone's camera, and Planta will provide you with an almost instant identification.
This feature not only helps you learn about your plant but also gives you access to essential care instructions based on its specific needs and placement within your home.
Customized Care Schedules
One of the standout features of the Planta app is its ability to provide personalized care schedules for each of your unique houseplants. All you need to do is input information about your plant, such as its species, pot size, and location. Planta generates a customized care plan that includes watering, fertilizing, and pruning schedules. This ensures that your plants receive the best care possible, tailored to their individual requirements.
Premium Features for Enhanced Houseplant Care
While Planta offers several useful features in its free version, upgrading to Planta Premium unlocks a plethora of additional tools to help you provide the best care for your houseplants. Below is a detailed overview of the premium features that can elevate your indoor gardening experience.
Diagnosing and Treating Plant Ailments
If your houseplant is looking a little under the weather, Planta's premium diagnosis feature can help you identify the problem and offer treatment advice.
By analyzing photos of your plant's symptoms and answering a few questions, the app will provide a detailed analysis and suggest remedies to help your green friends recover.
Light Meter for Optimal Plant Placement
Proper lighting is crucial for healthy houseplant growth. With Planta Premium's light meter feature, you can analyze the environmental conditions in your home to ensure your plants are receiving the right amount of light.
This tool helps you determine the best placement for your plants, ensuring that they thrive in their designated spaces.
Seasonal and Repotting Guides
Caring for your houseplants involves more than just watering and fertilizing. Planta Premium offers step-by-step guides for preparing your plants for different seasons, as well as repotting them when necessary. These guides are invaluable resources for ensuring your plants remain healthy throughout the year.
Planta Premium Pricing
To access the full suite of features offered by Planta, you'll need to subscribe to Planta Premium. While the subscription may not be the most affordable option for everyone, it offers a wealth of benefits that can significantly improve your houseplant care routine. The pricing for Planta Premium is as follows:
One month subscription: $7.99
Three month subscription: $17.99
One year subscription: $35.99
By opting for longer subscription plans, you can enjoy considerable savings compared to the monthly option.
Free Version Features: Watering Reminders
Even if you don't choose to upgrade to Planta Premium, the free version of the app still provides valuable assistance for houseplant care.
One of the most crucial features available in the free version is watering reminder alerts. These notifications help you stay on track with your plant care routine, ensuring that you don't accidentally neglect your green friends.
Input Plant Information to Get Accurate Care Tips
To get the most out of Planta, it's essential to input accurate and detailed information about your houseplants. The more data you provide, the more precise the care prompts and tips will be.
While the initial setup process may be somewhat lengthy for each plant, especially if you have a large collection, the effort is well worth it. Once you've completed the setup, Planta becomes an indispensable tool for keeping your houseplants in top-notch condition.
Conclusion
With its ability to identify plants, provide customized care schedules, and offer premium features such as diagnosis tools and light meters, Planta is an invaluable resource for anyone looking to improve their indoor gardening skills.
While the app's premium subscription may not be ideal for everyone's budget, the free version still offers useful features like watering reminders. Regardless of your experience level, incorporating Planta into your houseplant care routine can make a significant difference in the health and happiness of your indoor garden.
Check it out and tell us what you think!
Download Link: App Store