Public speaking is no easy feat. Even the most renowned speakers get the jitters on their big day. But with a little practice and guidelines from people who have been-there-done-that, you can conquer your fears and deliver your best.
Its all well and good to use your imagination and pretend that you're standing before a huge audience, paying attention to the front rows and making eye contact with a few audience members. But all these guidelines can only help so much.
Now, thanks to virtual reality, you can clearly visualize your audience and create an atmospheric effect to practice your big speech. And one app that promises to the job a breeze is Public Speaking for Cardboard for Android.
Public Speaking for Cardboard is a virtual speech app that provides a photo-realistic environment for you to practice and train for the big day. For the app to work, you'll need Google Cardboard ( a low cost virtual reality platform that can transform your phone into a virtual reality headset). but any other VR headset should do the job just as well.
Features of Public Speaking for Cardboard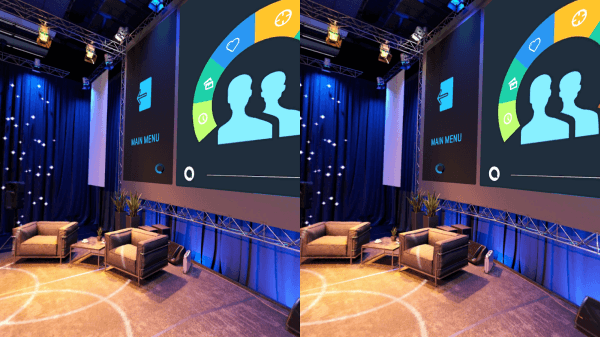 Animated Audience – The virtual audience has a realistic feel as they move and behave typically how they would at a real event, giving just the right dose of distraction while still creating a restless energy.
Stunning 360 3D Environments – The app offers high quality conference rooms to choose from including a large and a small conference room. The large room is set in San Jose, California, with 300+ capacity while the small room is at Oxford, England, with 15+ capacity.
Sound Distraction – The app creates an immersive atmosphere with ambient sound in the conference room making you feel like you are at the event.
Option to Add Your Own Slides – The app also offers the option of letting you add your slides into the virtual conference room so that you can practice for an upcoming event. You can learn more about how to do that here: https://youtu.be/OT_5u-GZWKw
To start your practice session, you must launch the app on your Android device and insert the phone onto the VR device. You can then use the onscreen tool and head movements to select a practice environment. When you first enter a room you have the option to turn off the animated audience.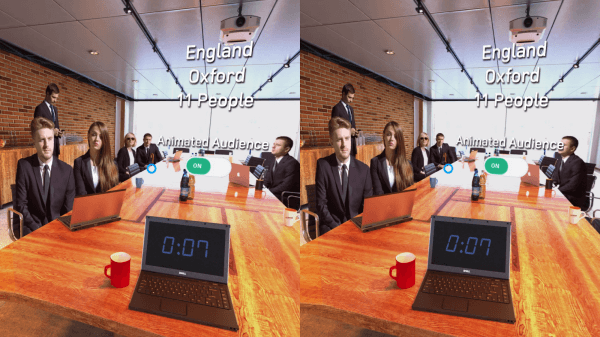 You can do this the first time around to get a good feel of the audience and the environment and find your comfort level. The next time you rehearse, you can add the animation effects as you will now feel a little more comfortable with the crowd.
When you start talking, the audience will start filling up and reacting to your speech. You can move around your virtual stage and talk as you would in real life.
Public Speaking for Cardboard is still in development so expect it to be a little rough around the edges. There are still several new features that the developers are working on including the ability to include eye contact in a smaller room, fresh new environments to practice, voice recording that you can play back during your rehearsal, tips module to help you improve and overcome your fear of public speaking and even a wedding environment where you can practice your wedding speeches.
Public Speaking for Cardboard is a fantastic concept that can come in handy for many people in the public speaking business, but is great even for everyday people who often find themselves having to give a speech to an audience.
If you are interested in trying out the app, click below. Price: Free
Download Public Speaking for Cardboard