Gaming is all about getting those lightning-fast reflexes spot on and a good gaming mouse is crucial to achieve that. If you are an amateur gamer, you may not be too keen on investing in high-end accessories right away. If you're looking for a good budget option, then check out the HyperX Pulsefire Haste 2 Wireless.
Features of HyperX Pulsefire Haste 2 Gaming Mouse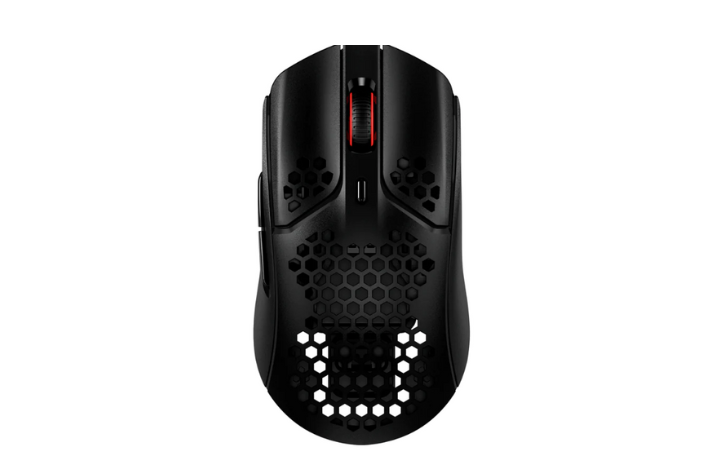 Design
The Haste 2 is an ultra-lightweight mouse with a solid upper shell and wide comfort grips to allow for easier finger adjustments for medium sized hands. The mouse has 6 buttons in all – two on the left side, two buttons for left and right clicks, a DPI switcher that swaps among four different dot-per-inch (DPI) settings and a scroll as per usual. Its dimensions are measures 1.5 by 2.6 by 4.9 inches and it weighs a nice 61 grams in all.
Sensors
The mouse features a precision HyperX 26K Sensor with a native DPI of up to 26,000 and a tracking speed of up to 650 IPS, perfect for precision gaming.
HyperX Switches and Custom HyperX grips
The custom HyperX Switches provide tactile, audible feedback on each click. They have a lifespan rating of up to 100 million clicks. Custom HyperX grips can be added to help provide a more secure hold.
Battery Life
On a full charge, you can expect the Haste 2 wireless to deliver up to 100 hours of battery life.
Connectivity
It offers dual mode wireless connectivity. You can switch between 2.4GHz wireless and Bluetooth connections. But if you need to charge while you play, the mouse comes with a USB-C to USB-A cable that lets you charge while using the mouse in wired mode.
Customizable
You can further customize certain features of the mouse using HyperX NGENUITY Software. For example, you can adjust the DPI presets, add your own presets, adjust the poling rate or add new RGB effects to suit your playing style.
Just know that the mouse does not support multiple profiles so you only have to work with the default profile. However, you can create and save settings in multiple profiles in NGenuity and export them to a USB drive.
Quick Look: Features
Up to 100 hours of battery life
Ultra-lightweight 61g design
Dual wireless connectivity modes
Precision HyperX 26K Sensor
Custom HyperX Switches
Low-Friction Skates and Grip Tape
Seamless switch to wired mode
Customizable with HyperX NGENUITY Software
Final Thoughts
The HyperX Pulsefire Haste 2 Wireless is an ultra-light mouse with a nice comfortable grip (for medium sized hands). It doesn't do anything outstanding or innovative in its segment, but what it does do, it does well. On the downside, you don't have much options in terms of RGB and it does not support multiple profiles. It is also not a great fit for big hands unless you like a crawl grip of the mouse.
That said, this mouse is great on performance and accuracy and is a is a solid budget wireless gaming mouse for competitive gaming on a budget.
You can take your pick of the Haste 2 in shades of black or white for $90 from the official website hyperx.com or on Amazon (4 star rating).