When it comes to gaming peripherals, Razer is a name that stands out. Known for their high-performance and feature-rich products, Razer has once again raised the bar with their latest line of gaming mice, the Cobra series. In this article, we take a look at the Razer Cobra Pro, the flagship model of this new series. Packed with cutting-edge technology, impressive features, and a sleek design, the Cobra Pro aims to be the go-to choice for competitive gamers and RGB enthusiasts alike.
Features of the Razer Cobra Pro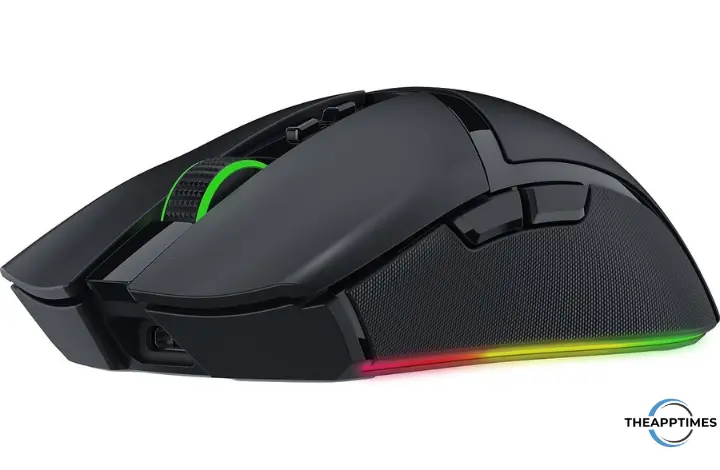 Design and Comfort
The Razer Cobra Pro features a symmetrical design, similar to the popular Viper V2 Pro. With its compact and lightweight form factor, it is well-suited for claw and fingertip grips, promoting accuracy and nimble movements.
The mouse measures 4.71 inches long, 2.46 inches wide, and 1.5 inches tall, making it slightly smaller than its predecessor. It weighs 77 grams, striking a balance between being lightweight enough for quick movements and providing enough heft for stability.
The chassis of the Cobra Pro is made of smooth, matte black plastic, with textured rubberized grips on both sides. This ensures a comfortable and secure grip during intense gaming sessions.
The mouse also features 10 programmable buttons. This includes two thumb buttons on the left side, allowing for customizable controls to suit individual preferences.
Immersive RGB Lighting
One of the standout features of the Razer Cobra Pro is its immersive RGB lighting. With 11 customizable lighting zones, including a 360-degree underglow, the mouse offers a visually stunning experience.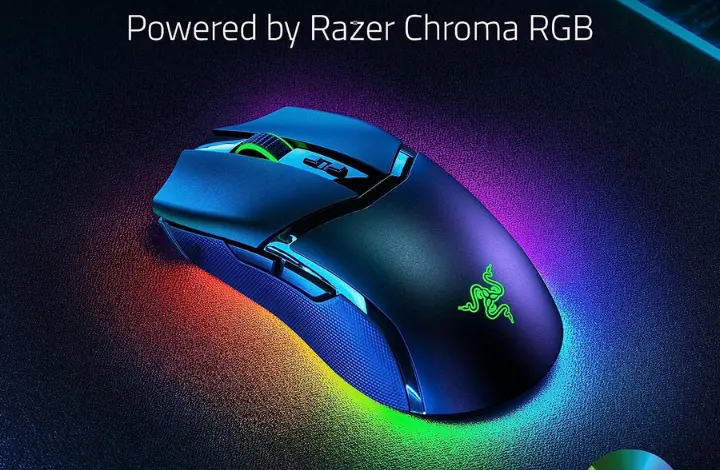 The RGB lighting extends to the mouse wheel and the palm rest on the logo. This adds a touch of flair to your gaming setup. Each lighting zone can be customized to your liking, allowing you to create a personalized look that matches your style.
Cutting-Edge Technology
Underneath its sleek exterior, the Razer Cobra Pro houses some impressive technology. It is equipped with Razer's Focus Pro 30K optical sensor. This offers a maximum sensitivity of 30K DPI, a maximum speed of 750 IPS, and up to 70 G's of acceleration. This ensures precise and accurate tracking, allowing for smooth and responsive gameplay.
The Cobra Pro supports three forms of connectivity: 2.4GHz wireless, Bluetooth, and wired via USB-C. With the included 2.4GHz dongle, you can experience Razer's low-latency HyperSpeed wireless technology at a polling rate of 1,000Hz.
For even faster response times, the mouse is compatible with Razer's HyperPolling Wireless Dongle. This can achieve a polling rate of up to 4,000Hz. Bluetooth connectivity is also available for less demanding games, providing flexibility for different gaming scenarios.
Versatility and Customization
The Razer Cobra Pro offers a range of customization options to cater to individual preferences. With 10 programmable buttons, users can assign macros and commands for quick and easy access during gameplay.
The mouse also features a profile select button on the bottom, allowing for seamless switching between different profiles and settings.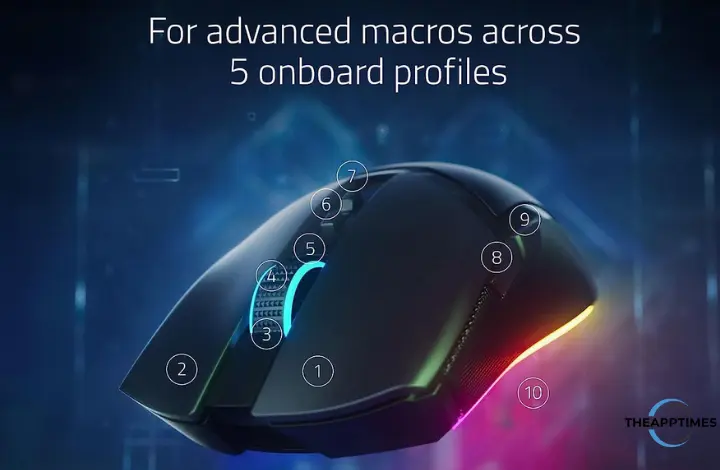 In terms of physical customization, the Cobra Pro comes with large 100% PTFE feet, providing a smooth glide across various surfaces.
The mouse also includes grip tapes right out of the box, eliminating the need for users to apply them themselves. This ensures a comfortable and secure grip, enhancing overall control and precision.
Impressive Battery Life
Battery life is always a concern for wireless gaming mice. The Razer Cobra Pro addresses this with its impressive battery performance.
With the backlighting turned off, the mouse can last up to 100 hours on HyperSpeed wireless and 170 hours on Bluetooth. But, using the HyperPolling dongle at the maximum polling rate of 4,000Hz will reduce battery life to around 33 hours.
Nonetheless, the Cobra Pro's battery life is commendable. It allows for extended gaming sessions without the need for frequent recharges.
Pricing and Availability
The Razer Cobra Pro is priced at $129.99 and will be available worldwide starting June 29, 2003. For those looking for a more affordable option, Razer also offers the regular Cobra model, priced at $40.
The regular Cobra retains the same sleek design but with some feature limitations, such as fewer buttons and a lower DPI sensor. However, it still provides an excellent gaming experience at a more budget-friendly price point.
What Top Reviewers are Saying About the Razer Cobra Pro
RTINGS.com: The Razer Cobra Pro is a wireless gaming mouse with a low-profile, symmetrical shape. It has rubberized side grips and two side buttons on each side. It has a great sensor and low click latency, but its battery life is not very long.
GamesRadar: The Razer Cobra Pro is a jack of all trades gaming mouse that is an excellent option if you have the budget. It has a comfortable design, great sensor, and customizable controls.
Conclusion
The Razer Cobra Pro is a top-notch gaming mouse that excels in performance, customization, and design.
With its symmetrical form factor, impressive RGB lighting, cutting-edge technology, and versatile connectivity options, the Cobra Pro caters to the needs of competitive gamers and RGB enthusiasts alike.
While it may come with a higher price tag, the features and performance it offers make it a worthy investment for those looking to enhance their gaming experience.
So, if you're in the market for a gaming mouse that combines style and substance, the Razer Cobra Pro is definitely worth considering.