A major portion of your computer's hard drive is filled with multimedia files such as photos, videos, songs, image files etc. Though these files are of use and importance, they occupy a larger space than any other files on your drive. Therefore, many times their presence reduces the speed of your system as well.
To get back the speed of your computer and space on your hard drive you cannot delete your files. Then what should be the better way of keep these files with you and that too without dedicating large space for them? Well, one way can be keeping these multimedia files on an external hard drive. An external hard drive is a gadget that basically resides outside the computer and is used for maintaining the backup of your data. Once you attach this external drive to your computer, you can access it and transfer data to and from it.
But, have you ever thought that what will you do if you accidentally delete some of your precious image files from the external hard drive or formatted this drive unexpectedly? This can happen to anyone and losing hope and sitting idle does not resolve your problem. In this post we take a look at how you can use an effective photo recovery software to recover deleted external hard drive photos.
How to Recover Deleted External Hard Drive Photos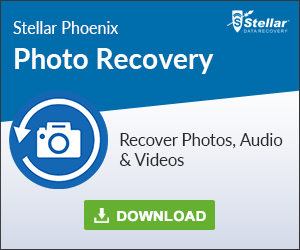 Let us take a practical example to understand this situation. Kevin a professional photographer uses external hard drive for saving a copy of all the photos that he deletes from his computer's internal drive. However, another day while cleaning up his external hard drive, he accidentally deleted some of the important photos from it. Since he did not have a copy of these photos on his computer, thus he lost them completely. Despite that he did not lose hope and started searching over the Internet for some remedy through which he can get back the deleted images.
Luckily, he got to know about a photo recovery software early in the search. Reading the reviews about this software and finding positive responses, he downloaded its free demo version. Since the demo only scans the affected device and shows the preview of recoverable image files, thus getting satisfied by it, he purchased its license and performed the recovery of all the lost photos.
Photo recovery tools are the best way of recovering photos, videos, audios, and other multimedia files lost due to accidental deletion, corruption of the digital storage media, or any other reason. Most of these tools are available separately for Mac and Windows users, thus you can select the one according to the operating system used in your computer.
If you are looking for an all-in-one tool to easily recover lost or deleted photos, videos, and music files give Stella Phoenix Windows Photo Recovery or Stella Phoenix Photo Recovery for Mac a try. (Link to download). It can:
Recover Photos from cameras, SD cards, Micro SD card, USB Drives, HDD, Mobile phones & smartphones etc.
Recover almost all video formats like GOM, iTunes, MP4, MPEG, MOI, MOV, VLC, 3GP and more
Recover all deleted photos, videos, and music files with ease
Recover photos with all known file types (JPG, JPEG, CRW, NRW, TIFF etc.) & HD Video, Raw images from SLR/DSLR Cameras.