Microsoft Outlook is one of the best tools for email management but it is not perfect. One of the most common issues we encounter in Outlook is corrupt PST files. If you find yourself in a spot of bother with your PST file, you can use tools to safely repair and restore all your mailbox content. Today, I'm taking a look at Stellar Outlook PST Repair that has a ton of features to help you in recovering your Outlook data.
A PST file is a personal storage folder that Outlook uses to automatically store all your messages, contacts, appointments, tasks, notes and journal entries. Unfortunately PST files have a tendency to get corrupt. This can be due to hardware failure, large size of the file, a virus attack or even bad recovery tools that corrupt the headers.
Thankfully there are tools like Stellar Outlook PST Repair that make the process of restoring and repairing damaged files easy, particularly for people who are not tech savvy. The software has a familiar looking UI, which makes it easy for anyone to figure out.
How Stellar Outlook PST Repair Works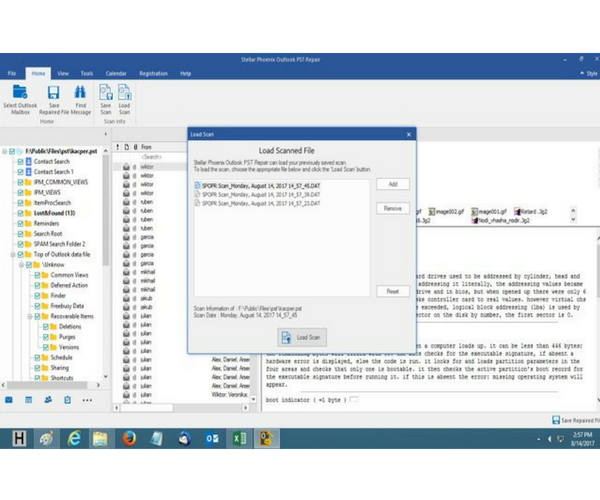 Stellar Outlook PST Repair is a simple scan and fix software. Once you install and run it, it will scan the computer for corrupt PST files. It will then help identify the files that are corrupt. It will then save the new rectified version of the files in a separate location. This way, it ensures that the original files are not tampered in any way.
Once the process is complete, you can open the file and use it in Outlook, like you normally would.
Also Read: How to Backup Outlook Signatures and Restore it Later
What Issues Can Be Fixed with Stellar Outlook PST Repair
Stellar Outlook PST Repair can fix a variety of common problems in Outlook PST files. It can:
Repair corrupt Outlook files on any mailbox component such as emails, attachments, contacts, calendar items, journals, and notes and restore them into new usable PSTs.
Recover email that is accidentally deleted from the Inbox or Deleted Folder.
Recover data from encrypted and password-protected files.
Selectively find, view, and save specific messages from the file in multiple formats including EML, MSG, RTF, HTML, or PDF.
Repair large sized PST files
Help find the location of the corrupt PST file
Save the newly created PST file in any location on the system including network location or external media.
Allow you to preview files before recovering and even save email directly from the preview section.
Save and load scan results of PST file easily thereby saving time in restoring the file.
Sort and organize the messages so you can recover items based on Date, From, To, Subject, Type, Attachment, and Importance.
Save log data after repairing PST file
Compatibility
Outlook PST Repair is compatible with Windows 10, 8.1, 8, 7, Vista, XP and supports repairing corrupt PST Files in MS Office 2016, 2013, 2010 (64-bit version), 2007 & 2003.
Also Read: Get Rid of Duplicate Email in Outlook with Stellar Outlook Duplicate Remover
Final Thoughts
Stellar Outlook PST Repair is a lightweight, easy to use software that can help anyone repair a corrupt PST file in just a few clicks. You can download the free version of the app to scan and preview your recoverable files. If you are able to locate the missing or damaged files, you can opt to purchase the premium version of the app to retrieve your data. If you are in dire need of a solid solution for repairing your corrupt PST files, do check it out and let us know if it worked for you.
Download Link: Website
Cheers,
Adeline