Outlook 2010 is my favorite RSS feed reader. I love the simplicity and convenience of reading my favorite stories from within my Inbox without opening additional windows. But having just configured my new laptop with Windows 8 (preview edition), I wanted an RSS reader that could being my stories to life right from within the Metro apps screen. That's when I discovered RSSOwl. This impressive RSS Feed Reader for Windows 8 is packed with so many awesome features, you'll never want to try another reader again. In this post, let's take a look at what makes the RSSOwl my favorite Windows 8 RSS feed reader.
Features of RSS Feed Reader for Windows 8
Clean and Intuitive Interface
The first impressive feature of RSSOwl is its interface. At the top, you'll find a menu bar and a Ribbon like interface that lets you access all the popular and frequent commands you use.
The workspace is split into two sections, the left pane called the Feeds View displays a list of your RSS feed subscriptions. The right pane is the reading pane or the preview pane, where you can read the news feeds and stories. The top of the Reading pane features a set of tabs that lets you access various categories of feeds such as unread stories or recent stories; feeds that you may have grouped by category, date, or title; and options to view such as widescreen view, newspaper view, or headlines view. And that's only few of the options in the top menu. You can also search for favorite stories using keywords from the Search box, that's cleverly placed alongside the top menu.
Impressive Feed Management
When you first add a news feed, the feeds get categorized as an Unread stories. The left pane or the Feeds View indicates the number of unread stories, the stories that have been added today, stories that have attachments, sticky and labeled news categories. You can label news stories with keywords such as important, work, personal, to-do, and so on. If you need to highlight an important piece of story, you can mark it as sticky to show up in yellow. So, you always stay on top of every news story, anytime of day. Feed management couldn't be easier. One of my favorite features is the Unread stories, which collates all unread stories from all of my feeds in one location, making it easier to check only the stories I have yet to read!
Darn Cool Search
RSSOwl has a really cool search feature. The Search box has an impressive list of options that let you search using keywords and conditions. Plus the preview section lets you preview the search story before you open it up, so that you find the right story and don't have to keep repeating the search multiple times. That's not all, you can create a news category based on your search simply by saving your search query. So, if you are looking for the latest news on the Nexus 7, simply go to File->New->Saved Search, enter a search name and keyword, and click OK. Now Nexus will be displayed in your Feeds view indicating the feeds containing the term Nexus.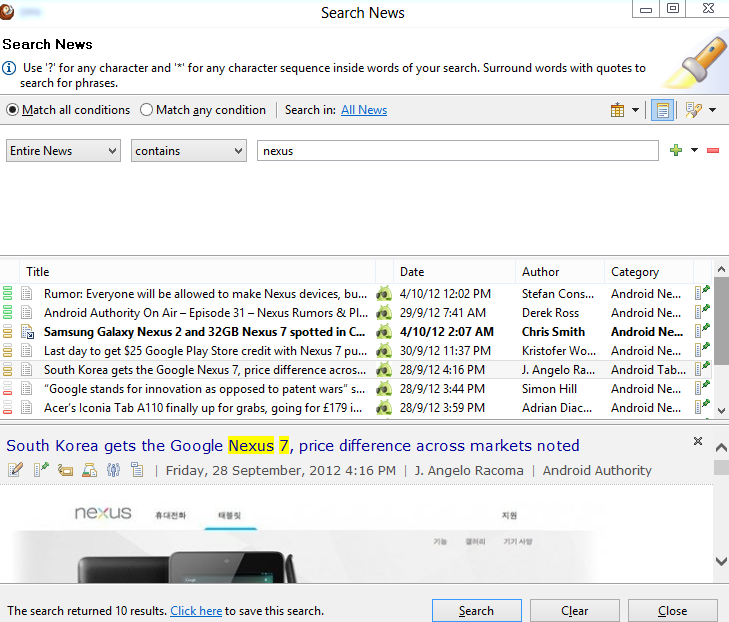 Filter News to Automate Tasks
One of the most common problems with news feeds is that they tend to accumulate over a period of time and you need to either archive them or delete them. Doing this manually is simply out of the question. That's where News filters come in. You can use the filters to automate the tasks such as archiving, or deleting and you can use search conditions to perform each such automation.
Instant Notifications
RSSOwl displays a headline popup of the latest incoming news, when it is in a minimized state. You can even perform certain actions on the pop up such as marking it as sticky, so you can read it later on when you check your feeds.
Social Sharing
RSSOwl offers a cool way to share your favorite stories with your social contacts, be it on Twitter, Facebook, Buffer, Delicious, or StumbleUpon, and there are over 25 social networks to choose from.
Import and Export Feeds
You can import your favorite feeds from a file or a website, or even find feeds based on keywords. Plus you can even export your feeds including search, labels and all to another device that has RSSOwl installed. Adding new feeds is so easy, you can have all your favorite blog feeds set up in no time at all.
Google Reader Sync
Google Reader is obviously a tool that almost everyone has dabbled with. RSSOwl even lets you sync your Google Reader feeds and maintains the read, starred, and labeled stories, as seen in the Reader.
Embedded browser
Yet another cool feature of RSSOwl is that you can view the feeds within the application workspace itself, via the embedded browser. So there's no additional browser window you need to open to read your news feeds. But, if you prefer to read on a browser, you can customize the settings to your choice of browser too!
Complete Customization
RSSOwl's Preferences dialog box contains a number of options to customize the feed reader. You can modify the colors and fonts, create shortcut keys, set push notification options, add passwords and more. The tool gives you the feel of working with an office application and its easy to find your way around the various customization options.
Well, there's probably a lot more cool features in the RSS feed reader for windows 8. RSSOwl also works on any Windows, Linux, and Mac OS, so why don't you give it a try and let me know what you think.