Were continuing our coverage of the coolest monitors Samsung is launching in 2019 with the 49-inch CRG9 gaming monitor that comes with some mind-blowing features and specs that should excite gamers. Here's more on the super, ultra-wide monitor with a QHD resolution that is promising the best frame rates and smoothest gaming experience.
The Samsung CRG9 Gaming Monitor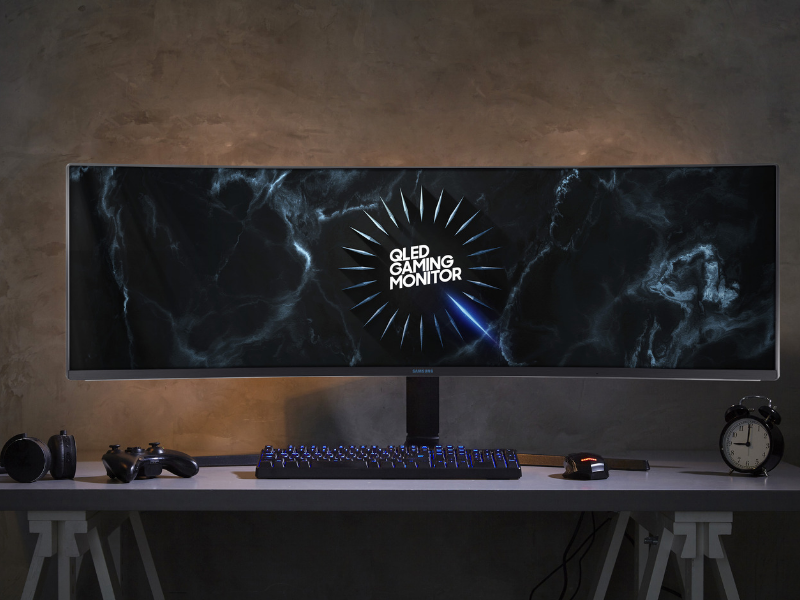 The Samsung CRG9 gaming monitor has the honor of being the world's first high-resolution super ultra-wide gaming monitor with 32:9 aspect ratio.
The dual QHD resolution (5120×1440) display offers a peak brightness of 1,000 nits ensuring superfine visibility of even the darkest parts of a game scene.
Samsung's revolutionary Quantum dot technology plays a major role in delivering a wide range of accurate color reproduction. This is amplified thanks to the 1800mm screen curvature and ultra-wide field of view.
The monitor sports one HDMI port, two Display Ports, USB 3.0 and headphone connectivity options.
PBP Functionality
Samsung is also using the PBP (Picture-by-Picture) functionality to deliver multitasking flexibility. That means you can connect two video sources to the monitor and view them on the ultra-wide screen at the same time. Think of two 27-inch QHD 16:9 monitors sitting side by side. That's what you're looking at with the CRG9 gaming monitor.
Fast Response Times
The response time of the CRG9 is fast. It has a refresh rate of 120Hz and can do 4ms on a 49-inch display. The result is reduction in image lags and motion blurs, something you absolutely need in the world of fast paced gaming.
The FreeSync 2 HDR technology helps to reduce stutter, screen tearing and input latency and deliver the best possible frame rate for the smoothest gaming experience.
HDR10 delivers outstanding local dimming, and high-contrast HDR offers advanced spectacular highlights that is simply not available in non-HDR monitors.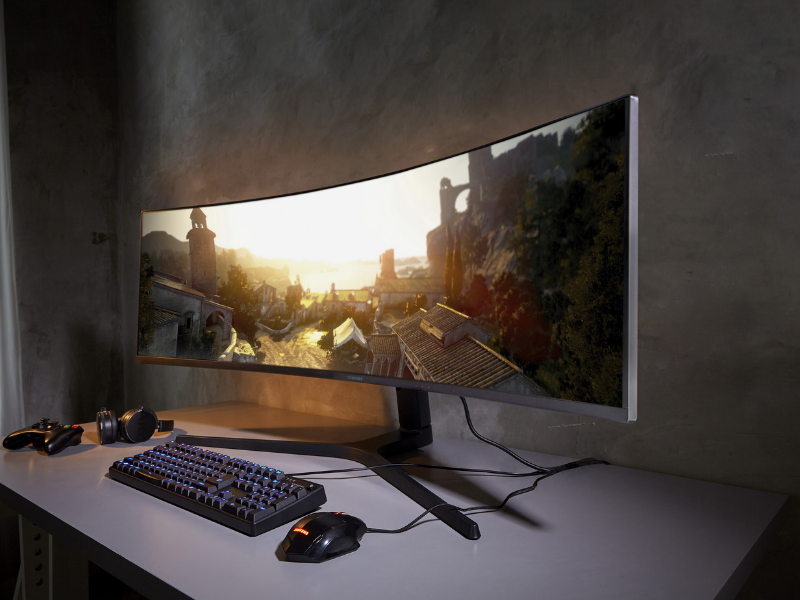 Multiple Game Modes
The CRG9 offers multiple game modes that allow you to optimize various settings. For instance, you can adjust the contrast ratio, definition and color based on the type of game you are playing. To get faster response times, you can switch to the Low Input Lag mode. To target your enemies more accurately, you can make use of the Virtual Aim Point onscreen crosshairs.
Designed for Comfort
The monitor's Eye Saver mode uses Flicker Free technology to minimize blue light emissions and screen flickering. This lets you play comfortably for longer hours and with less strain on your eyes.
It also has height-adjustable stand swivels that offers the convenience of adjusting the screen for maximum comfort.
Conclusion
With an array of cutting-edge technologies, the CRG9 aims to take gaming to the next level. Multiple game modes, multitasking capabilities, eye-strain reduction, minimal image lags and a height-adjustible stand ensures you get the most immersive gaming experience should you decide to upgrade your PC gaming experience in 2019.