Samsung is jumping into the gaming world this year with its first ever gaming PC called Samsung Notebook Odyssey. The Windows 10 powered PC will be available in 17.3-inch and 15.6-inch models. Here are more details on the gaming notebook.
Samsung Notebook Odyssey Features and Tech Specs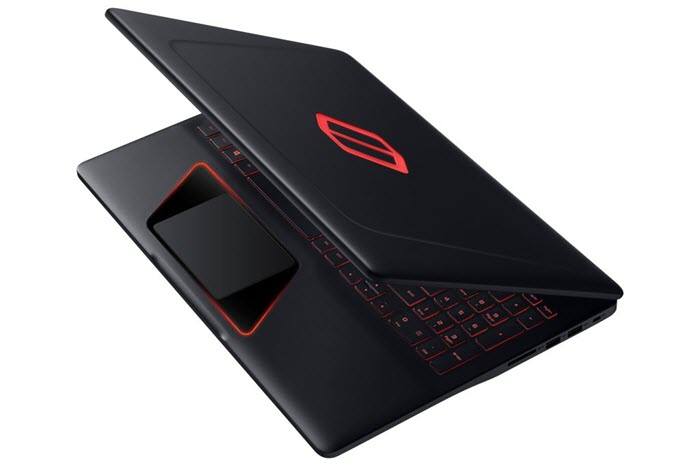 The Samsung Notebook Odyssey is built with features that both casual gamers and hard core fans will appreciate. For Xbox fans, there is the Xbox app, Xbox Play Anywhere and option to stream Xbox games.
The notebook is designed with the advanced HexaFlow Vent cooling and ventilation system to prevent overheating and sudden shutdowns in the middle of gameplay. The vent, which is located at the bottom of the notebook can also be opened to upgrade storage and memory.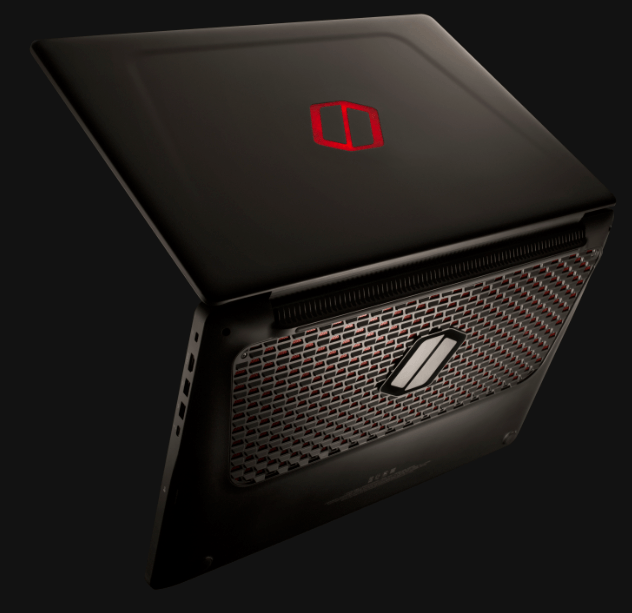 As far as performance goes, the Odyssey is powered by a 7th Gen Intel Core i7 processor for lightning fast performance. the graphics card for the 15 inch model is Nvidia GeForce GTX 1050 while the higher end variant is still in the process of being finalized.
Both versions come with a 1TB hard drive. However, the maximum SSD capacity of the 15-inch model is 256GB while the 17-inch version has a maximum SSD capacity of 512GB. As far as memory goes, the 15-inch model has a maximum of 32GB while the larger version has a maximum of 64GB of memory.
Tech Specs of the 15-inch Model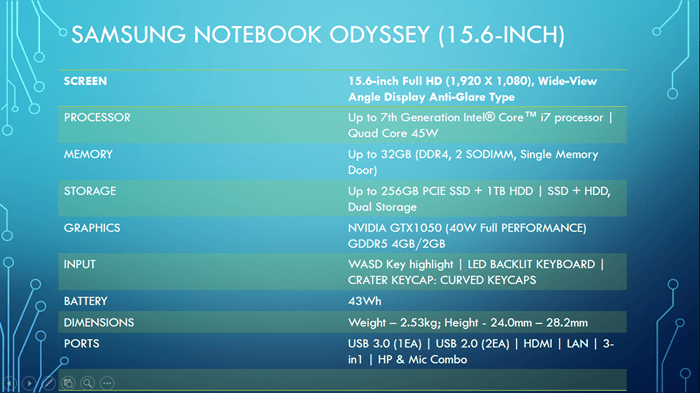 The 15-inch Odyssey includes USB 3.0 and 2.0 ports while the 17-inch variant comes with USB-C with Thunderbolt 3 and USB 3.0. HDMI, Ethernet, and an SD card slot is also available on both models. The keycaps of the 15 inch model also varies from its counterpart. It features backlight compared to the 17 inch model which has customizable RGB backlight.
The trackpads also have a red accent lighting around it. Players can also take advantage of the hot keys to optimize performance and interactions during gameplay. The screens of both models features Full HD display with anti glare protection to minimize distractions in the midst of intense gameplay.
Tech Specs of the 17-inch Model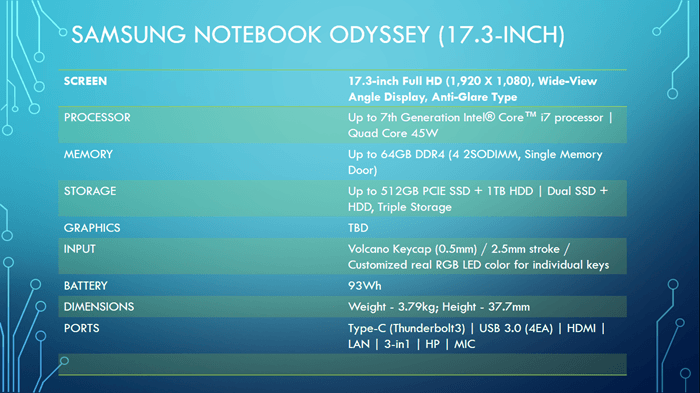 The Samsung Notebook Odyssey is designed to be portable. The 15-inch variant weighs about 5.6 pounds, while the 17-incher is beefy at around 8.36 pounds. Samsung hasn't finalized a release date yet, but will retail it at a starting price of $1,199.
With these 2 variants, it does not appear that Samsung is bringing something fresh and exciting into the world of gaming laptops. The tech specs are rather standard and sadly these devices won't be enough for VR yet. Still, if you're a die-hard Samsung fan, you may yet find something to excite you.


Source: Samsung Newsroom