Well, by now you should know that we have a fondness for Apple's mobile devices and the seemingly endless number of games that can be had for those same devices. Literally hours can be spent browsing the iTunes store as there is such a diverse collection. In this article, we will be looking at just one small sliver of a huge Apple pie, but don't take this category as a lightweight. Train games are exceedingly popular and are packing on ipounds as we discover three fantastic train games for the iOS gamer.
Top Train Games for Apple Devices
Train Titans
Developed by Sad Cat Software, Train Titans makes a colossal leap, crashing onto our list of excellent train games for iMobiles. In this train game, it is your duty as a train lover to help six different little trains who are tired and lost find their way home. In puzzle mode, you do this by sending the correct color train to the correct color station. Sounds simple right? You'll change your tune, quickly enough, as you advance to more difficult and challenging levels. Tired of puzzle mode, step into the simulation mode, where you build a vast railroad network between ever expanding cities. There is a lot of game for the $1.99 price tag at iTunes, which is why it makes our list of top iTrain games.
ElectroTrains
Developed by Robin Edwards, ElectroTrains is an electrifyingly fun game that users just can't get enough of, which is why we have it featured on our list of top train games for Apple users, on-the-go. With a meager price tag of .99¢, this wickedly cool train game can deliver loads of fun as you utilize the simple touch controls to speed up trains, avoiding locomotive-snapping collisions. Enough simply can't be said about the colorful display of neon railroad awesomeness, so we will just leave it at that. But wait, not only does this game look smooth, it plays just as smoothly, no matter how old your iDevice may be, so first generations are most welcome to enjoy this game as well, which is why it zaps itself onto our list of great train games.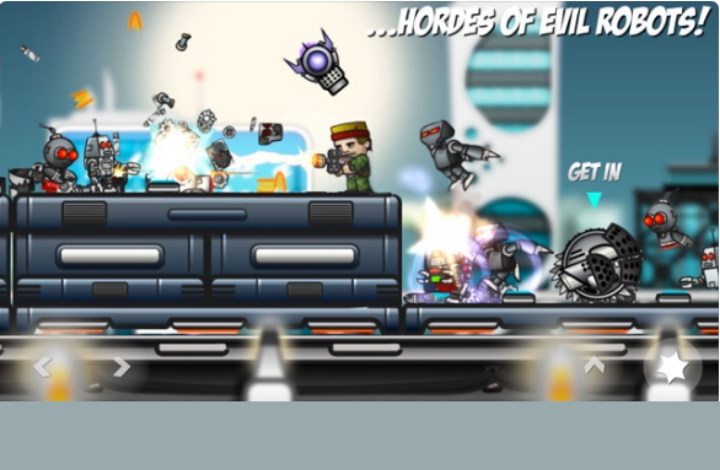 Storm the Train, by Chillingo Ltd, is not your typical train game. Your object in this sidescrolling shooter is to make your way down the length of a high-speed train, laying waste to hordes of the undead, twistingly wicked robots, and angry ninjas that obstruct your path. In order to complete your objectives, you will need to master the arsenal at your disposal.
This arsenal consists of weapons that are upgradeable, drones that are your personal "birds of prey", and gadgets that come in handy as things get hectic. Use each of your "soldiers" to the best of their unique abilities as you tackle every action-packed mission. You can download this game for free on iTunes, but the in-game apps can get pricey, however, this game is still one of the most fun games on the market where trains are involved, that's why it storms onto our list.
It's pretty obvious that train games for Apple mobile devices are becoming popular and with the three on our list readily available on the iTunes store, there is something here for every train fan to love.
We at the TrainArcade, train games online gaming community site, are committed to tracking down the very latest train simulations and railroad building games and bringing them right to the player's doorstep.