The Swiss aren't just the greatest watchmakers of the world, they can create the coolest alarm clocks too. If you're wondering what I'm talking about, its the weirdly named Kuku Klok that lets you set a virtual alarm on your browser in no time at all.
How to Set An Alarm with Online Alarm Clock Kuku Klok
Alarm clocks are a dime a dozen, but when you're caught up in the frenzy of work and barely have time to take a coffee break, you won't think of setting an alarm to force you out of your seat.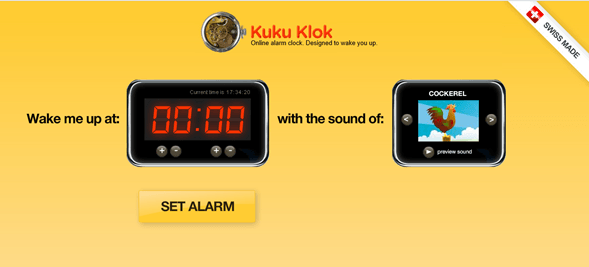 Kuku Klok requires absolutely no extra effort on your part – just set the alarm time, choose one of the available alarm sounds after a preview (there are some pretty whacky ones like the Military Trumpet, Slayer Guitar, and Cockerel to startle you out of your seat!), and click Set alarm.  Once the page loads, the alarm clock will work, even if your Internet connection is down and you are in offline mode.
Kuku Klok has been around for some time now, but I just happened to come across the virtual online alarm and thought it work mentioning. If you need to set a quick alarm to remind you to get something done, be sure to check out Kuku Klok at http://kukuklok.com/