Although Twitter's biggest plus factor has been its ability to limit its content to 140 characters, many Twitter users have also rued the same fact. Social networking is all about engaging with people at a level deeper than 140 characters. Since most Twitter users engage with their followers only on Twitter and don't connect with them on other social networks sharing more information with their followers is limited. Twitemail is a web app that aims to change that by enabling Twitter users share email messages on Twitter.
Twitemail works by converting your email message to a webpage and automatically posts its link on your Twitter account. You can use popular email clients such as Gmail, Hotmail, Yahoo Mail, or send them from your mobile device such as the iPhone, Android, or BlackBerry. You can share photos, videos, audio files, and documents too using Twitemail. Let's see how to get started.
How to Share Email Messages on Twitter Using Twitemail
1. Go to Twitemail and sign in with your Twitter credentials.
2. Once you've signed in, you will receive a secret sharing address which you can change by clicking the GENERATE button.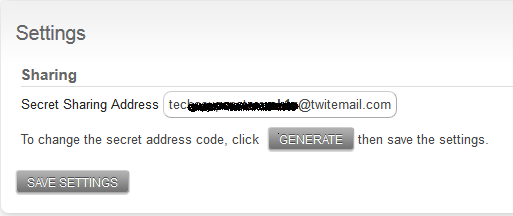 3. Note down this email address.
Now you can login to your email client, type your tweet title in the subject line of the email, compose the rest of your email, include attachments as required and send it out. Within a few minutes, you will be able to see the tweet in your Twitter account.
Twitemail is a simple, yet useful web app that's great for Twitter users who want to share longer text, HTML email messages, attachments such as videos, images, audio files, documents and more with your Twitter followers. If you want to take advantage of this awesome feature, just login to Twitemail and you can get started!
Feel free to share your comments with us on what you think of this cool web app.
You can follow us on Twitter or join our Facebook fan page to get tutorials, updates and how-to articles on Microsoft, Google and Apple products.