Getting your website or product to the top of Google results is no easy task. SEO isn't what it used to be and great content and traditional advertisements no longer work their magic thanks to the complex web woven by the likes of Penguin, Panda, Hummingbird and other algos.
That's why more and more businesses and website owners are going social. Social media platforms such as Twitter, Facebook and Pinterest are traffic magnets and making an impact on one or more of these sites can catapult a business to great success.
However, managing your social media marketing efforts can be time consuming and in some cases (such as when you employ external agencies) expensive. Thankfully, there are plenty of self management platforms like Buffer, Hootsuite, and SproutSocial that help individuals, small businesses and enterprises post on multiple platforms, optimize social campaigns, and prepare analytics and reports in a cost effective and timely manner.
Again, the trouble with many of these management tools is that although they provide a platform to manage multiple accounts, they lack the ability to connect and engage with people that matter.
That's where SOCi stands out. SOCi is a powerful PaaS (platform-as-a-service) that takes social media management and marketing to a completely new level. It doesn't just help users manage multiple social accounts, it helps to identify and share content that resonates with a relevant business or industry thereby creating engagement.
Any social media enthusiast who truly cares about connecting with their audiences will appreciate how SOCi's smart tools can help achieve social media success. Here's a sneek peek at what SOCi can do.
How SOCi Helps Users Do Social Media Marketing the Right Way
Getting Started with SOCi
To sign up for a SOCi account, you need to register with your name and email address. Once you receive the necessary credentials, you can start setting up your account. First, sign up to at least one social account. Currently, you can link to Twitter, Facebook, LinkedIn and Google Plus. Then give a name to your project, and choose a time zone.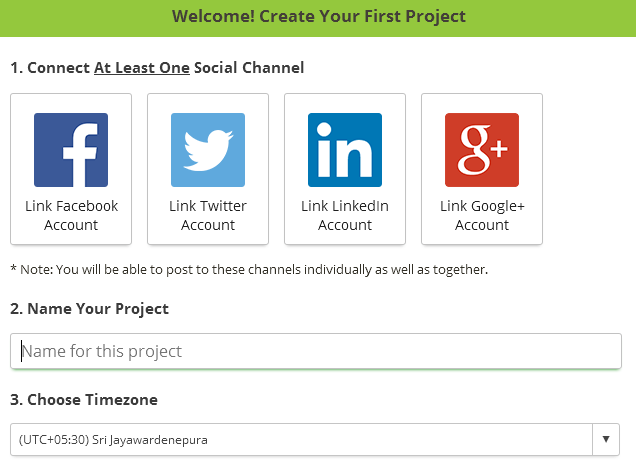 The next page lets you add a marketing title, select your social networks and choose a time zone for automatic posting. If you're not sure which times are the best ones for posting, you can simply click on the Peak time button to let SOCi pick up the best times for you. (You can also change these details on the Settings page, should you want to.)
Once the preliminaries are out of the way, you can go to the Dashboard where all the action happens. The left side of the Dashboard displays tabs where you can access the app's various activities such as scheduling posts, viewing your social interactions, examining the Analytics, creating reports and so on.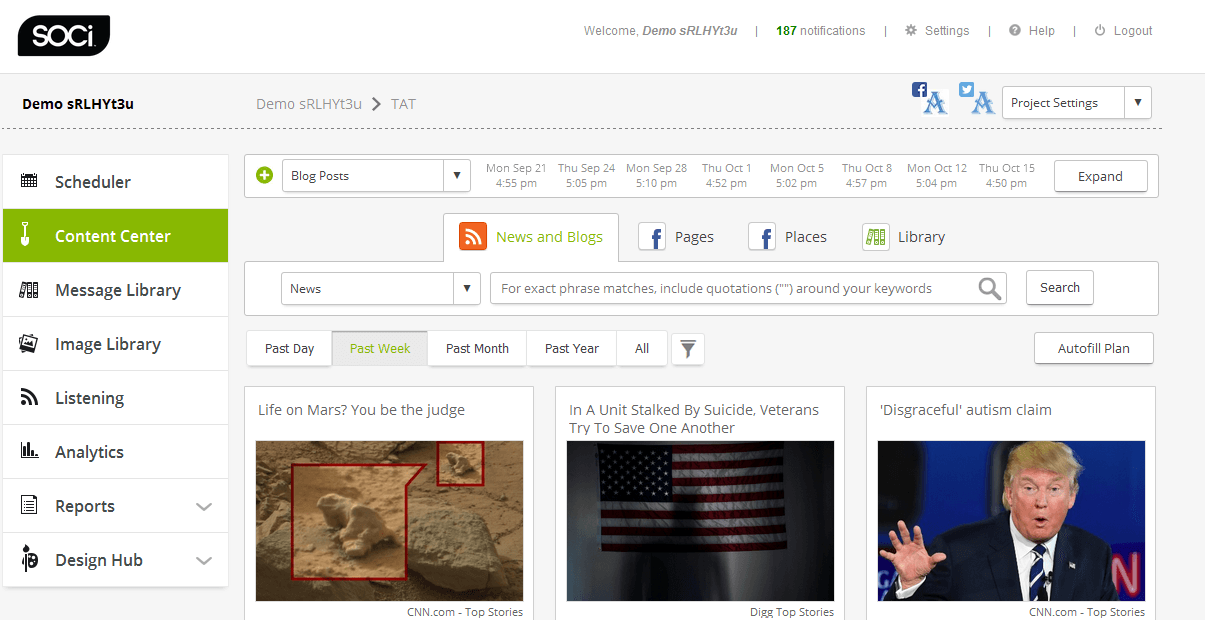 At the top of the right pane is the schedule that can be expanded to display all the details of your scheduled posts.
The default tab displayed is the Content Center, which is the most unique feature of SOCi. The Content Center lets you search for popular/viral content in your relevant industry that you can share with your community. You can search for content on the web as well as on Facebook using keywords and once you've found items that are relevant to your industry (you can filter by category) you can import them to your library, post it to your automated schedule (plan), or post it right away. You also have options to add your own comment, change the image, add tags and so on before scheduling or posting.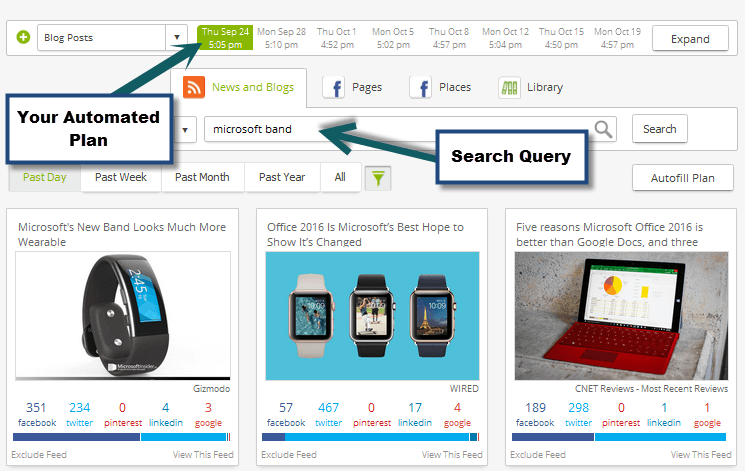 SOCi's Content Center is really its nerve center. As a social media manager, you can find great content that is relevant for any business/industry, schedule and publish trending topics or evergreen posts on a certain topic that will build interest and engagement with followers.
You can open up each message and customize it to make it your own. You can upload or change the photo, add your own message, shorten the URL and schedule it for posting. This strategy goes a long way in creating engagement, getting noticed, establishing authority in the industry, and in turn bringing in traffic, leads and conversions.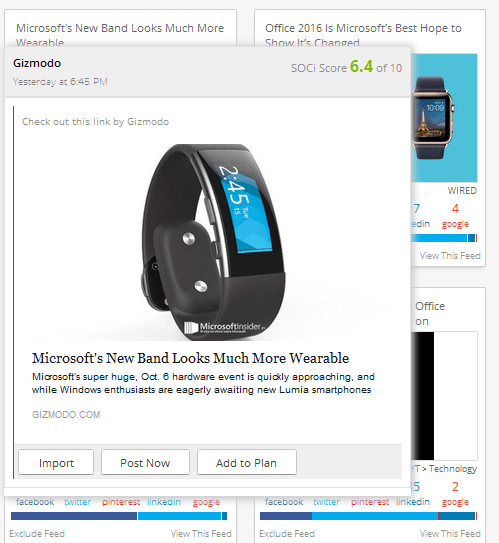 The fact that SOCi can make content mining, categorization and scheduling so easy and meaningful makes it standout from the rest of the content curation and social media marketing tools out there today.
Top Smart Features of SOCi
Content Library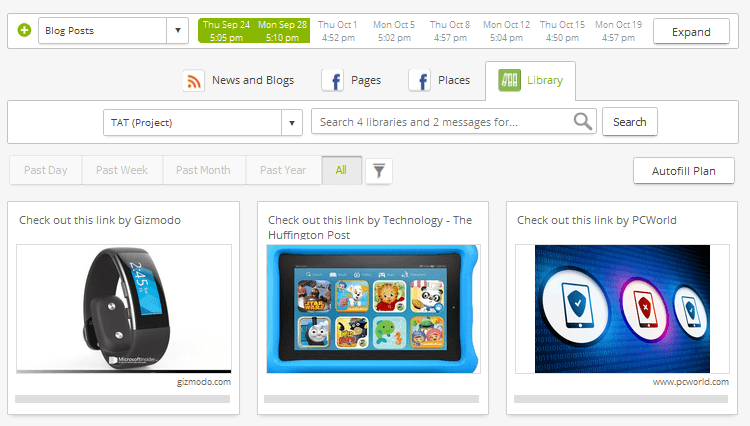 An outstanding feature that complement's SOCi's automated social sharing is its Content Library. Once you've found content you want to share on your social networks, you can save them to the Content Library. Once you have collated all the links, you can simply hit the AutoFill Plan button to schedule all the posts according to your plan. The Content Library stores all relevant links that can be automatically scheduled to go in intervals of between 5 minutes to 60 minutes and you can schedule posts to go everyday for one month or more. This is a truly one of a kind automated system that you have complete control over.
Image Library
If you plan on using custom images to share with your posts, the Image Library is the place you upload them for use later on. Its a great way to make messages your own and enhance their click-ability.
Engagement Tools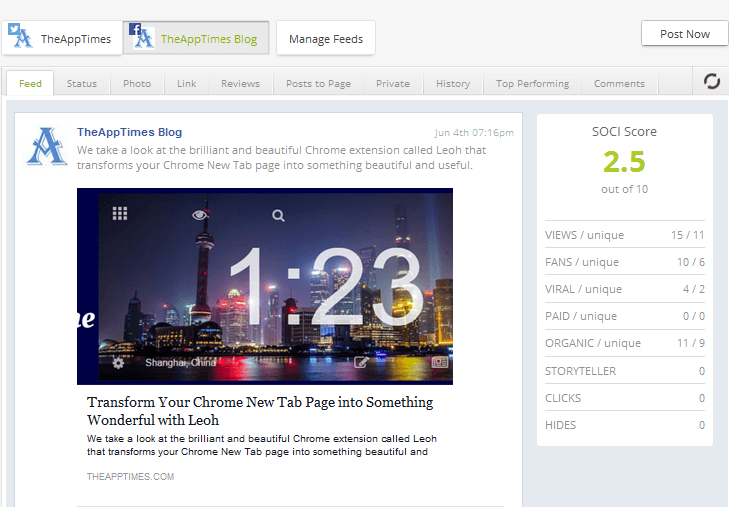 SOCi's Listening tab holds all your social media interactions. You can see your Twitter feeds, private messages, mentions, retweets and so on and interact with the community right from inside the dashboard. You can also view quick statistics about your reach, see if a post has gone viral, how many retweets it has received and if anyone has favorited it. The Facebook tab will display stats on unique views, fan views, and a whle lot of information. And depending on the popularity and reach, the post will receive a SOCi score.
SOCi Scorecard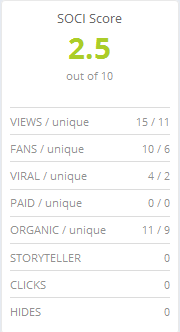 SOCi displays a score for each post that is shared on the platform. This indicates the popularity of the post, shows you which articles are doing well, thereby helping you create content tailored for such audiences. A low score lets you analyze issues with the content and upgrade it if needed. It's certainly a powerful feedback tool to help improve your outreach.
Multiple Account Management Features
SOCi allows for creation and management of multiple projects for various clients. You can add different managers to handle different tasks and there is a clear demarcation of work structure that should make it intuitive for agencies who manage multiple clients.
Post Scheduler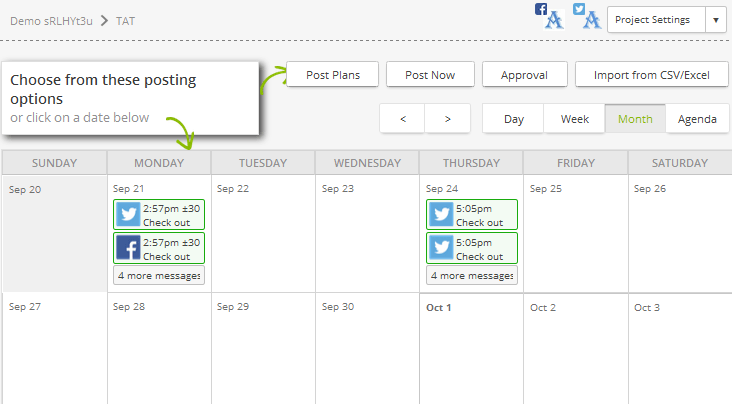 The SOCi Post Scheduler is a cool editorial calendar that shows you at a glance the activities scheduled for the day. You can directly click on a day to set up a post. The scheduler also offers an option to get a client approval before posting a message. And if you have prepared a schedule of posts to be shared on an Excel sheet, you can use the importer to upload them into SOCi's Scheduler for automatic posting.
Reports
The Reports section lets you download, print or email reports on the success of your social media campaigns. You can customize the report by adding a company logo, adding an overview, displaying your Facebook and Twitter growth/decline at a glance.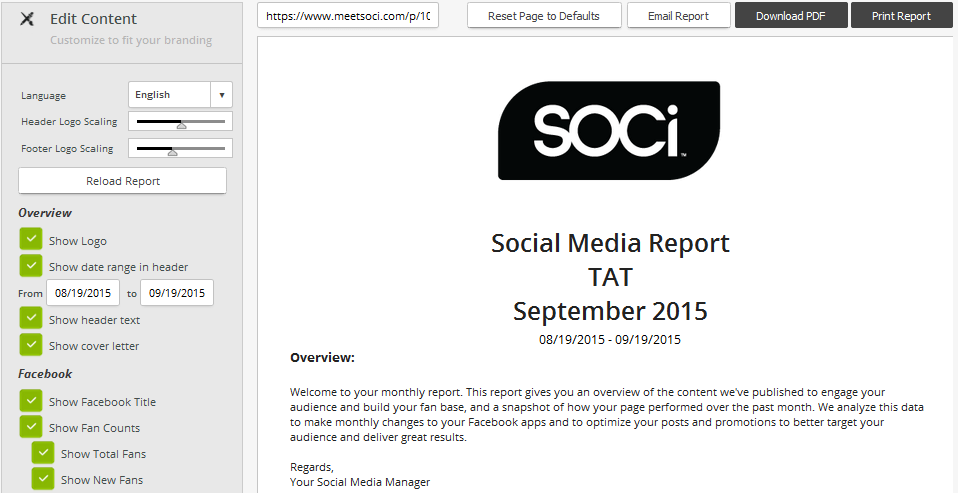 Some of the information that you can see in your Facebook report includes your total fan base, new fans earned, number of people you engaged with, top performing posts, while the Twitter report shows you the total number of existing and new followers, mentions, retweets and favorites you had, as well as the top performing posts.
Creating reports and customizing them for a client is as easy as pie.
Design Hub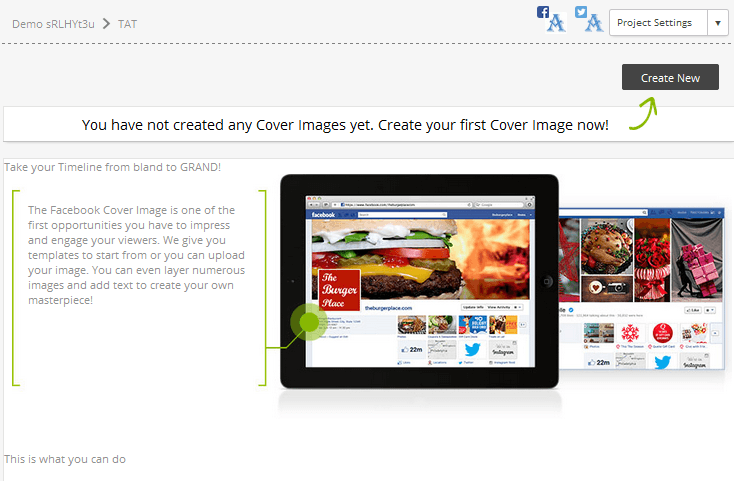 SOCi also has a Design Hub that holds templates and images you can use to create stunning Facebook covers to impress and engage your viewers, if you ever need to create one from scratch, possibly for a new client.
Room for Improvement
In my use of SOCi I found many of the features to be brilliant. But there were also areas that needed more attention. Adding RSS Feeds (option was shown to be available but I could not find it) and inclusion of Pinterest to the existing networks is something worth considering.
Also having the option to repost a message at another scheduled time would be great. The Analytics section was something of a hit and a miss as the information displayed was rather limited. (This section shows a graphical output of your post's performance on Facebook by minutes hours and days as well as the average online fans by hour according to fan impressions and viral impressions. I wasn't able to access the Twitter Analytics and couldn't figure out why it wasn't showing up.)
Outside of the app, I found the official website to be rather stale with little or no opportunity to learn more about the product. Including eye catching call to actions, videos, blog posts, pricing information, FAQs, trial plans, and showcasing the platform's unique features would certainly bring it to the notice of a lot more people and potential customers.
Finally, SOCi's focus on small and medium businesses, agencies and enterprises means individual website owners and bloggers lose out. Buffer, Hootsuite, SocialSprout have all become household names and I would love to see SOCi open its doors to individuals who could benefit greatly from the platform.
Final Thoughts
In today's highly competitive online space, finding an ideal social media marketing strategy for your business can be time consuming and expensive. If you are serious about engaging with your community in a robust manner and building your authority in the social space, a powerful platform like SOCi is well worth signing up for.